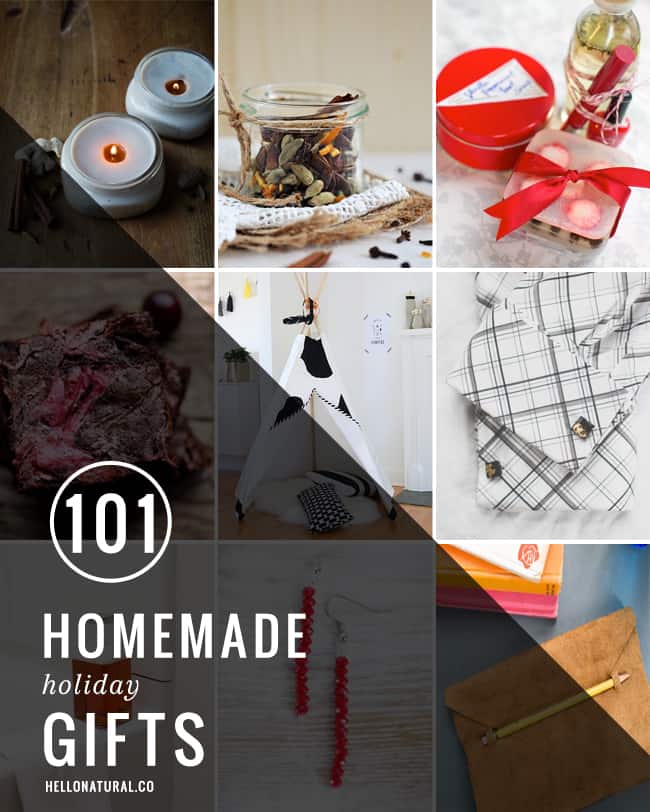 Not sure where to start your Christmas shopping? Look no further than your own home – you probably have at hand most of the supplies you need to make all sorts of thoughtful homemade holiday gifts. From delicious treats in a jar to jewelry and kid-friendly gifts, we have it pretty much worked out:
Food
1. Winter trail mix by Cafe Johnsonia. A little bit of snacking never hurt anyone, especially when they're as healthy as these mixed nuts. Perfect for co-workers!
2. Cranberry marshmallow swirl brownies by Beard and Bonnet. These are not only delicious and Christmas-looking, but also gluten-free!
3. Caramel apples by Modern Wife Style. If there are kids in the household, they're gonna want these caramel apples. That's a fact.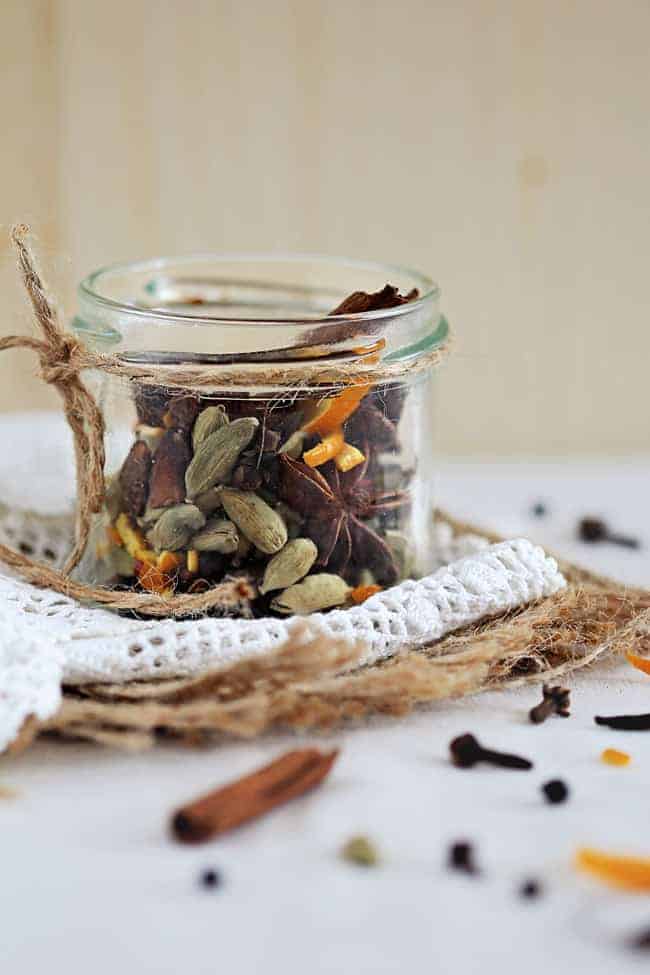 4. Homemade mulling spice by Hello Glow. Because everyone likes a spicy, warm drink this time of the year, offer this thoughtful combination of spices in a festive jar.
5. Brownies in a jar by My Sister's Suitcase. This affordable food gift only sets you down about $3! The blog also provides a free printable label.
6. Gluten-free gingerbread men by Minimalist Baker. It's not Christmas without gingerbread, and the gluten-free version, version surely is healthier and guilt-free.
7. The best sugar cookies by Yummy Yummy Kitchen. Sugar cookies make a nice gift if you wrap them in craft paper and some twine. Plus this version is vegan!
8. Homemade salted caramels by Live Life Rowe. The sweet and salty flavors are perfectly complementary, making them a treat for kids and adults alike.
9. 5 ingredient peppermint patties by Hello Veggie. Your vegan friends will be over the moon to get these homemade candies!
10. Hot cocoa mix by Hello Glow. You provide the ingredients, while the other person gets to assemble them in a delightful mug of hot cocoa.
11. Homemade vanilla extract by Tidy Mom. This the beginning of all delicious baked goods, plus it can be customized with vintage-looking printable labels.
12. Spiced pumpkin bourbon by Spache the Spatula. Infused liquors such as this one are easy to make and they always please. It doesn't hurt that it's good for guys too!
13. Candied pecans by Two of a Kind. A treat in themselves, pecans are even more tasty candied. Jared and bowed, they make a great gift.
14. Limoncello by Confessions of a Foodie. Limoncello is perfect to sip on this time of the year, and it tastes divine when homemade.
15. Infused honey by Hello Glow. It's the perfect time to offer a jar of homemade infused honey, for anyone on your list.
16. DIY Jarlsberg crackers by Souffle Bombay. The host will be happy to snack on these between two holiday meals!
Beauty
17. Calming homemade bubble bath by Hello Glow. Give your pal some well-deserved time off, with this homemade bubble bath that relaxes and calms.
18. DIY shaving cream by The Chic Site. Dad will enjoy using an all-natural shaving cream on his face.
19. Candy cane sugar scrub by JJ Begonia. The candy cane makes this scrub festive enough for every gal on your list.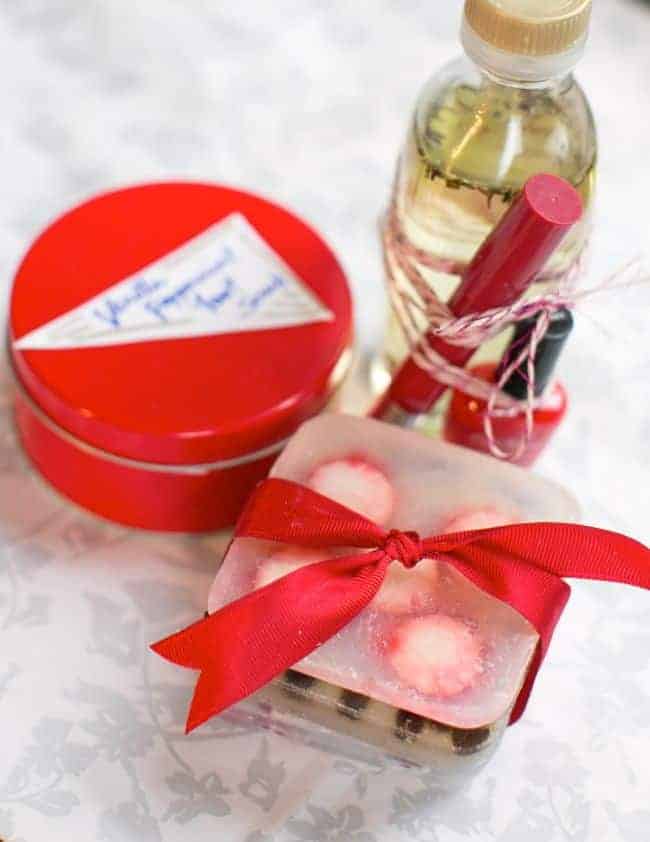 20. DIY beauty gift basket by Hello Glow. Make it a big pampering holiday for all your girlfriends with a beauty gift basket! This one has a peppermint foot scrub, soap and body oil included.
21. Pumpkin spice sugar scrub by The Kitchen McCabe. Pumpkin spice season is not over yet! And neither is scrub season, because that one never ends.
22. DIY whipped coconut + shea body butter by Hello Glow. Pamper your loved ones with this moisturizing DIY body butter that's perfect for winter skin.
23. Scented salt scrub by Mad in Crafts. With free printable holiday labels, this salt scrub looks festive and it can be customized as you wish.
24. Dr. Pepper lip balm by JJ Begonia. This homemade version of the Dr. Pepper lip balm makes the perfect gift!
25. Confetti soap by Crafterhours. It's a time for celebration, and this confetti soap couldn't be a better fit for the theme!
26. Creamy homemade body lotion by Sprouting Healthy Habits. A creamy, luxurious body lotion that makes winter skin less of a problem.
27. Homemade lavender bath bombs by Homemade Ginger. Stack these bath bombs in a mason jar for a nice presentation.
28. Himalayan pink salt scrub by Evermine Blog. A feminine and delicate gift for feminine and delicate gals.
29. Wild pollen lip balm by For the Makers. Wild pollen works wonders for the lips, as does this lip balm for your gift list.
30. Homemade hand cream by Soapdeli. If your hands are dry in winter, raise them up! A thoughtful, natural gift for the ladies in your life.
31. Homemade lip balm by Hello Glow. Created especially for winter chapped lips, this lip balm will make anyone happy.
32. Homemade poppy seed citrus soap bars by Horses and Heels. This recipe makes an exfoliating, citrus-smelling soap that is bound to delight.
Fashion
33. DIY copper triangle necklace by Hello Glow. A minimalist, easy to make necklace for those hard-to-please women in your life.
34. Anthropologie inspired scarf by Be Loved Blueprint. An accessory that's both a scarf and a necklace, plus it's so much cheaper than the coveted original.
35. DIY pompom gloves by Paint the Gown Red. Plain gloves and colored pompoms make a cute and cozy gift.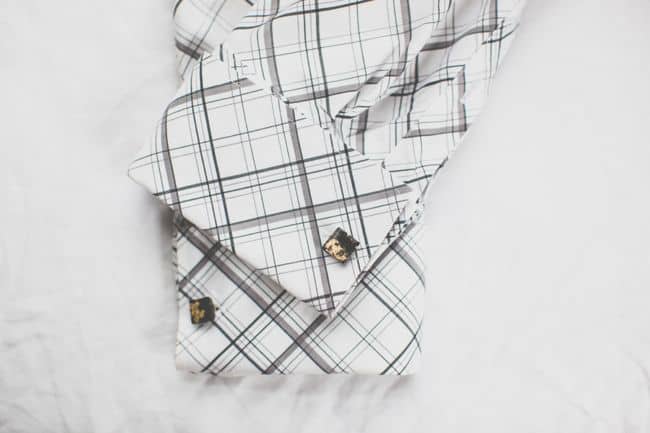 36. DIY gold leaf cufflinks by Hello Glow. For the one that's always hard to shop for, these DIY cufflinks make a personal, thoughtful gift.
37. DIY antler embellished beanie by Gina Michele. With a beanie and some felt antlers, you get an instant festive and cozy gift.
38. Metallic gem zipper pouch by See Kate Sew. In different colors and sizes, these gem pouches are fun for every gal!
39. Pressed flower phone case by Capture by Lucy. As long as the case is right for their phone type, there shouldn't be any problem making this!
40. DIY fur scarf by Hello Glow. Cozy gifts are the best this time of the year! This infinity scarf is easy and it looks as good as store-bought.
41. Star necklace by Repurposeful Boutique. There's no better time for star-shaped gifts, and this necklace is easy as can be.
42. Rope bracelets by Hello Glow. These unisex rope bracelets are easy to make last minute, but still look rather cool!
43. DIY tote bag by The DIY Dairy. A fabulous combination of fabric and (p)leather, this gift costs only $3!
44. Faux labradorite drops by Fall for DIY. These earrings are festive and beautiful, a gift that your sister or friend would both enjoy.
45. DIY chunky bead bracelet by Thanks, I Made It. A statement bracelet that couldn't be easier to make.
46. Anthropologie-inspired wire rings by Free Series. Make as many of these as you like – they're super easy – and gift them in stacks to your girlfriends.
47. DIY polka dot leather clutch by See Kate Sew. Fill it with chocolate and give it away to a good friend!
48. DIY earrings by Hello Glow. The holidays are for wearing red! Your friends will be pleased to wear these earrings until New Year's and beyond.
Home
49. No sew zipper pillow by Lovely Indeed. These add a touch of glamour to any couch.
50. Handmade Hickory chop board by Francois et Moi. The kitchen gurus in your life will appreciate a stylish chop board.
51. Cat rope basket by Hello Glow. Whether it's an adult or a kid, this cat rope basket will make someone really happy!
52. DIY chunky tassel blanket by Design Sponge. This blanket literally makes a good gift for anyone. Anyone who likes to bundle up in winter, that is.
53. DIY copper hanging planters by Style Me Pretty Living. Copper planters are a choice for any design lover on your list.
54. Origami ring holder by DIY Candy. If she loves fashion, origami and/or boats, she'll love this!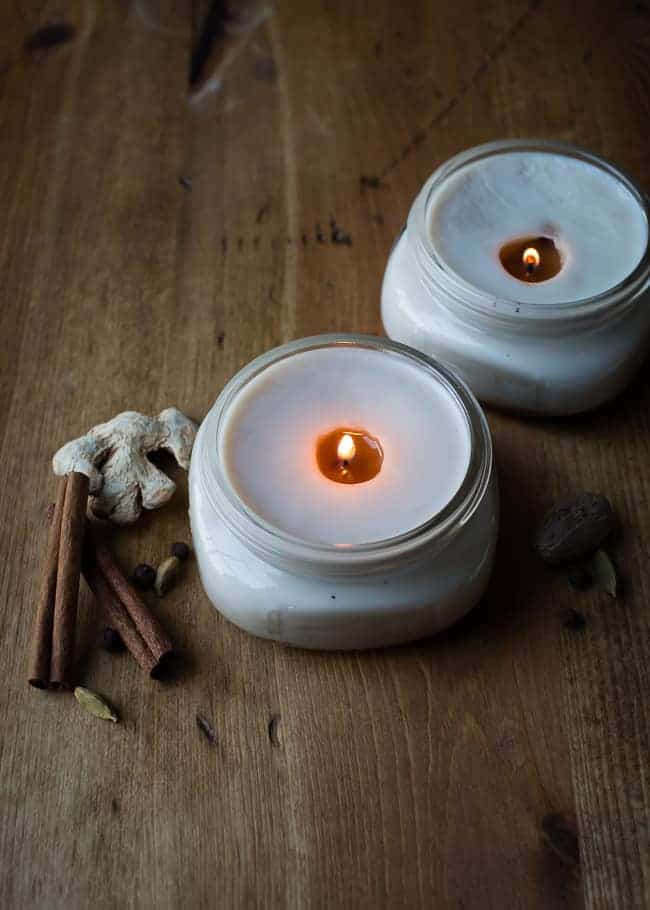 55. DIY chai candles in canning jars by Hello Glow. These delightfully scented candles make the perfect gift, without being too personal or too generic.
56. Paperwhite bulb kit by Francois et moi. You give them the kit this Christmas, and they have a pretty paperwhite in spring!
57. Loom weaving by Sugar and Charm. Woven wall art is all the rage right now – this one would look great in a cozy, modern home.
58. Gold geo napkin rings by Almost Makes Perfect. Although they're made of cardboard, these napkin rings are festively gold and easy to match with any dinnerware.
59. Clay ring dishes by My Lifebox. These are so easy to make, you'll probably end up with a bunch for yourself too.
60. Aromatic wax fire starters by Hello Glow. Anyone with a fireplace could benefit from these wax firestarters that smell like the holidays.
61. Geometric wood trivets by A Beautiful Mess. Just because they're trivets, doesn't mean they should look trivial! This set is elegant and modern, just like the person you can offer it to.
62. Faux cross stitch wall art by Kittenhood. This faux cross stitch wall art would fit in perfectly at your quirky friend's house!
63. DIY wood hexagon coasters by Jade and Fern. Hexagons are stylish, and so are these wood coasters that any host would like to receive.
64. Painted striped napkins by BD Design. These gold stripe napkins are so seasonal, they're probably getting some use right away!
65. Layered scent holiday candles by Hello Glow. Each layer is a different color and a different scent, including sweet orange, cinnamon and clover or vanilla.
66. DIY floor poufs by Style Me Pretty Living. These make an awesome gift, and you only need foam filler and fabric to get started.
67. DIY copper salad tossers by Almost Makes Perfect. The kind of thing that everyone needs, but rarely buys for themselves.
68. Marbled tealight holders by Make and Tell. The marble-looking holders are actually made from polymer clay – how easy is that?
69. Wooden geometric wine stopper by The Merrythought. With all the wine drinking around the holidaus, this stylish bottle stopper couldn't be fitter.
70. Fabric moon clock DIY by Running With a Gluegun. This clock is based on an embroidery hoop and painted fabric, so it's what you would call "easy-peasy".
Paper goods
71. Kate Spade notebooks by Craft a Doodle Doo. The look of those Kate Spade notebooks for way less, a gift for any stylish gal.
72. Embroidered Christmas cards by Crafts Unleashed. A simple, hand-embroidered Christmas card is thoughtful and will probably be appreciated.
73. DIY travel journal by Hello Glow. Make sure your friends document all their 2015 travels in their new journal!
74. Gardener's book by Daily Fix. A gardener never rests, even in winter. This notebook is a nice way for them to keep everything well organized.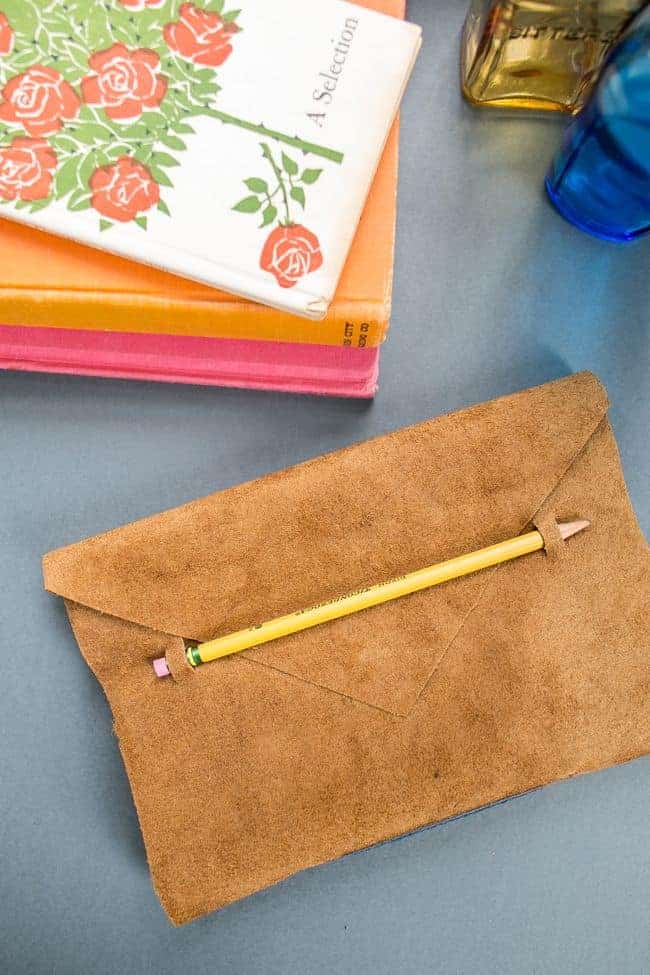 75. Anthropologie leather journal by Hello Glow. A stylish suede journal inspired by Anthro, which makes a great unisex gift.
76. DIY winter art by Hello Glow. What looks like a sophisticated piece of artwork is the result of less than half an hour of work!
77. DIY Instagram mini album by Gathering Beauty. All those common memories in one album, for a truly special homemade gift.
78. Snow globe shaker card by Waffle Flower. A beautiful, detailed postcard that shows you really put some effort into it.
79. Dutch canal house luminaries by Kate's Creative Space. These paper houses can be placed in front of the window for a special type of decoration.
80. Glittery geometric garland by Line Across. If you're headed for a holiday party, why not bring a garland along?
81. DIY travel journal by Say Yes. This homemade notebook features a map cover, perfect for winter wanderlust.
82. DIY festive stationery by Kittenhood. Add sequins to a regular piece of paper and you have festive stationery for a lifetime!
83. Gold leaf notebooks by Eat Sleep Cuddle. These tiny notebooks are pure style.
84. Make an iPad case from a notebook by Man Made. A perfect guy gift, it features tech hidden in a notebook cover.
85. Stationery box by Dannie's Designs. When everything else fails, a custom stationery box cannot.
Kids
86. Doll pattern by Shiny Happy World. A pretty, handmade doll made of recycled fabrics and safe for small kids.
87. Robot blocks by Plenty of Paprika. A nice gift, as well as a fun activity, which comes with a free printable for the robots.
88. Dragon finger puppets by Vicki Brown Designs. If you can sew, even just a little, you can make these fun finger puppets for your host's kid.
89. Train tunnel by Sisters What! If you child is into trains lately, they'll love playing with a custom wooden tunnel such as this one.
90. Upcycled globe lamp by Crafts Unleashed. The little geographer will love having their own retro globe lamp!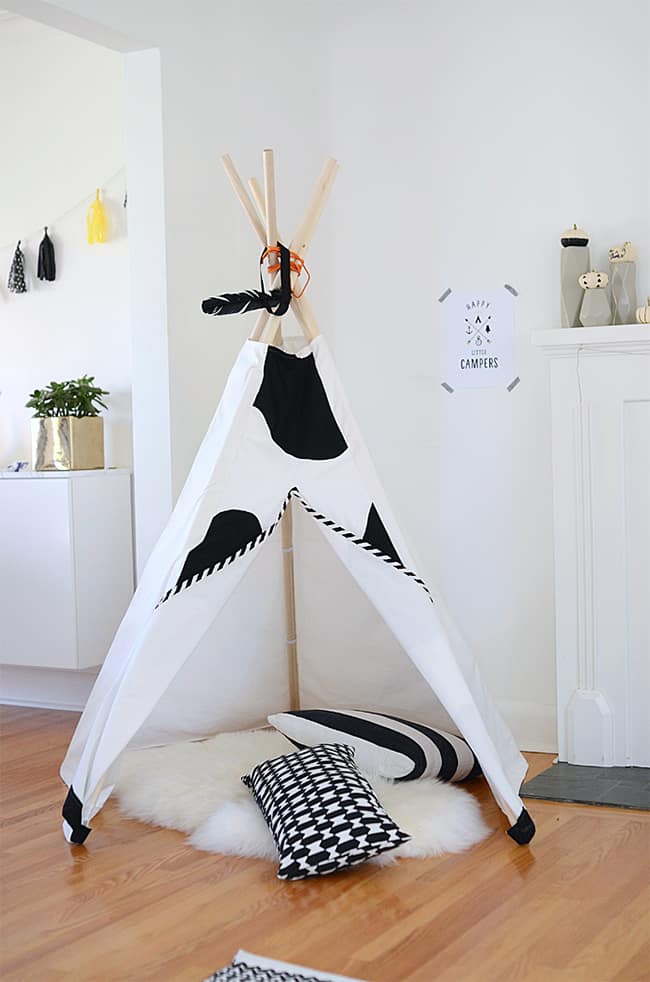 91. DIY 5 panel teepee by Nalle's House. Although not a traditional holiday gift, this teepee will surely get some happy giggles.
92. Ballerina shoes for little feet by Sweet Living Magazine. Experienced knitters will make these tiny ballerinas in no time!
93. Mix 'em up animal spools by Handmade Charlotte. Can anything be cuter than these printable animal illustrations? Maybe just the mix 'em spool set.
94. Waldorf-style doll by Snugglebug University. Your daughter will love this pretty, detailed doll, and she can try sewing outfits for her.
95. Flying squirrel softie by Wild Olive. Easy to make and easy to hug, this flying squirrel softie will be a hit with the kids.
96. DIY glow in the dark snow globe by Hello Glow. This snow globe can be customized with Christmas toys to look even more festive.
97. Shark hoodie towel by Just Crafty Enough. Save your sanity with this shark towel that makes bath time more fun.
98. Sun softie by Evie Barrow. This sunny toy is made of yellow felt and can be stitched in no time, to remind little ones of warmer months.
99. DIY Lego bracelet by Ja Monkey. If they're no longer into Lego, they might be into fun jewelry!
100. Jump cord by Say Yes. A game that doubles as exercise? Yes, please.
101. Teenage Mutant Ninja Turtles charms by Craft Klatch. Fans of the ninja turtles will enjoy these charms/keychains made from golf balls.
3