One of my all-time favorite posts on Hello Glow is this excellent tutorial on how to make infused water – there are a ton of tasty flavor combinations to get you started. Today I'm going to give you three herb infused water ideas. Infused water is a perfect way to use up extra herbs or take advantage of what you might have growing in your garden.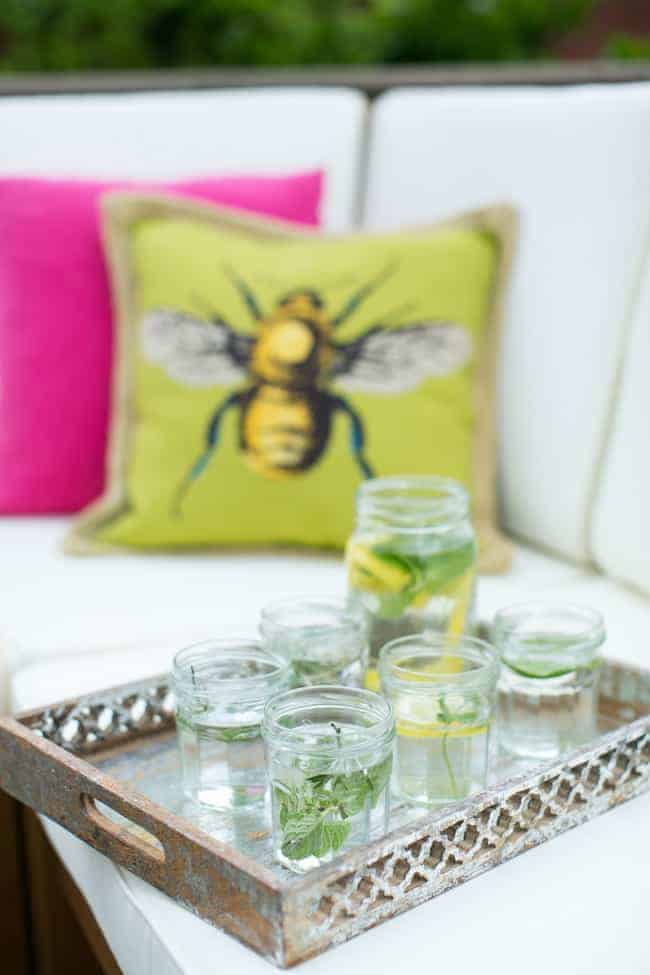 You don't need a ton of herbs or fruit to flavor water. In fact, I recommend starting small to see if it's a taste you like. Otherwise you can end up wasting a lot of fruit and herbs. Infuse water for a day or so, and if you haven't finished drinking the water, go ahead and strain out the ingredients. Your water will stay tasty and you won't have to worry about the fresh ingredients going bad.
Mango Mint Water
Mango adds a sweet, tropical flavor – and it's a good incentive to drink the whole thing so you can eat the mango! Mint is cool and refreshing. In these summer infused water ideas, we paired mango with basil, which is a nice balance to the sweetness.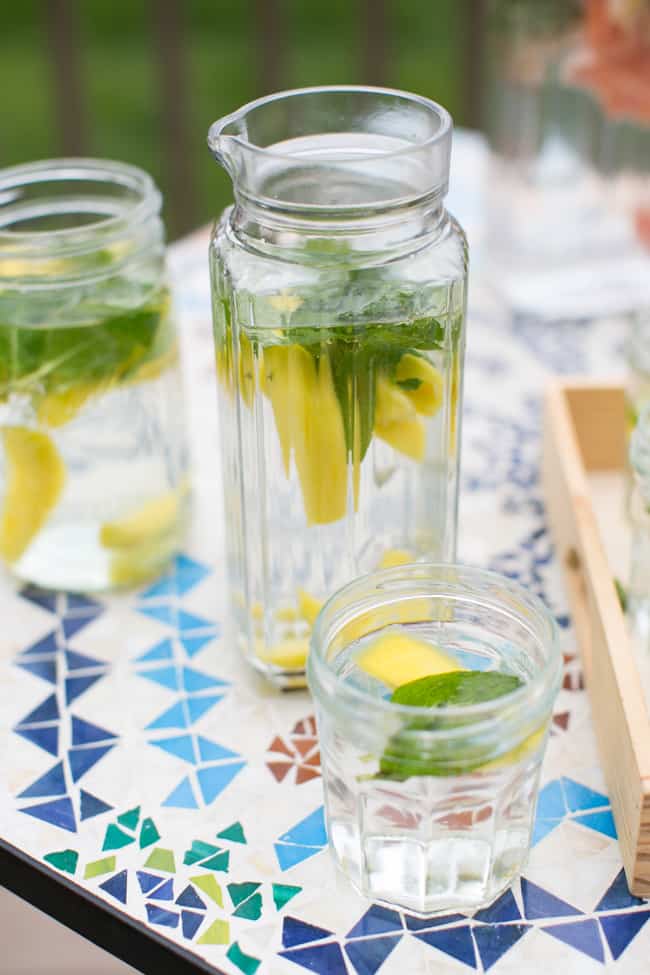 Ingredients
32 oz of water
2 sprigs of fresh organic mint or about 8 small leaves
1/2 mango with the skin cut off and divided into pieces (about 6)
Instructions
Combine the mint and mango with water and let the infusion sit for 3-4 hours at room temperature.
The warmer temperature helps the ingredients' flavors intensify more quickly.
You can also infuse in your refrigerator for up to 12 hours.
Rosemary Grapefruit Water
This is a great option if you don't want your water too sweet. I let this one infuse a bit too long and it got seriously tart. But grapefruit is a nice way to change up your usual lemon water. Rosemary also pair nicely with berries.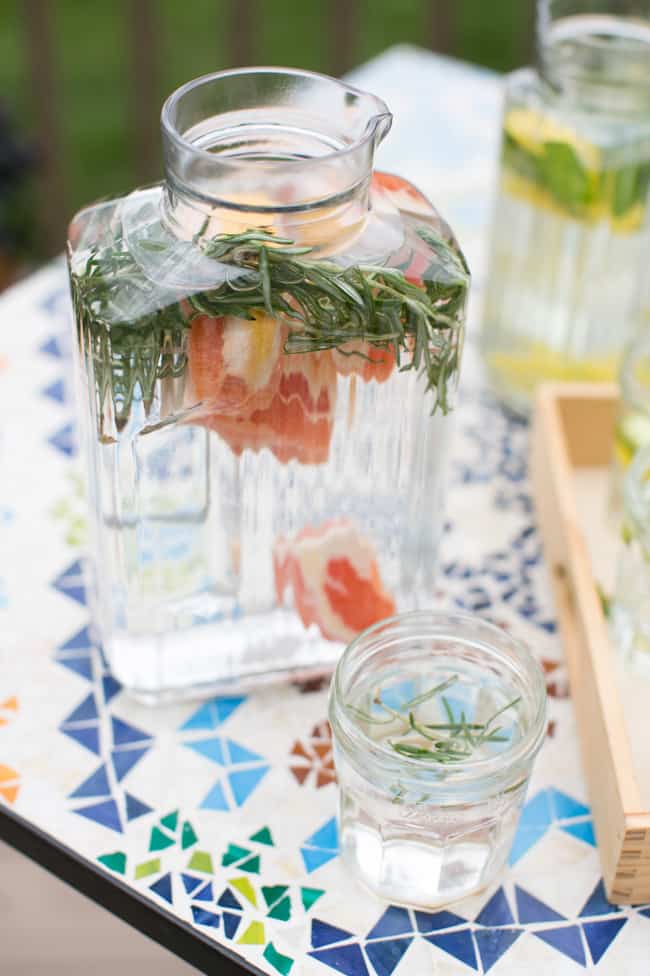 Ingredients
32 oz water
1 grapefruit
1 sprig of fresh rosemary
Instructions
Cut the rind away from the grapefruit (leave a little rind for added flavor) and cut the fruit into slices.
Fill a jar or infuser bottle with water, then lower the fruit into the water (instead of pouring water over the fruit).
Infuse for 2 hours at room temperature and up to 24 hours in your refrigerator.
Cucumber Cilantro Water
My kids were so excited about using our new water pitcher, and it was hilarious to watch them drink this water with a hint of jalapeño. It definitely adds a kick! I love the taste of cilantro, but I know some people hate it (my sister is one of the 'it tastes like soap' people). You can leave it out if you prefer.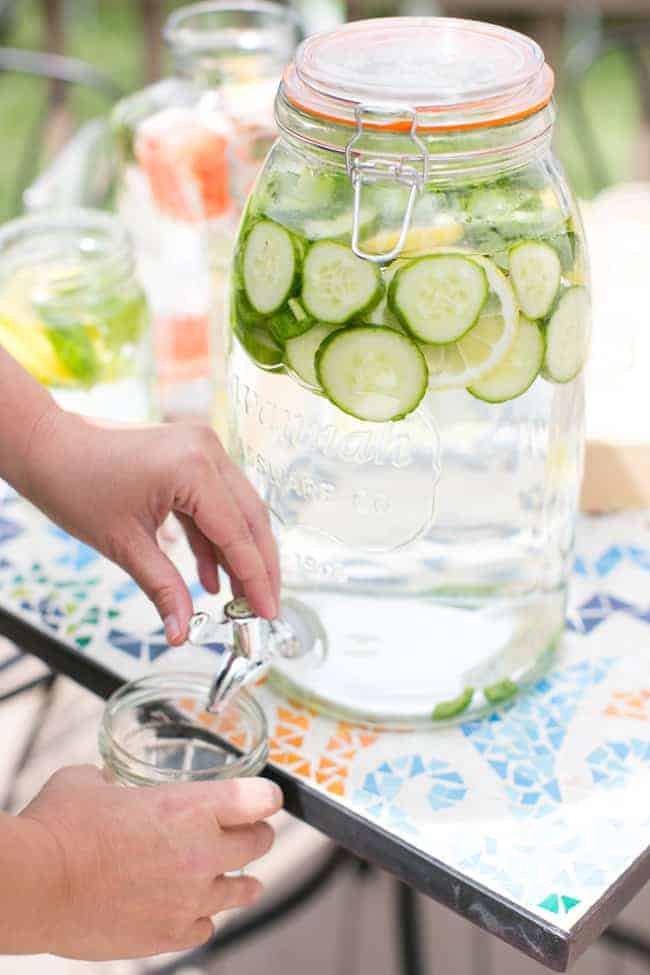 Ingredients
32 oz water
½ English cucumber sliced
½ Jalapeno cut lengthwise and seeds removed optional
½ Lemon sliced
3 Sprigs of cilantro
Instructions
Combine the cucumber, jalapeno, cilantro, and lemon with water and let the infusion sit for 3-4 hours at room temperature.
You can also infuse in your refrigerator for up to 12 hours.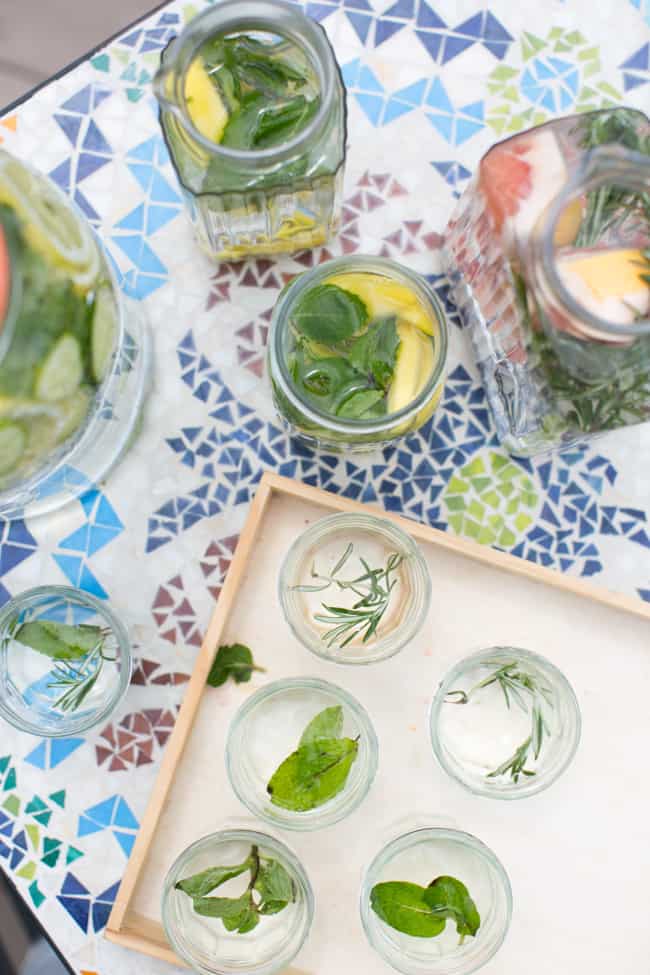 What's your favorite water flavor? My lavender plant just started blooming, and I can't wait try it in water!
Recipes by Laura Wallace, Photos by Susan Hudson
0