This post brought to you by CuVerro. The content and opinions expressed below are that of Hello Glow.
You know those people with perpetually clean homes? The kind where you can stop in on a moment's notice and their place always looks spotless? I think it's safe to say that we all have one of those friends who makes keeping a beautiful, tidy home look effortless. Maybe even you're that person, but if you're not, all is not lost. Learning to keep a clean home is as simple as implementing a few basic habits that make tidying large messes more manageable. So this year, why not resolve to get your home in tip-top shape (and keep it that way) with these nine everyday cleaning habits.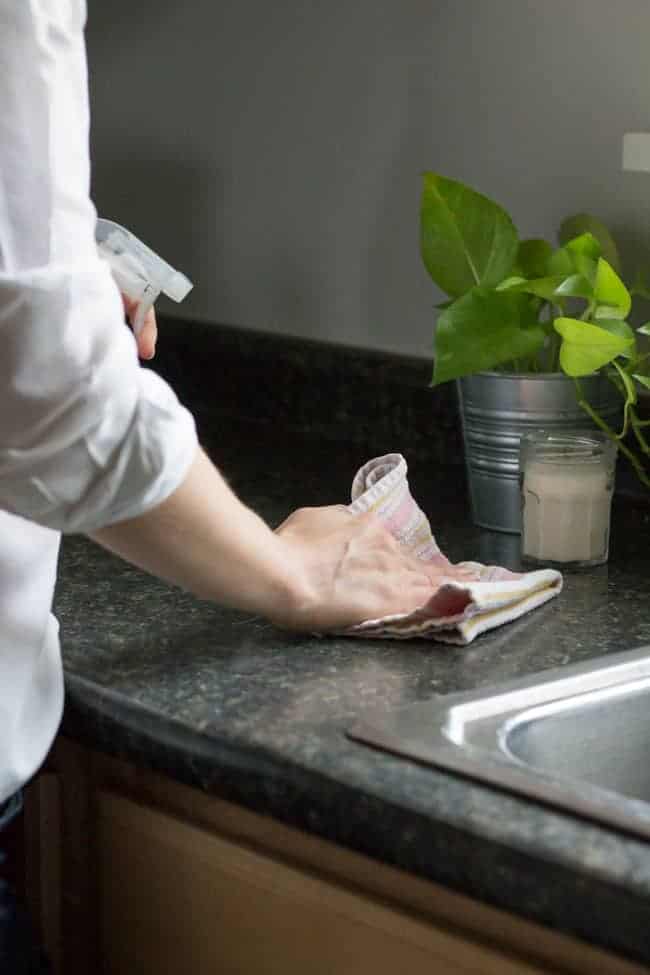 I'll admit, committing to a new year's resolution that requires daily cleaning can seem daunting, but keeping a perpetually tidy home actually becomes easier if you don't worry about doing one deep-cleaning every week. Instead, breaking it down into small, painless tasks that you can implement every day without putting much thought into takes a lot of the hassle out of cleaning. Little things like putting dirty clothes straight into the hamper and wiping down countertops go a long way toward making a home feel tidy without requiring a lot of elbow grease.
Especially after testing my home with the Hygenia ATP testing tool from CuVerro, it became apparent to me how vital it is to do a little bit of cleaning each and every day. Just one quick little test showed me that my kitchen sink contained more germs than the outside of my trash can, and my wood cutting boards weren't far behind! And it's not just food-borne illnesses we have to worry about in a dirty house. Most cold and flu germs are spread by touch and can live on surfaces for up to 48 hours, so it's possible to get sick long after the infected person leaves (ew!).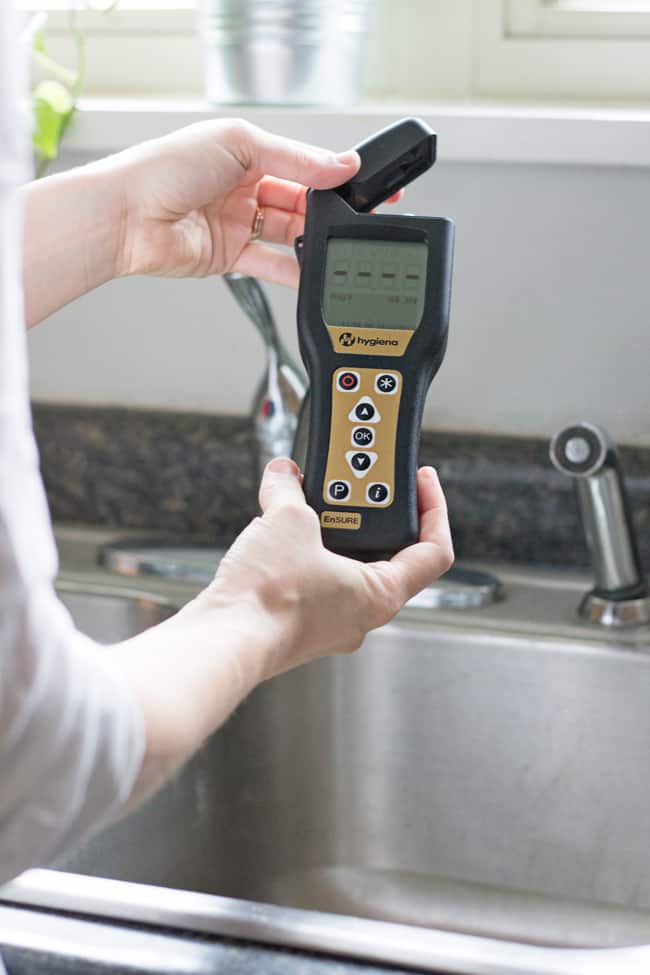 But if daily cleaning isn't your cup of tea, did you know that you can actually make your home cleaner, healthier and more sanitary without having to clean more often?
Unlike surfaces made of wood, plastic or stainless steel, copper actually has inherent antimicrobial properties and can kill germs while you sleep. As a matter of fact, studies have shown that copper naturally kills 99.9% of household germs, when cleaned regularly. And with antimicrobial copper product made with CuVerro, such as doorknobs, faucets, and kitchen handles, you can put copper's bacteria-fighting powers to work in your own home.
CuVerro's copper products are the ideal material for your most-touched household surfaces because they kill bacteria and keep on killing it–even after repeated contamination. So, with just a few simple swaps around the house, you can drastically decrease your exposure to household germs, all while cleaning less often. Learn more at CleanAsCopper.com
9 Habits for a Clean, Healthy Home
As with any resolution, it's human nature to start out strong, but slowly fizzle out as time goes on. This daily cleaning plan makes it easy to stay on track and maintain a clean, healthy home all year long. And if at any time you find that you have let your resolution slide, simply jump back in at any time!
1. Make the bed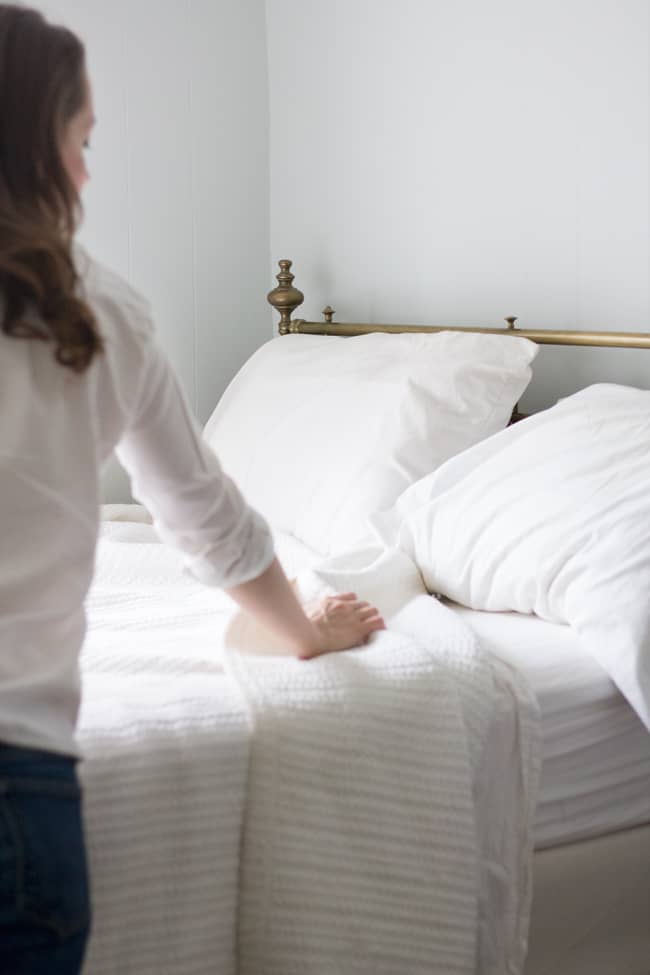 I'll be honest, neither my husband nor I enjoy making the bed and we struggle with this one regularly. But one of the easiest ways to make your home look clean and put together is by making the bed every day. Try to make your bed before you rush out of the house in the morning, or at the very least pull the comforter up to the pillows and smooth out wrinkles.
2. Clean handles and light switches
Some of the germiest places in the house are the surfaces everyone touches regularly, like doorknobs, faucet levers, cabinet handles and light switches. And since bacteria and viruses can live on surfaces for days, it's important to disinfect them everyday (especially during cold and flu season!).
But if giving your hardware a daily scrub isn't in the cards, try swapping out your plastic or stainless steel handles and light switches for some antimicrobial copper made with CuVerro. They'll do the germ-killing for you while you focus on more important things (like making the bed).
3. Fold and put away your clothes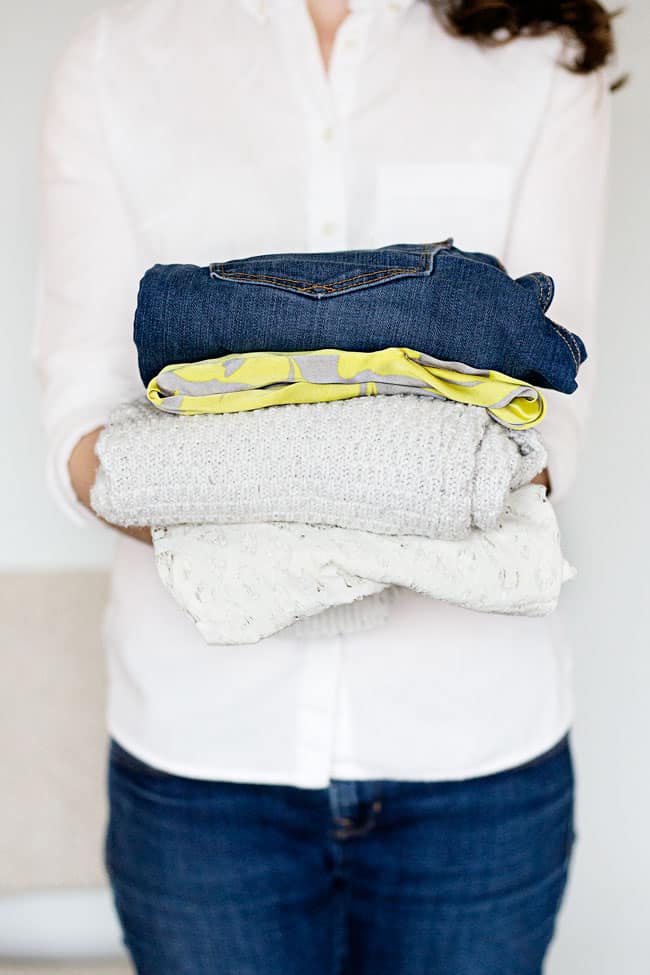 This is one of my personal goals for 2017. It's so, so tempting to simply leave your clothes on the floor after a long day's work, but don't underestimate how much cleaner your home will look if you fold, hang, or place them in the hamper before bed. Not only will your room look tidy but you'll feel better mentally if your clothes are out of sight and not draped over random pieces of furniture.
4. Do a quick sweep of the floors
One thing I have learned from having hardwood floors is that dust accumulates quickly, especially if you're a pet owner.  So this year, make it a goal to grab a broom and do a quick sweep around your baseboards and under large pieces of furniture to pick up any large dust bunnies at least once a day.
5. Put dishes away
This is often easier said than done, but rather than leaving dishes in the kitchen sink, place them in the dishwasher as soon as you finish using them. Then run the dishwasher before bed and empty it first thing in the morning. Keeping the dishwasher empty lays the groundwork for an easy post-dinner clean up and keeps dirty dishes from stacking up during the day.
6. Clean the kitchen sink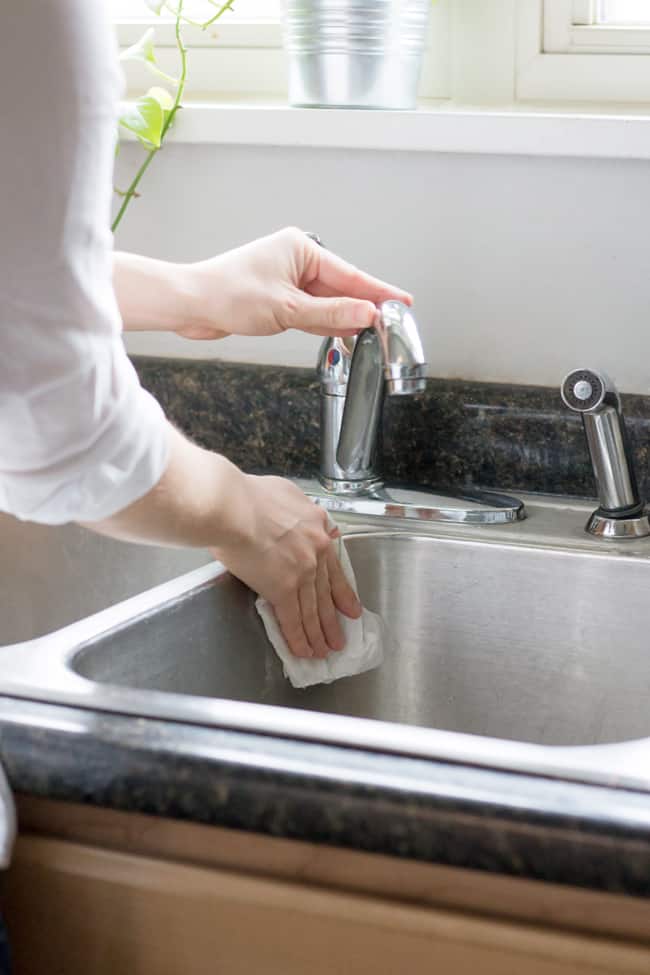 Studies show that there is more E. coli in a kitchen sink than in a toilet bowl (what??). Because bacteria feed on the food that people put down the drain and on dishes left in the sink, it's vital that you disinfect your sink daily. Use a disinfecting spray to clean the sink basin then scrub away food particles with a clean paper towel. But if time is of the essence, switch out your kitchen sink basin for an antimicrobial copper sink made with CuVerro, which begins killing 99.9% of bacteria on contact.
7. Wipe down countertops
Kitchen countertops are germ magnets, especially around the kitchen sink. And since sponges and dish cloths are typically loaded with E. coli, they simply spread bacteria around and make your countertops dirtier. Spray an antibacterial kitchen cleaner on countertops and wipe them down with a clean rag or paper towels at least once a day. Or try switching out your countertops for naturally antibacterial copper countertops made with CuVerro and let them do the disinfecting between cleanings.
8. Clean one thing you've been avoiding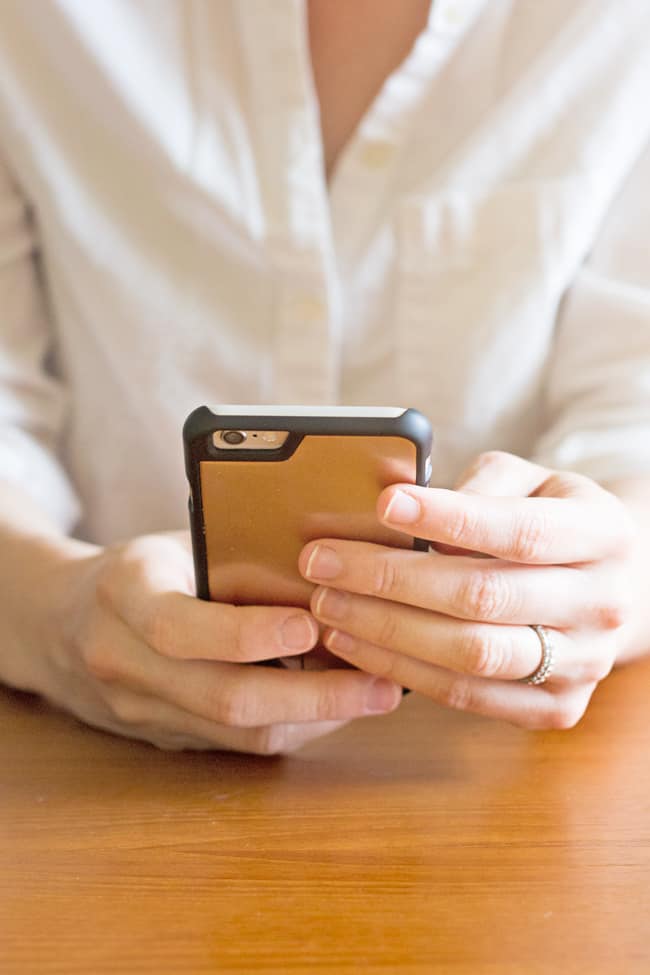 There is always something that needs disinfecting that you've been avoiding. For me, this is usually kitchen cutting boards , the TV remote or my cell phone. This year, be sure to pick one thing that needs cleaning each day and give it a quick wipe down.
And speaking of cell phones, since studies show that cell phones contain 10 times more bacteria than a toilet seat, why not swap out you cell phone case for a copper one from CuVerro. That way you'll no longer have to worry about what infectious germs you might be carrying around on your phone.
9. Tidy up the bathroom
It's amazing how just a quick wipe-down of bathroom mirrors, sinks and shower stalls can make the rest of your house feel cleaner as well. Every evening, wipe out the sink, clean toothpaste specks from the mirror and faucet, and swoosh the toilet bowl with a brush. And once a week spray down your shower stall with an antibacterial cleaning spray to keep mold and mildew at bay.
10. Put away clutter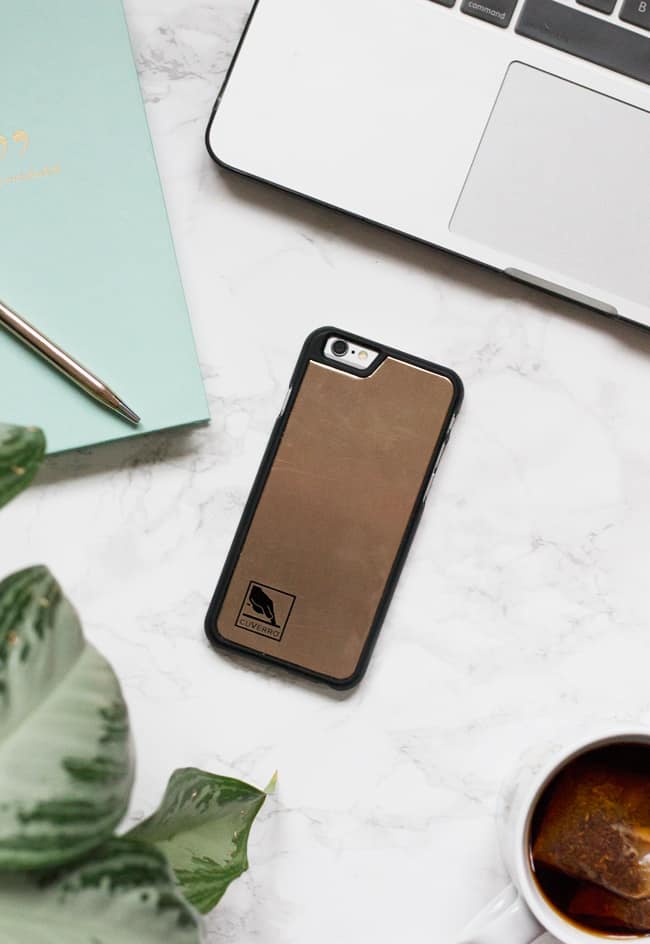 And last but not least, put away stray papers, used glasses and electronics cluttering your desk or kitchen countertops. It will make it much easier to start your day fresh and focused if you don't have to deal with mail and other stray items left out from the day before.
SaveSave
5