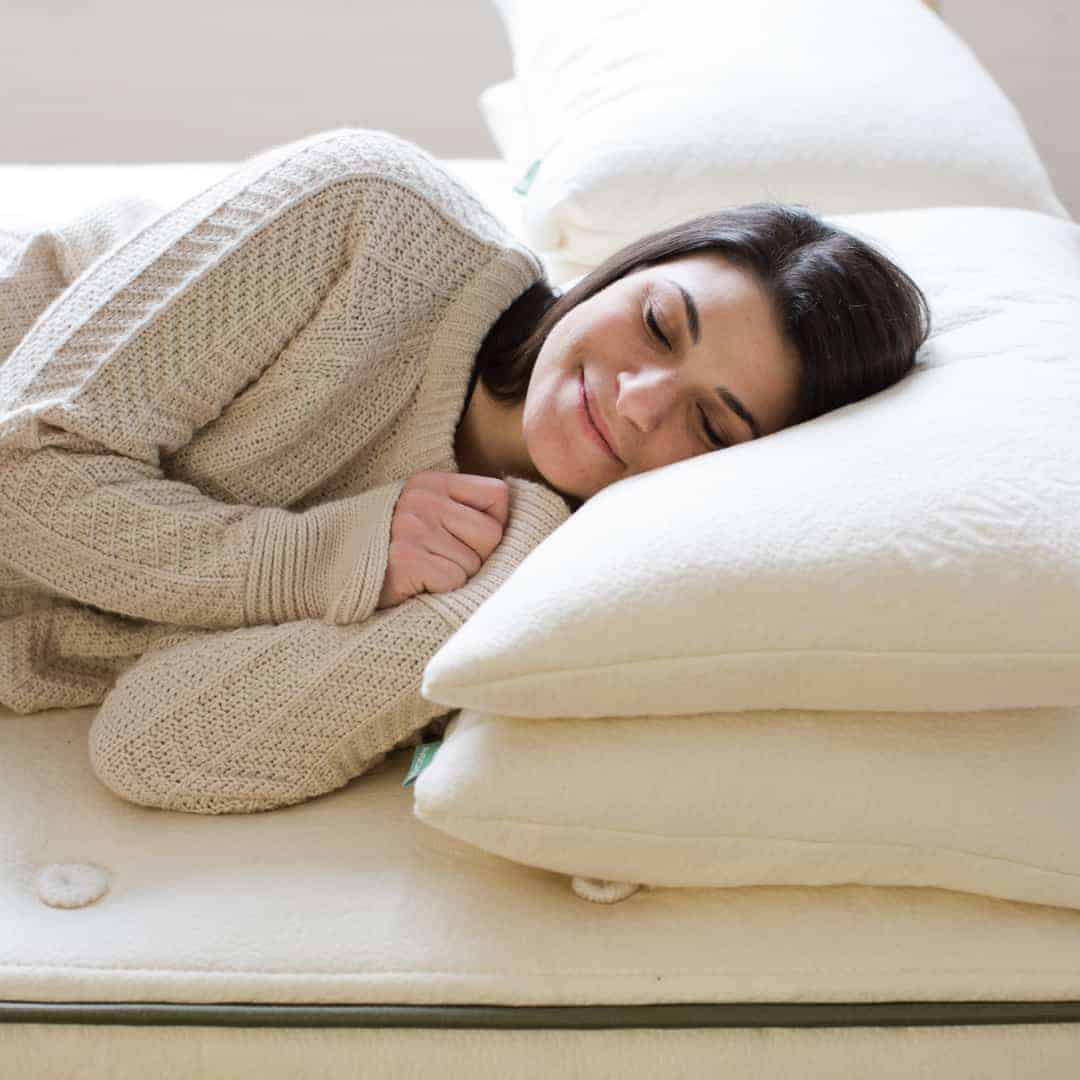 We've partnered with Avocado Green Mattress to create this post.
I took sleep for granted until I became a parent. And that's a whole other discussion. But from the experience of having difficult sleepers in my house, I've learned to prioritize my sleep as much as possible. I can't function without a good night's rest. None of us can! The average human spends 1/3 of their life sleeping.
It goes without saying that sleep, particularly good sleep, is vital to a healthy lifestyle. Without restful, restorative sleep, chances are you won't feel good no matter how long your body is in your bed. There are several important factors that lead to getting a good night's sleep, the most important, in my opinion, is a quality mattress.
I'm going to go ahead and admit what our sleeping arrangements look like right now at my house. The bed my husband and I share is on the floor; the mattress and the box spring are broken. One child has a fairly decent hand-me-down mattress. The other two are sleeping on a camping cot bunk–their bunkbeds broke during our last move. Before you give me the side-eye, you have to know something: I have been literally shopping for two plus years for the perfect mattresses. I've tried out countless mattresses at stores. I've watched videos online. I've read review after review. I've polled my friends. I've come this close to taking the plunge, but then I hesitate.
Every time.
This is my issue–I spent a small fortune on my last mattress about 11 years ago and it was really nice for a little while…until it wasn't. Three moves haven't been easy on our furniture or mattresses. Sleeping on a broken mattress is not something I recommend doing. So I've been hesitant to commit. I have very high expectations for our next mattress(es).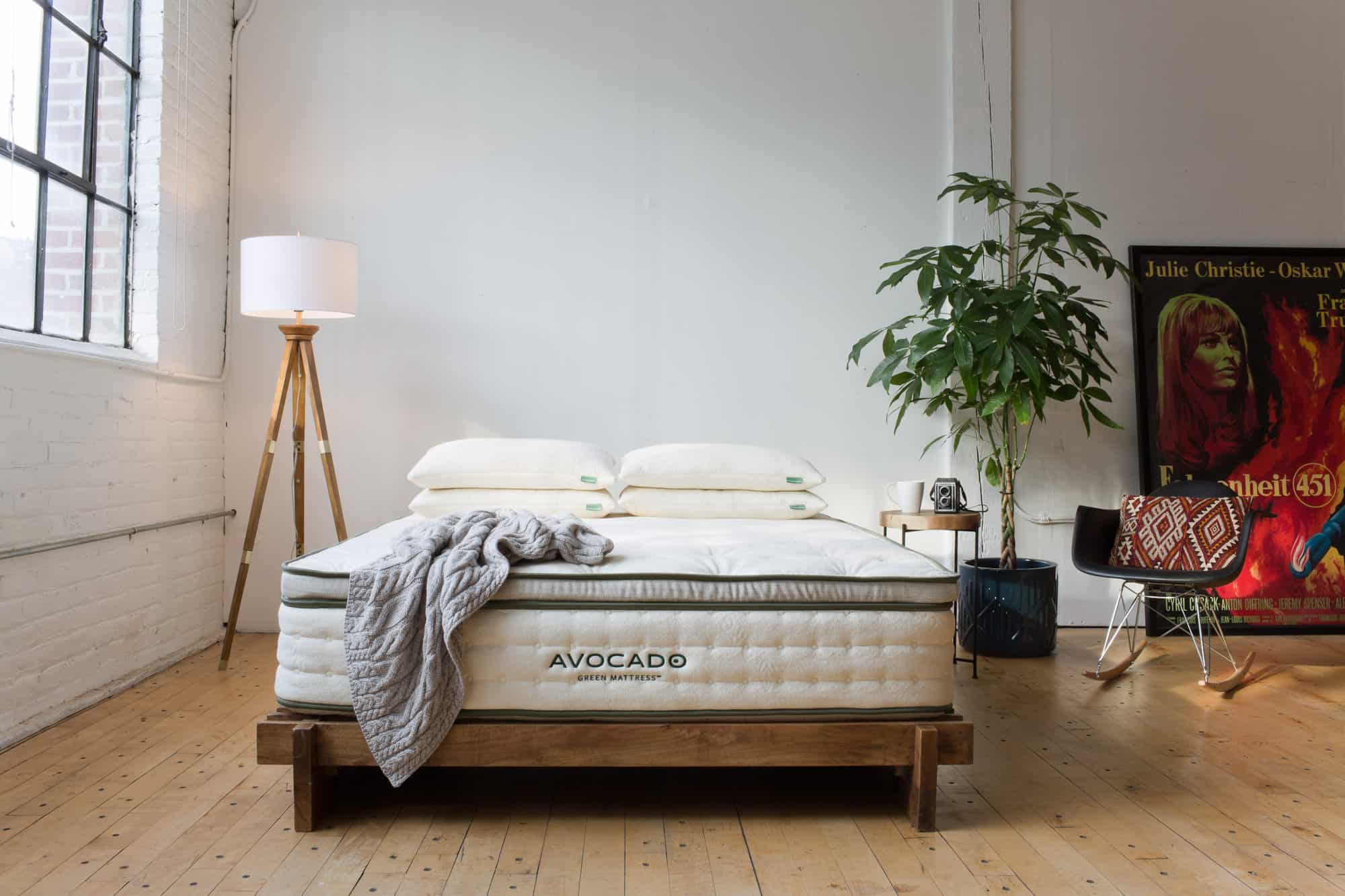 I also have some criteria I'm not willing to budge on. I mean, when you think about it, you spend a big part of your day laying on your mattress. If it's uncomfortable or made from unhealthy materials, that's not good. And that's why I'm not willing to compromise.
Here is my non-negotiable mattress checklist, in no particular order:
Non-toxic and made with natural & organic materials
Hypoallergenic, anti-microbial, resistant to mold, etc.
Sustainable and eco-friendly
Comfortable
Affordable
Supports good spine alignment–I'm so over back pain from a crappy mattress!
Bonus points if it can be delivered right to my house
Bonus, bonus points if it also includes a good warranty
That's a tall order! In my research I've come across quite a few companies, but none have ticked all the boxes for me except for one: Avocado Green Mattress. They tick all the boxes and then some!
A Green Mattress That Fits Into Your Budget – Without Any Compromises
If you haven't heard of Avocado Mattress yet, please allow me properly introduce you–it would be my pleasure!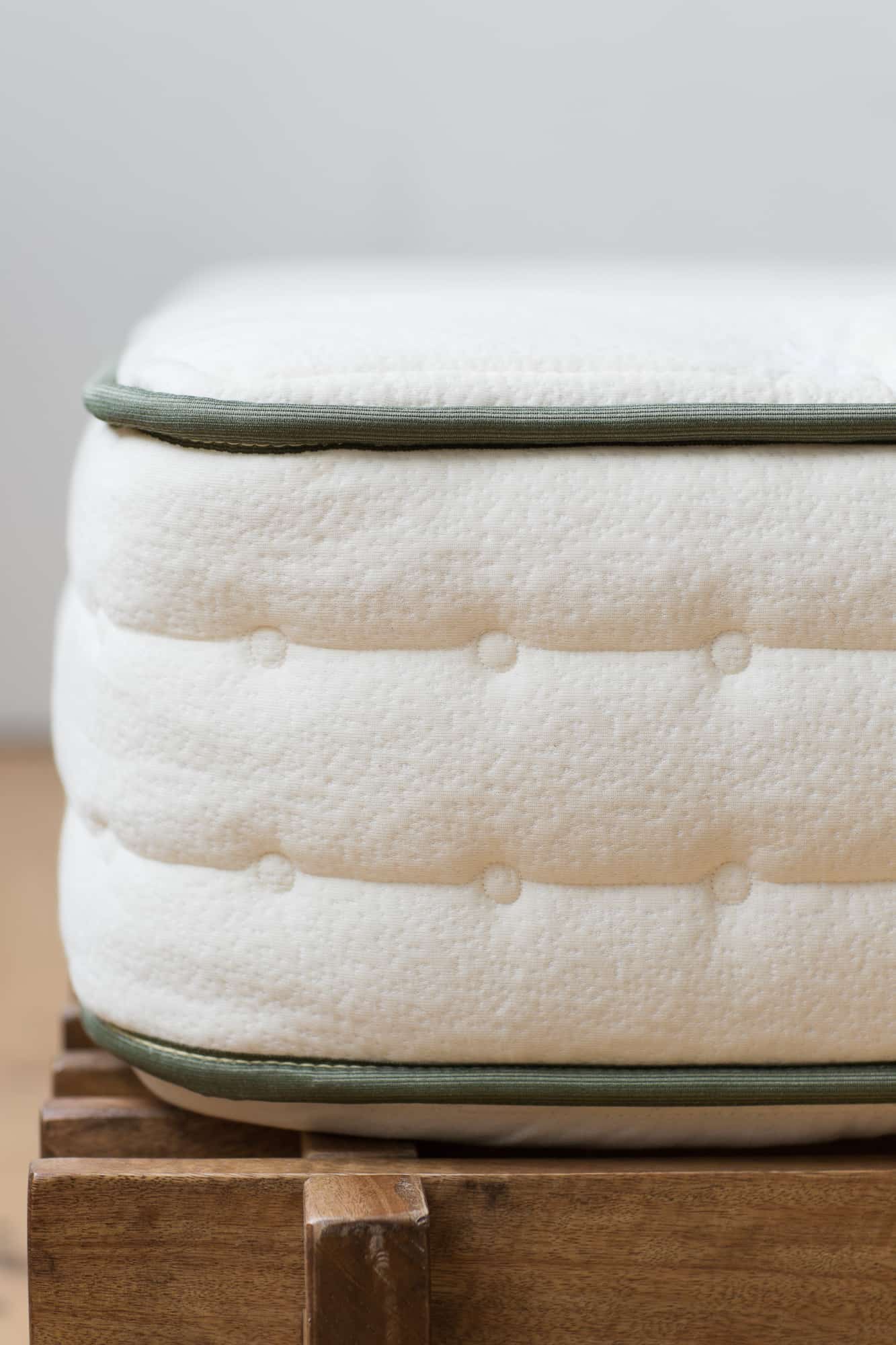 Avocado was started in 2015 when the founders were unable to find a green (non-toxic, natural, and organic) mattress that was also affordable. So they decided to create their own. This company is all about sustainability, lowering the carbon footprint, and offering products that are healthy, safe, and non-toxic. That includes their mattresses, available in Twin, Twin XL, Full, Queen, King, and California King; and their pillows. (Yes, they have pillows too!) Avocado offers their products directly to consumers which helps keep the costs down.
"The real goal is to find the greenest mattress possible at a price point that you can actually afford — and a brand that you can believe in. This is where Avocado is uniquely positioned." – AvocadoGreenMattress.com
What sets Avocado Green Mattress apart from others on the market?
Avocado mattresses:
Are free from petroleum-based foams in the comfort layers, and contain no volatile organic compounds, persistent organic compounds, heavy metals, pesticides, formaldehyde, and phthalates.
Are made from 100% natural Dunlop rubber latex foam harvested from sustainable tree-tapped sources. The natural latex is inherently resistant to mold, mildew, bacteria, and acts as a natural barrier to dust mites; it's also odor-free, unlike memory and other types of foams.
Include a support system of pocketed recycled steel coils in three zones; that extra support is especially important for anyone with back or hip pain (P.S. You won't find that in most other mail order mattresses, which are made without coils).
Contain a thick layer of 100% natural Joma New Zealand wool which is sustainable, natural, biodegradable, compostable, naturally fire retardant, anti-microbial, resistant to dust mites, and non-toxic; the wool also wicks away moisture to keep you warm when it's cold, cool when it's hot.
Have covers made with hand-tufted and stitched certified organic cotton that is non-toxic, breathable and moisture-wicking, soft and comfortable, with double-stitched perimeter seams, upholstered handles, and no chemical adhesives whatsoever.
Contain no chemical fire retardants. Avocado uses a special fire barrier protectant of non-toxic and natural hydrated silica coupled with two 1/2-inch layers of New Zealand wool (wool chars but doesn't burn), and it meets and exceeds all federal flammability standards.
Include the option of a European-style pillow top filled with an additional 2-inch layer (5 inches total) of 100% Dunlop latex rubber foam for extra comfort and luxury.
Have a 25-year warranty, 100-night sleep trial, free shipping compressed in a box or $99 in-home delivery with set-up (plus they can remove and recycle your old mattress!), and free returns.
Can be financed, if needed.
Are manufactured in the US; Avocado Mattress also pays their employees a living wage.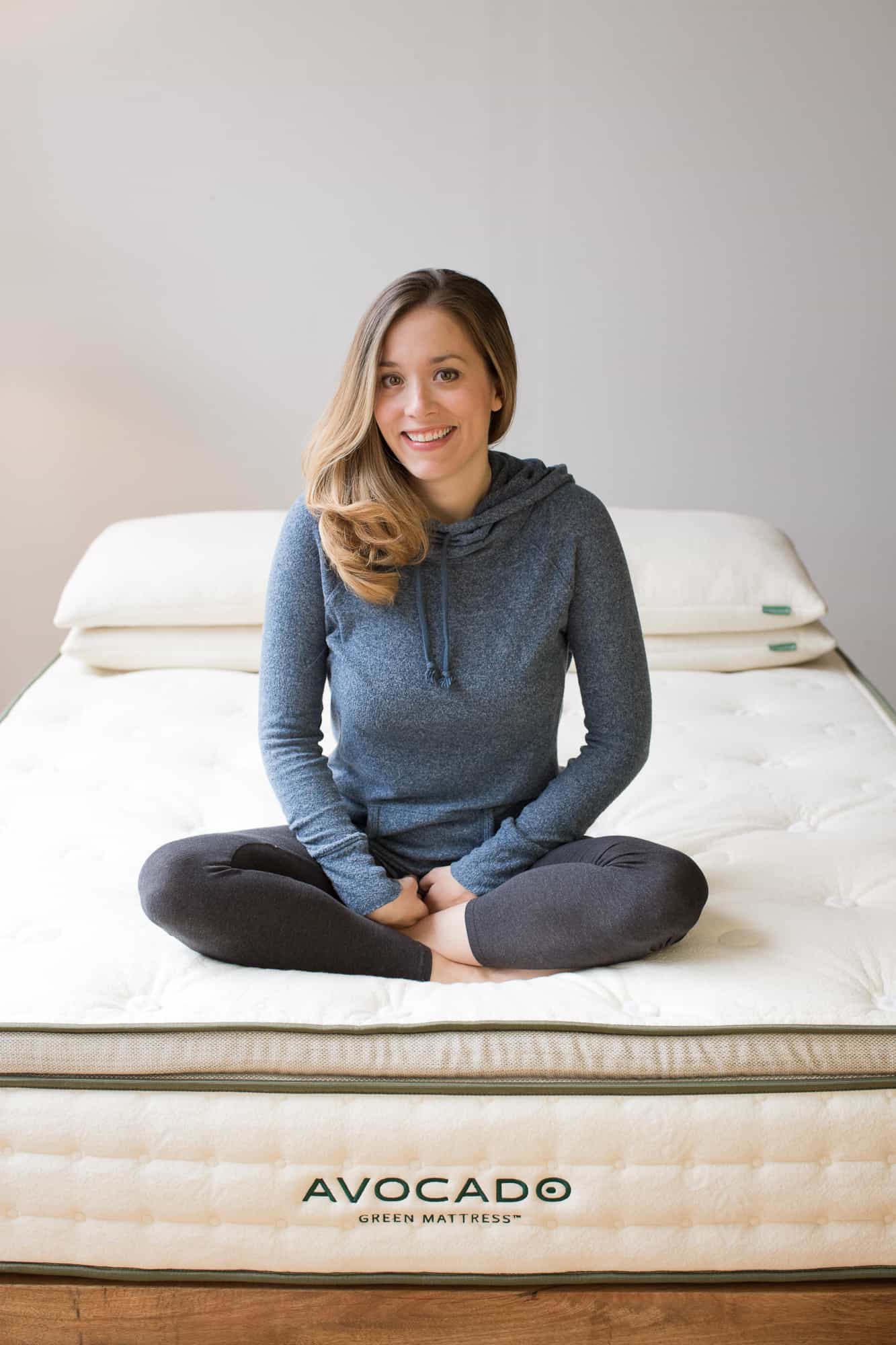 All of those things yield a product that is unmatched in the marketplace right now.
Avocado values the same things you do and create the kind of mattresses you can feel good about sleeping on every night–not just because they are utterly comfortable, but because they are friendly to the environment and your health.
Learn more about Avocado Green Mattress
0