Every year, when the first batch of baked doughnuts come out from my oven, I know it's definitely autumn. It also marks the kickoff a new healthy and delicious baking season. Frying, refined sugars and plain white flour are long gone, while coconut sugar and whole, gluten-free flours always have a place in my pantry, waiting to be turned into nourishing and guilt-free desserts.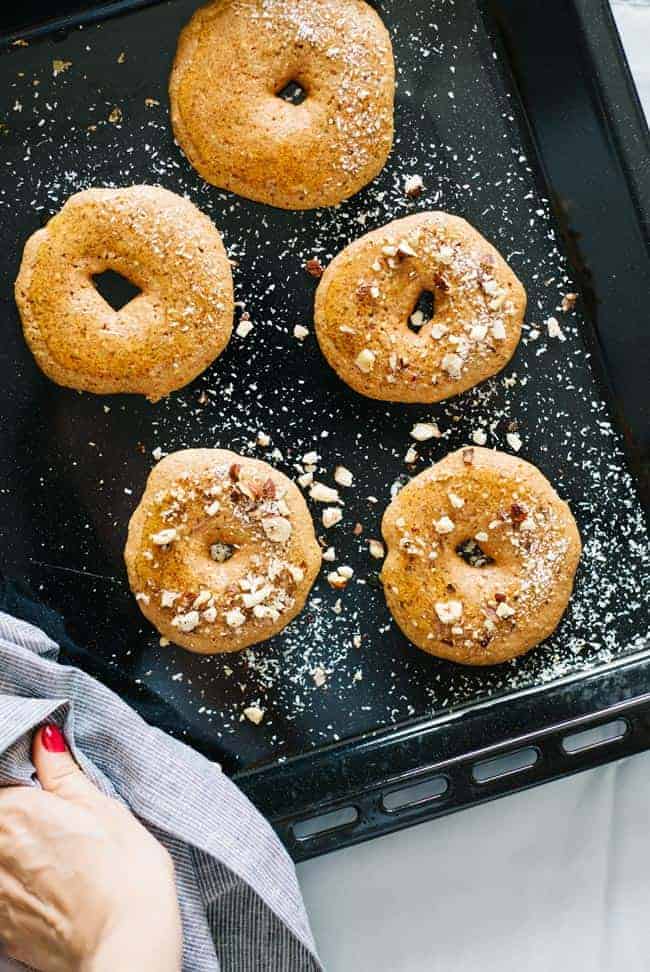 I love grabbing a doughnut and enjoying it with my V60 coffee, but all the gluten-free versions I found were stuffed with gums, stabilizers and preservatives. I searched for a decent gluten-free recipe, and I found Angela's chocolate doughnuts, which sounded like a winner from the first read. As I try to stay away from chocolate for a while, I decided to make a pumpkin version instead. These doughnuts turned into a true autumn delight!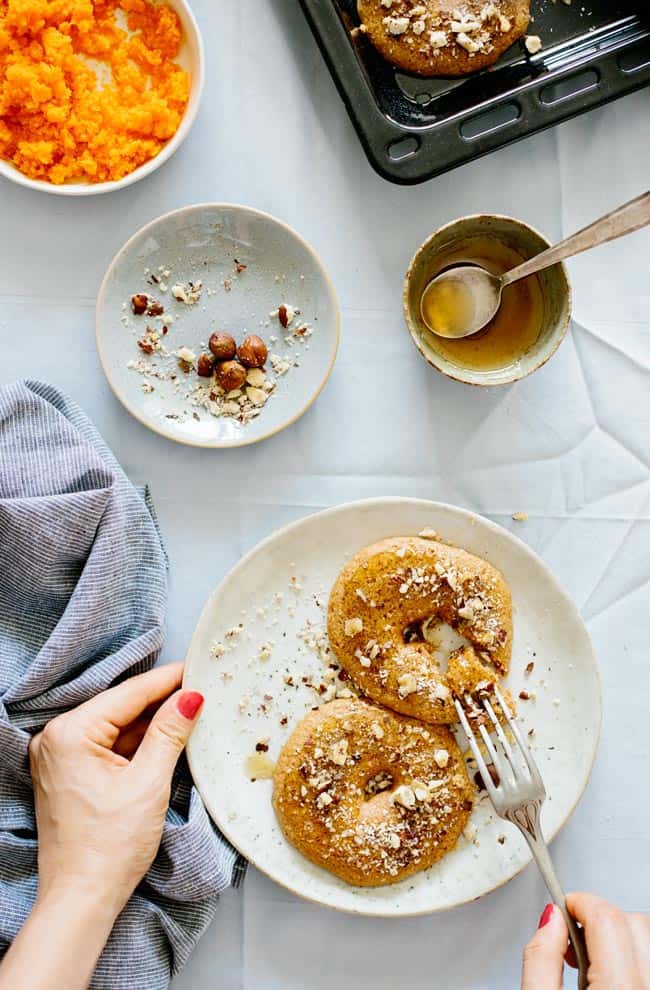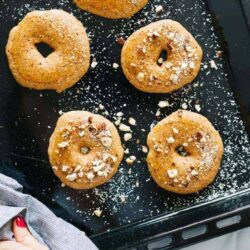 Baked Pumpkin Donuts (Vegan + Gluten-Free)
If you're sensitive to gluten or you're just looking for a healthier version, these doughnuts are definitely a treat for you! Dense and moist, bathed in maple syrup, vegan and gluten-free.
Ingredients
1/2

cup

oat flour

1/2

cup

rice flour

1/2

cup

almond meal

2

tbsp

ground flax

1

tsp

baking powder

1

tsp

baking soda

1/3

cup

coconut sugar

3/4

cup

unsweetened vegan milk

1/2

cup

baked pumpkin puree

3

tbsp

coconut oil

A pinch sea salt

Crushed hazelnuts and coconut flakes

for topping

Maple syrup

to glaze
Instructions
Preheat the oven to 176°C/350°F.

In a large bowl combine the flours with sugar, baking powder and baking soda, then add the vegan milk, oil and pureed pumpkin, and mix to incorporate (you should obtain a thick batter).

Distribute evenly into a greased doughnut pan and bake for 20 minutes.

Remove from the oven and set aside to cool for five minutes.
Notes
Serve with maple syrup (or organic honey for a non-vegan version) and crushed hazelnuts.
Store leftovers in the refrigerator up to 3 days.