"Things baked on a tortilla" has become a go-to dinner in my household. Because: parenting a toddler. Shockingly, things baked on a tortilla is a surprisingly delicious meal. Some of our favorites include:
-Hummus or bean dip and roasted vegetables
-Salsa, pepper jack cheese, and black beans
–Pesto, mozzarella, and grape tomatoes
-Vegetable fajitas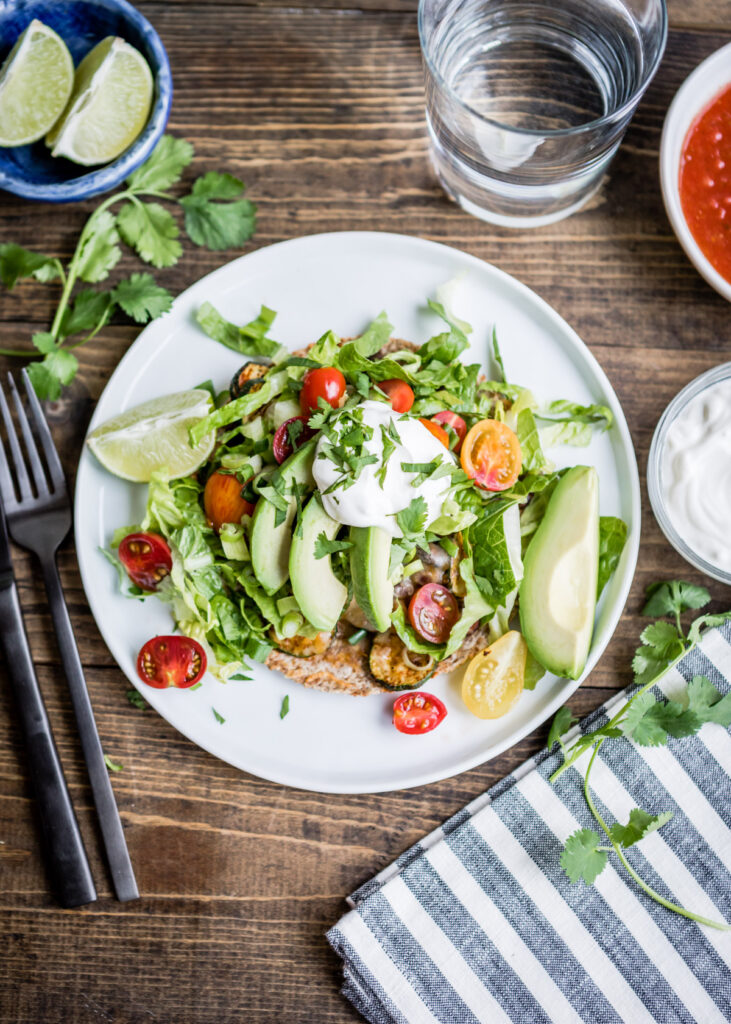 I heat up the oven, bake the tortillas until they crisp up, then my daughter adds toppings and I put them back in the oven until everything is melty and good. Easy! Kid-friendly!
Today's recipe is how we currently do fajitas. It's like a tostada/fajita mashup. Tostitas. Fajadas. Whatever you want to call them.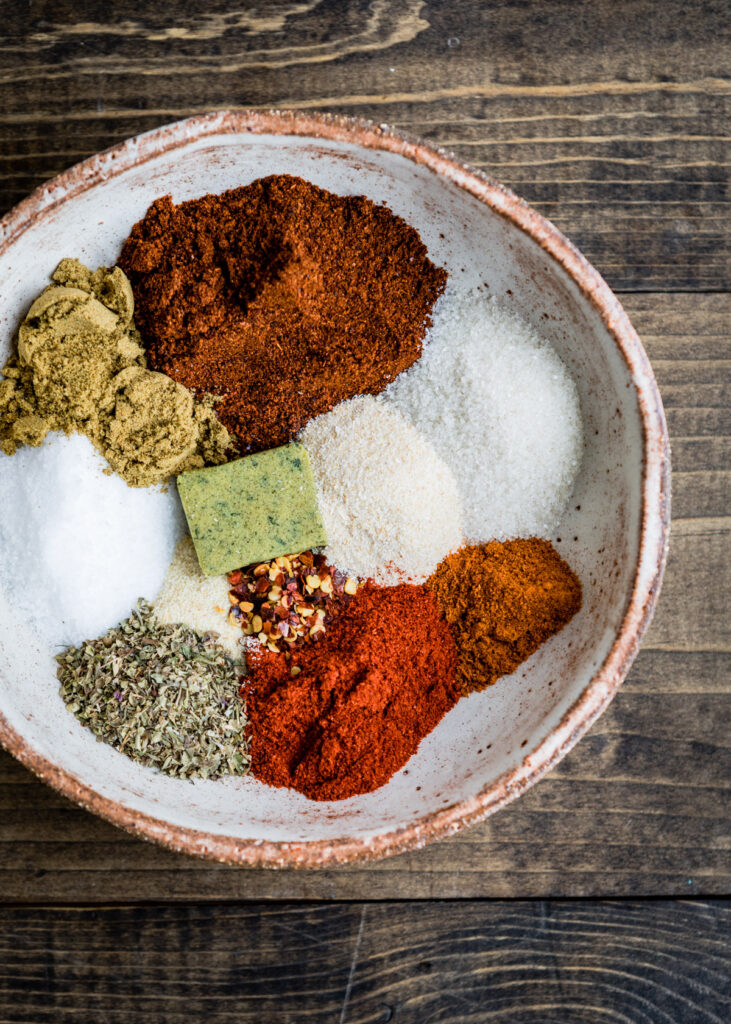 I keep a jar of homemade fajita seasoning in the pantry and whip it out whenever I need to give veggies a Tex-Mex kick. When I have fajitas at a restaurant, I always combine the black beans and veggies in each tortilla (are you supposed to do that?! or are the beans meant to be eaten separately?!) so I do that here to—the black beans are stirred into the sautéed fajita vegetables and spooned onto tortillas, along with cheese.
Once the cheese has melted, everyone in the family can customize their baked tostadas with their favorite toppings. I like to keep things simple with a little cilantro, a drizzle of crema, and a squeeze of lime juice, while my daughter is all about diced tomatoes and my husband tops his with everything.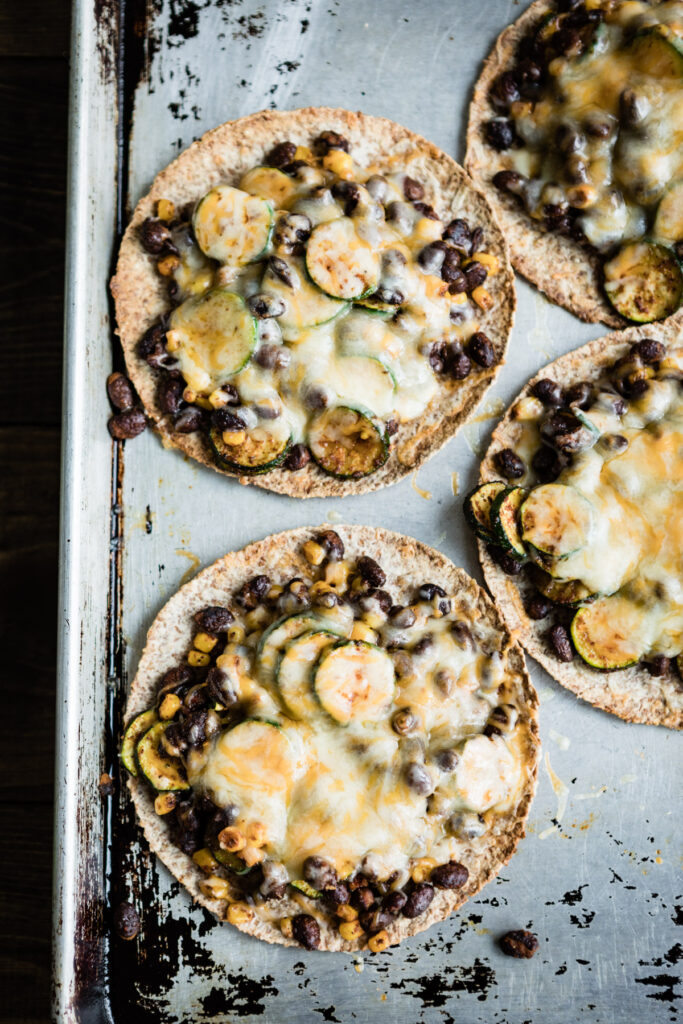 Things baked on a tortilla FTW!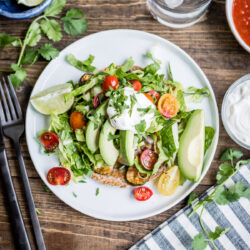 Crispy Baked Tostadas with Fajita Vegetables
Crispy whole grain tortillas are topped with fajita vegetables and cheese for a 20-minute dinner that's kid-approved too.
Ingredients
1

tablespoon

avocado oil

1

tablespoon

fajita seasoning

see recipe below

1

small yellow onion

sliced

1

small zucchini

sliced

1/2

cup

fresh or frozen corn kernels

I like Trader Joe's fire-roasted corn

1

15-ounce can black beans, drained and rinsed

4

medium whole grain tortillas

1

cup

shredded Mexican blend or pepper jack cheese

Chopped cilantro and lettuce

sliced green onions, diced tomatoes, avocado, crema, pickled jalapeños, salsa, and/or any other toppings you'd like
For the fajita seasoning
2

tablespoons

chili powder

1

tablespoon

salt

1

tablespoon

sugar

1

tablespoon

smoked paprika

2 1/2

teaspoon

crushed vegetable bouillon cube

2

teaspoons

dried oregano

1 1/2

teaspoon

onion powder

1 1/2

teaspoon

ground cumin

1/2

teaspoon

cayenne pepper

1/2

teaspoon

garlic powder

1/4

teaspoon

crushed red pepper flakes
Instructions
Preheat broiler. Spray a large baking sheet with oil or cooking spray.

Heat the avocado oil in a large skillet over medium-high heat. Stir in the fajita seasoning, then add the sliced onion. Cook for about 5 minutes, or until softened, then stir in the zucchini and corn. Cook until zucchini is softened, about 3 minutes. Fold in the beans and remove from heat.

Arrange the tortillas on the prepared baking sheet. Broil until crisp, about 2 minutes - broilers can vary wildly, so keep a close eye on the tortillas to make sure they don't burn.

Divide the cheese and fajita vegetables onto each tortilla. Return to the oven and broil until the cheese has melted, about 2 minutes.

Transfer the tostadas to plates and add toppings.

To make the fajita seasoning: Combine all of the ingredients in a small jar, cover, and shake to combine.
Notes
You can substitute store-bought fajita seasoning for homemade if you prefer.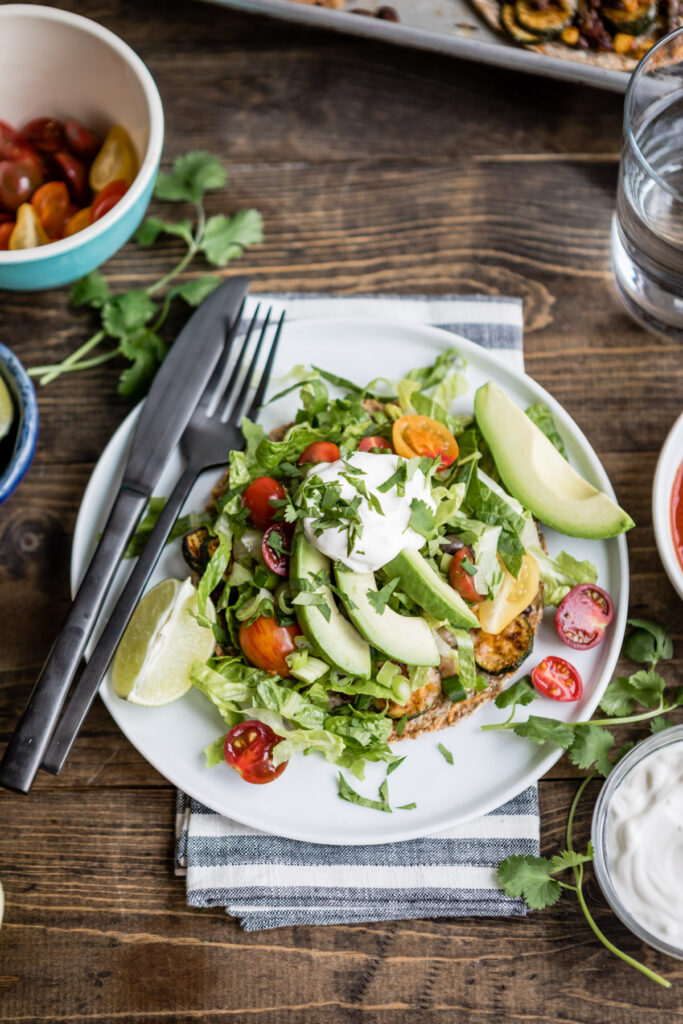 Photos by Lindsey Johnson