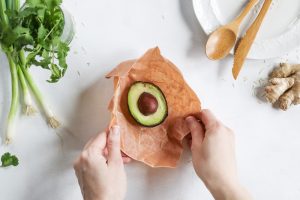 Beeswax Wrap DIY Tutorial
Yield 3-4 wraps
Ingredients
Beeswax pellets (you'll need 2-3 tablespoons per wrap)
1 - 2 yards 100% organic cotton fabric cut to size
Parchment paper
Cookie sheet
Paint brush
Instructions
Preheat the oven to 250F.
Line a cookie sheet with parchment paper and place pre-cut fabric (I usually cut mine in various sizes such as 8" x 8" and 12" x 12") on the parchment. 
Sprinkle the fabric with a a couple tablespoons of beeswax (a little goes a long way so you don't need a lot).
Place the pan in the oven and check after 4 - 5 minutes to see if the wax has melted.
When the beeswax is just melted, remove from oven. Spread wax with a paintbrush to remove excess and coat any bare spots.
Recipe by Hello Nest at https://hellonest.co/beeswax-wrap-diy/