In need of last minute decorating ideas for the holidays? You can quickly add a little graphic holiday cheer to your home, party or gift wrap with these 2 tree DIYs. We love all things black and white for this holiday season, and the beauty of trees is that they are not Christmas specific. They are beautiful all winter long!
I've used these simple tree garlands on my mantel and even wrapped them around my gifts.
Supplies needed
Paper card stock
Scissors or Cricut machine
Sewing machine
2-inch rubber eraser
Black ink stamp pad
Instructions
Step 1
Using paper card stock, cut out lots and lots of little black trees. Mine are just 2 inches tall. You can use good old fashioned scissors (cutting at least 2 out at a time) or you can make the job really easy and use a Cricut machine.
Step 2
To made the job of stringing these really easy, use a sewing machine to sew down the center of each tree. I used white thread so the stitching would be noticeable, but sewing with black thread might give the effect of floating trees, which would be fun too!
Step 3
To make coordinating wrapping paper sketch the shape of a tree on a basic 2-inch rubber eraser. Cut the outline of the tree with an X-acto knife and then cut off the outside of the shape. This will leave the tree silhouette in tact. Then using a simple black stamp ink pad, print the paper. I stamped my trees in even rows and flipped the trees on the alternating rows.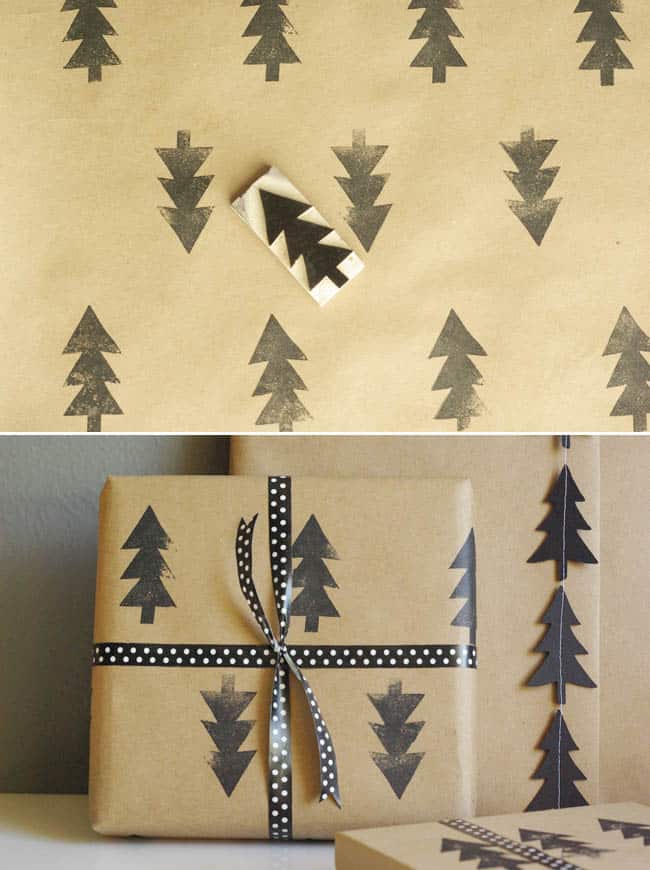 I love adding handmade touches to gifts this time of year! How do you personalize your packages?