Who else is excited that fall is here?! The leaves are changing. There's a crispness to the air that lends itself to comfy sweaters, crafting, and a fire. There is another layer to fall: Let the apple cider and pumpkin spice madness begin! It's easy to fall in love with these warm, cozy beverages.
And this cocktail is my new favorite. The spicy ginger beer bubbles are softened by the bourbon's sweetness and the apple cider's cinnamon notes. It all comes together to make a refreshing, yet warming cocktail for the chilliest of nights. This recipe could easily be batched out for a party, just have a container of ice on the side for guests to add before they pour the cocktail in their glass.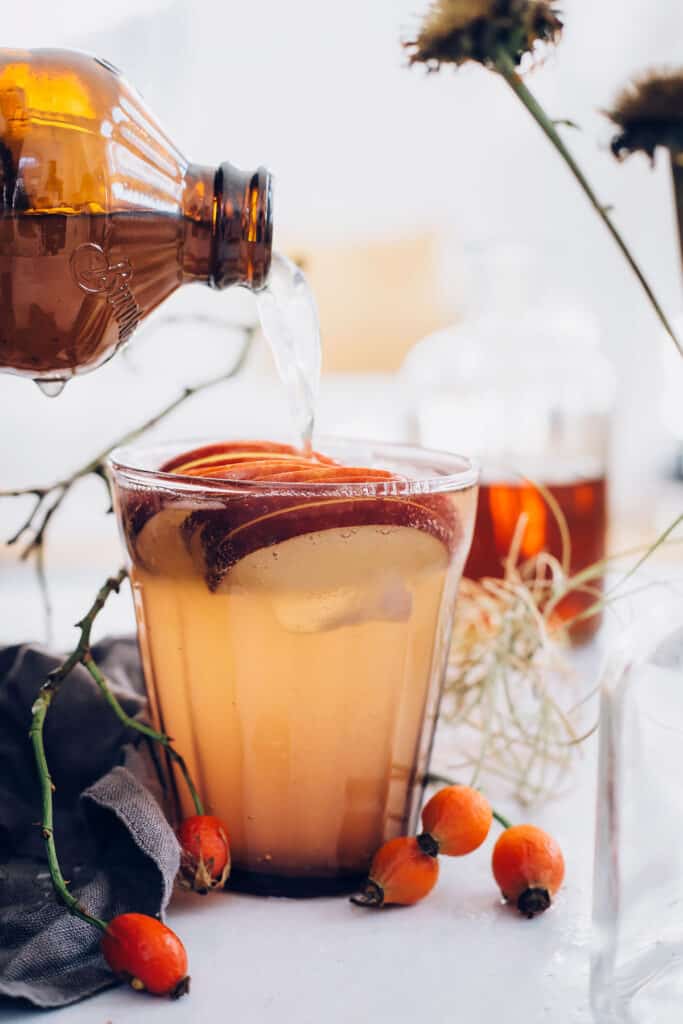 The smell of cinnamon lets me know that fall is really here and it's time to pull out my craft box, hot glue gun, and if I'm feeling brave, glitter. Okay, maybe only glitter after the kids have gone to bed. Who wants to clean up that mess, am I right?
Something comes over bloggers in the fall, and we all go a little craft crazy. It's easy to get in the spirit seeing Halloween costumes, wreaths, cinnamon brooms, and pumpkin decorating ideas. And to be totally honest, this gave me major anxiety a few weeks ago. How was I supposed to decorate a pumpkin when they weren't even out yet? I'm ready for fall, I need a pumpkin. I can't craft without pumpkins! Where were the darn pumpkins?!?
Fortunately, the pumpkins and mums finally arrived in stores, and I talked myself down from the pumpkin panic attack and mixed up this easy bourbon based cocktail to get me in a more mellowed out fall mood. It comes together quickly, meaning it's ideal for your craft based anxiety.

Bourbon Ginger Cider Recipe
In a short glass full of ice mix 1 oz ginger beer, 1 oz apple cider and 1 oz bourbon and stir for about 10 seconds. Stirring the cocktail allows the ingredients to come together, but also allows the ice a chance to mellow out the bourbon alleviating that sharp boozy bite. Don't bother with a shaker – you'll just have to wash it.
Garnish the cocktail with a slice of apple or lemon peel, if you're feeling fancy.
It's really that easy.
Don't care for bourbon? This recipe would work just as well with vodka, brandy, or mezcal to add a touch of smokiness.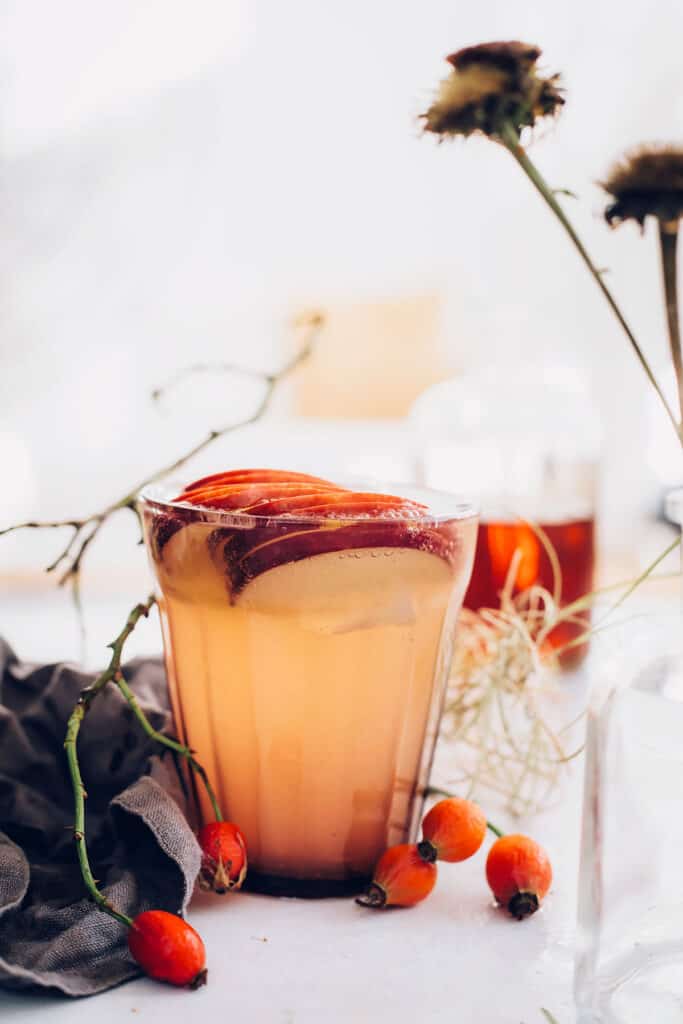 Looking for more ways to enjoy apple cider? Try this Honey Bourbon Apple Cider Cocktail or this Blackberry Cider Fizz Mocktail.
Photos by Ana Stanciu
1