Fennel is a polarizing vegetable. It's one of those things you either love or hate. The anise-like flavor is strong when fennel is served raw or only lightly cooked. Personally, I'm not much of a fan, and I had written off fennel altogether until I discovered how good it is when it's caramelized.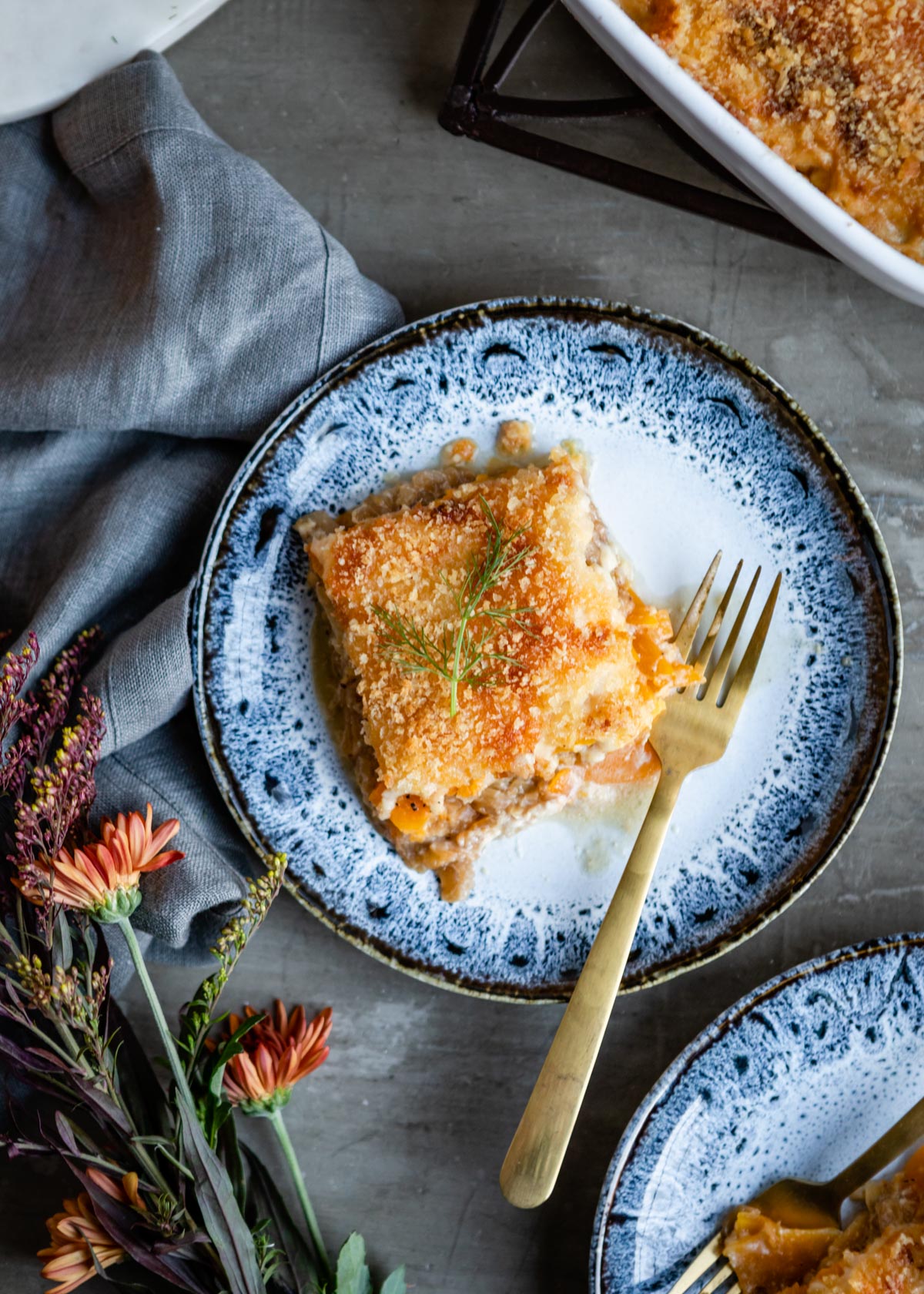 Caramelizing fennel mellows that biting anise flavor significantly. It allows fennel to play well with others, so to speak–instead of being the dominant flavor of any dish you add it to, when fennel is caramelized, it complements other ingredients nicely. Added to this Butternut Squash Gratin, caramelized fennel helps highlight the sweetness of the winter squash. If you're still looking for another Thanksgiving side dish to add to your menu, this is it.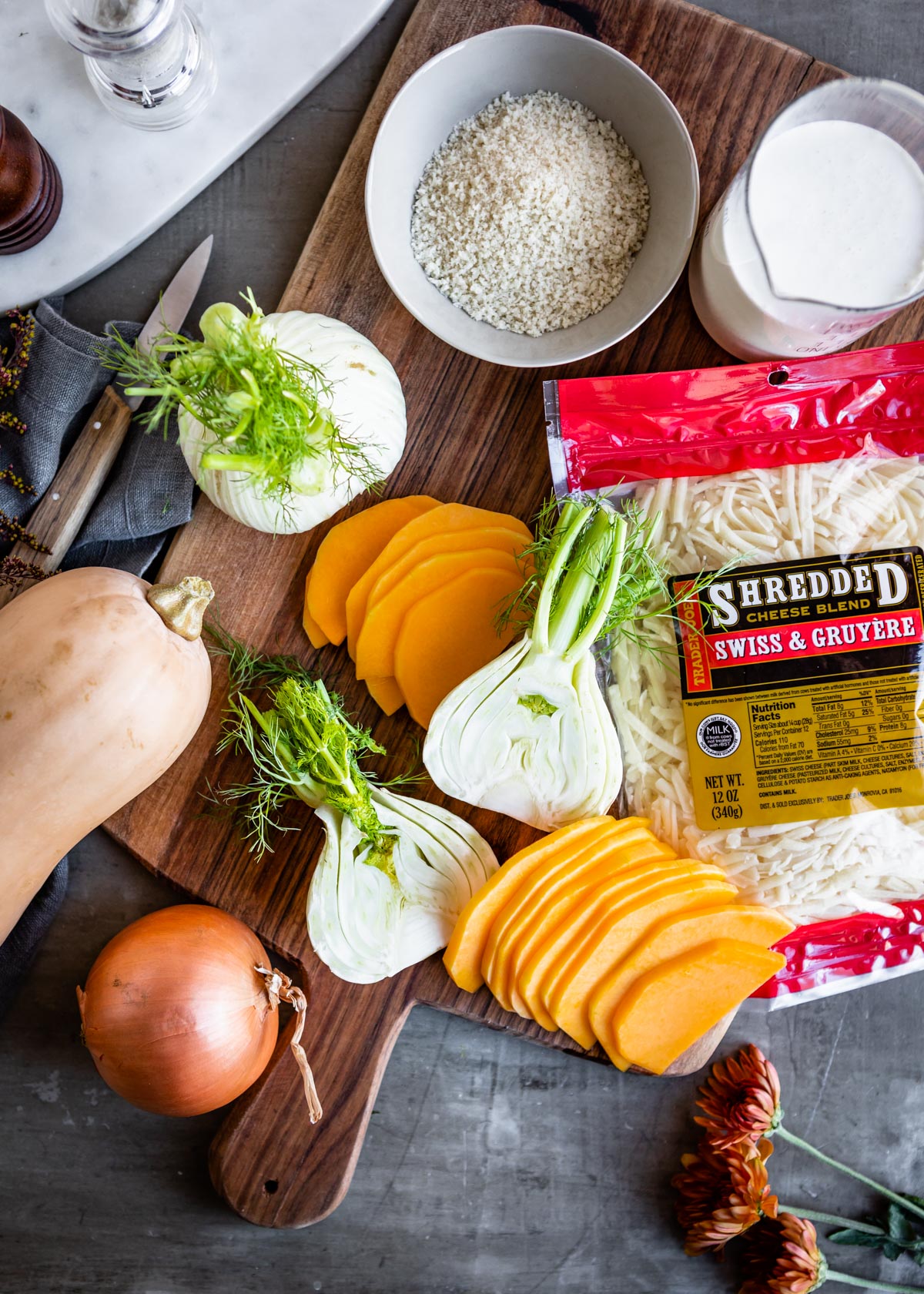 A lot of people wonder how they can lighten up a gratin recipe–usually their first target is the heavy cream. Can you use something lighter? Well, you could, but you'd run the risk of having your gratin curdle. Save the experimentation for a weekend dinner–for a holiday meal, go with the heavy cream. You can easily cut down on the cheese in the recipe if you'd like, but using milk instead of cream in a gratin is just asking for trouble.
You can easily assemble this Butternut Squash Gratin the night before Thanksgiving and pop it in the oven the next day. Leftovers are fantastic too–we've even frozen them with good results, although the butternut squash will be a bit more soft upon reheating.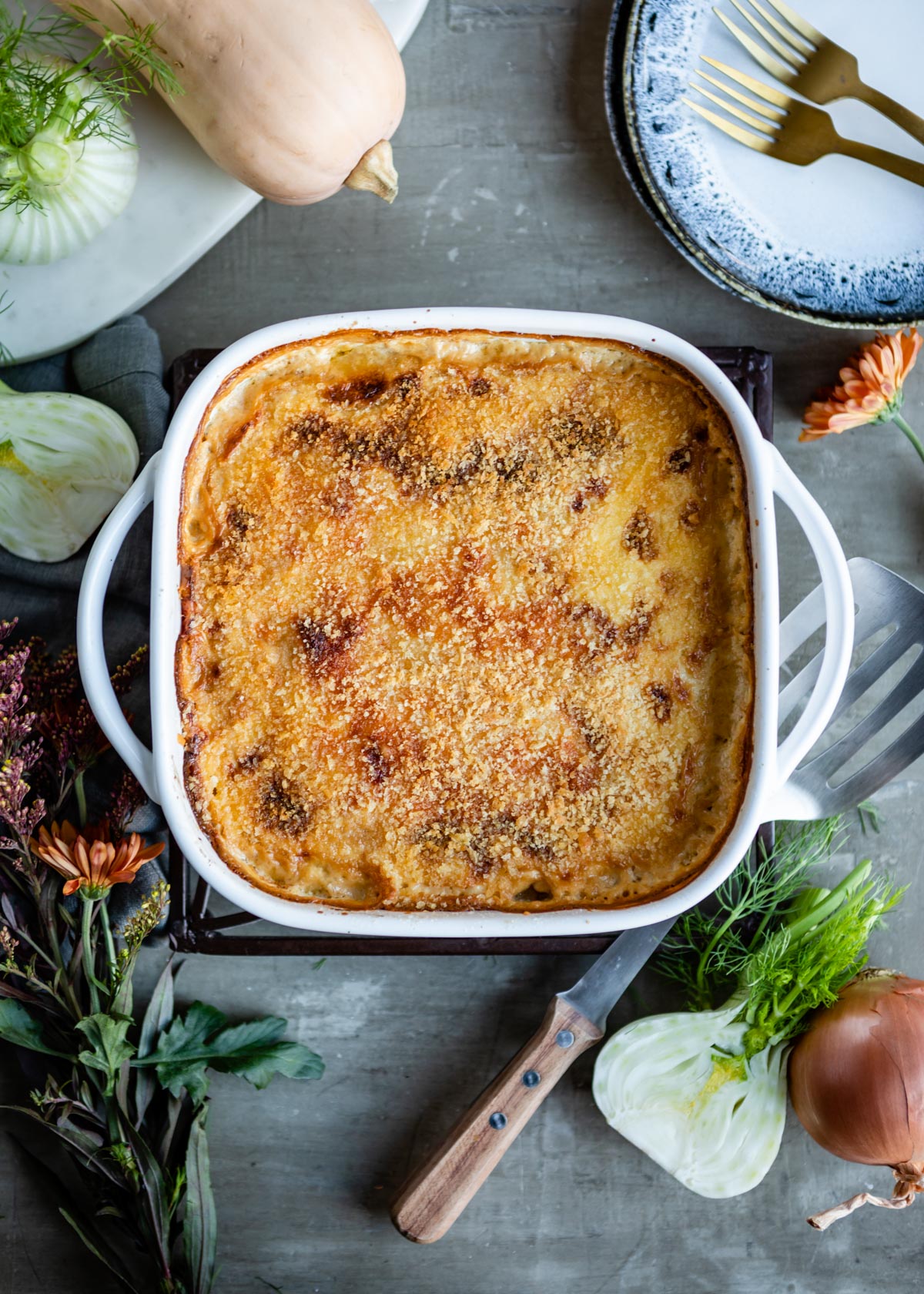 Photos by Lindsey Johnson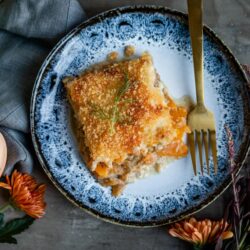 Butternut Squash Gratin with Caramelized Fennel and Gruyere
Ingredients
1

tablespoon

butter

2

bulbs fennel

sliced

1

small onion

sliced

1

medium butternut squash

peeled, seeded and thinly sliced

Salt and pepper

to taste

1 1/2

cup

heavy cream

1 1/2

cup

shredded gruyere

or gruyere/Swiss blend from Trader Joe's

1/4

cup

panko
Instructions
Preheat oven to 375ºF and grease a square baking dish.

Melt the butter in a medium skillet over medium heat. Add the fennel, onion, and a pinch of salt. Stir well and cover; cook for 5 minutes, or until softened. Remove the lid and cook for about 3 minutes more, or until the fennel and onion are nicely browned.

Layer half of the butternut squash slices in the baking dish. Season with salt and pepper, then sprinkle with 1/2 cup of the cheese and spread the onions and fennel over the cheese. Top with the remaining butternut squash; season with salt and pepper, pour the cream over the squash, and then top with the remaining cheese and panko. Use an oil mister or cooking spray to lightly spray the panko topping so it browns.

Bake the gratin for about an hour, or until the panko is browned, the sauce is bubbly, and the squash is tender. Let it sit for about 10 minutes before cutting and serving.
Nutrition
Serving:
1
/6 of recipe
Calories:
324
kcal
Carbohydrates:
17.4
g
Protein:
9.8
g
Fat:
15.6
g
Saturated Fat:
10.5
g
Fiber:
3.7
g
Sugar:
1.6
g
1