It's that time of the year – the one of the fun fall projects, the one of carving pumpkins and making caramel apples. We love making caramel apples, but so much butter and sugar doesn't sound like fun anymore, that's why we made a very simple vegan caramel recipe. Creamy, luscious and all vegan, it is made with dates, coconut oil, full fat coconut milk and a secret ingredient!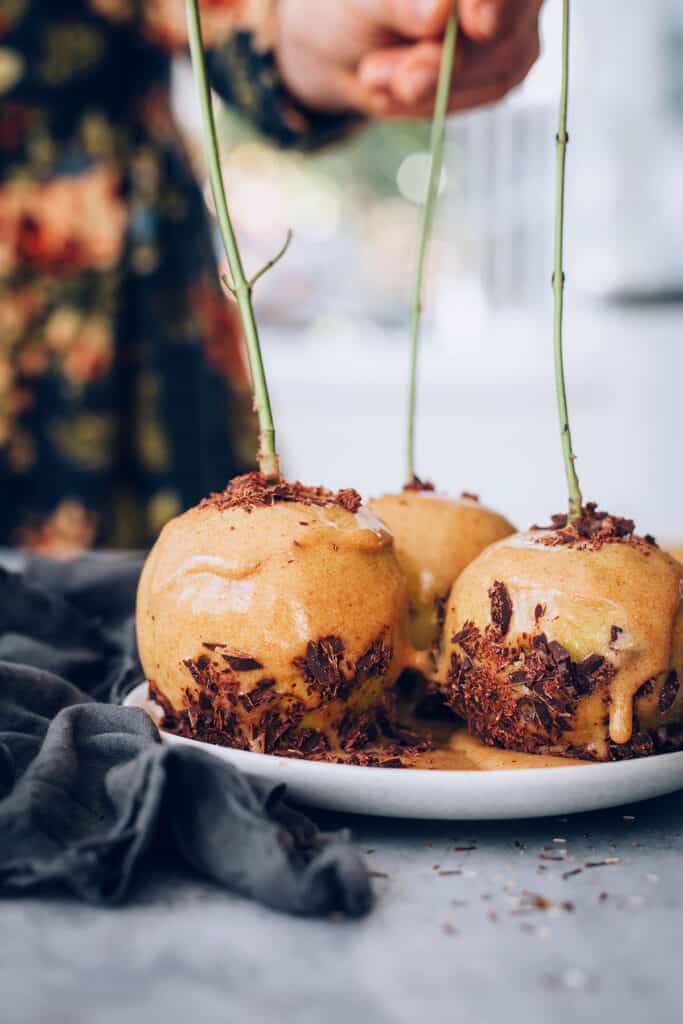 Ingredients in healthy caramel apples
Dates – these are the sweet base, refined sugar-free and packed with potassium and fibre. We soaked the dates in water for about an hour, the process them to obtain a sweet puree.
Coconut oil – is the secret for thickening the caramel. With low temperatures, the coconut oil solidifies, creating a thick caramel that will perfectly coat your apples.
Full fat coconut milk – this one will give smoothness to your healthy caramel recipe, because it's packed with healthy fats. It replaces the cream in classic caramel, and because its high fat content, it's the best choice for the recipe. Almond or any other plant milk won't do, because of their low fat content.
Almond butter – this is the secret ingredient that will turn your healthy caramel recipe into a creamy bomb. Any extra healthy fat is welcome, so bring on any nutty butter you have in the house – peanut butter for instance pairs deliciously with coconut milk and dates. We've chosen the almond butter to avoid allergies.
Green apples – we refrigerate them for at least two hours to make sure the caramel sticks perfectly.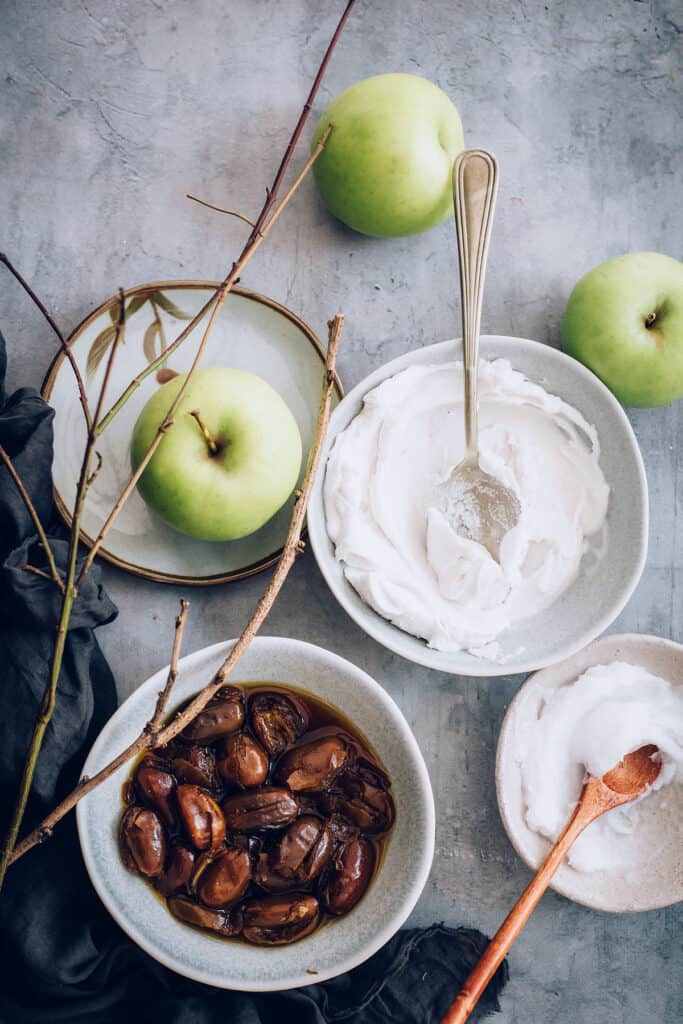 How to make homemade caramel apples
Start by removing the apple stalks and replacing them by sticking clean tree branches of choice, then place them into the refrigerator for at least 2 hours to cool them completely. Refrigerating the green apples is to make sure the temperature will help the coconut oil-based caramel thicken and instantly coat them. Continue by draining the soaked dates, and adding them to the food processor to obtain a puree. They offer a sweet base, to which you will add coconut oil, full fat coconut milk and almond butter, and process more to obtain a creamy mixture.
This healthy caramel mixture will go into a medium soup pot and brought to boil over low heat. Heating it ensure that all the fats comes together and create an homogeneous caramel. Let cool for a few minutes, then remove the apples from the freezer and dip them into the caramel, holding them by the fake stalks. This is the moment when any of the extra garnish, such as coconut flakes or chocolate chips should be added to the picture – just roll the coated apples into your favorite garnish, and refrigerate again for at least 1 hour before serving.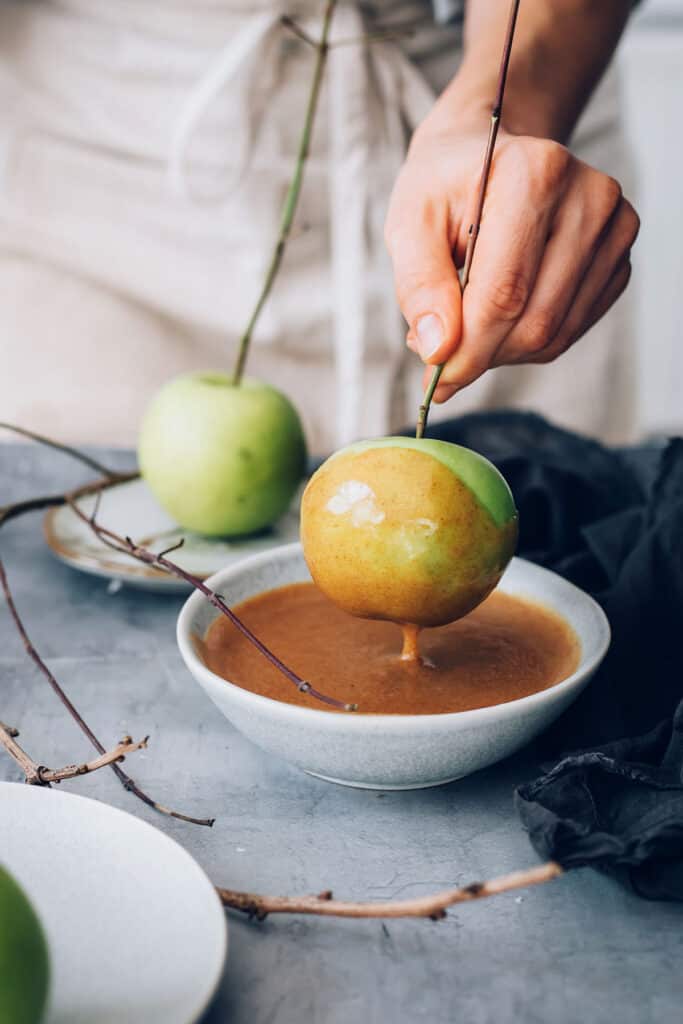 Want more clean eating treats to satisfy your sweet tooth? Try this Berry Crumble and use apples or pears instead of berries. Or whip up this paleo pumpkin pie – you don't have to wait for Thanksgiving! And yes, you can even make donuts!