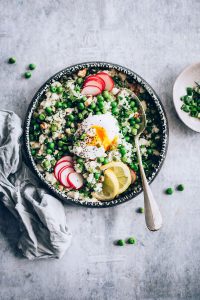 Spring Cauliflower Rice
Yield 2
Start the spring season fresh and healthy with this green cauliflower rice, made with farmers' market greens, peas and radishes, and served with runny poached egg.
Ingredients
For the cauliflower rice
1 medium cauliflower head
1 tbsp extra virgin olive oil
1/2 tsp salt
Freshly ground black pepper
To assemble
1 bunch fresh parsley, chopped
1 bunch ramsons, diced (if available)
4 radishes, cut into thin slices
1 cup frozen peas, left at room temperature for 15 mins, to defrost
3-4 scallions, diced
1 tbsp fresh lemon juice
1/4 cup lightly toasted walnuts, crushed
2 poached eggs
To garnish: chia seeds
Instructions
Cut the cauliflower into florets and rinse well.
Transfer into an S blade food processor and pulse to obtain the rice texture, or use a knife and finely chop the florets.
Heat the oil into a cast iron skillet and add the cauliflower and peas. 
Cook for 5-6 minutes over low heat, stirring frequently. 
Season with salt and pepper, then transfer into a large bowl.
Add the veggies, peas and nuts, drizzle the lemon juice and toss to combine.
Divide into serving bowls, top with a poached egg, garnish with chia seeds and serve warm.
Courses Lunch, Dinner
Cuisine Vegetarian
Recipe by Hello Nest at https://hellonest.co/cauliflower-rice-bowl/