Burgers are, of course, a staple of summer. But instead of heading to the fast food joint or grilling up a batch of greasy BBQ fare, make this simple and healthy chicken burger with fresh, dairy-free pesto. It's simple, delicious, and sure to please the whole family. It might seem odd to serve burgers without the bun, but this burger-lettuce wrap combo (we'll just call it a Brap) not only showcases the flavor of the burger better—it's much healthier.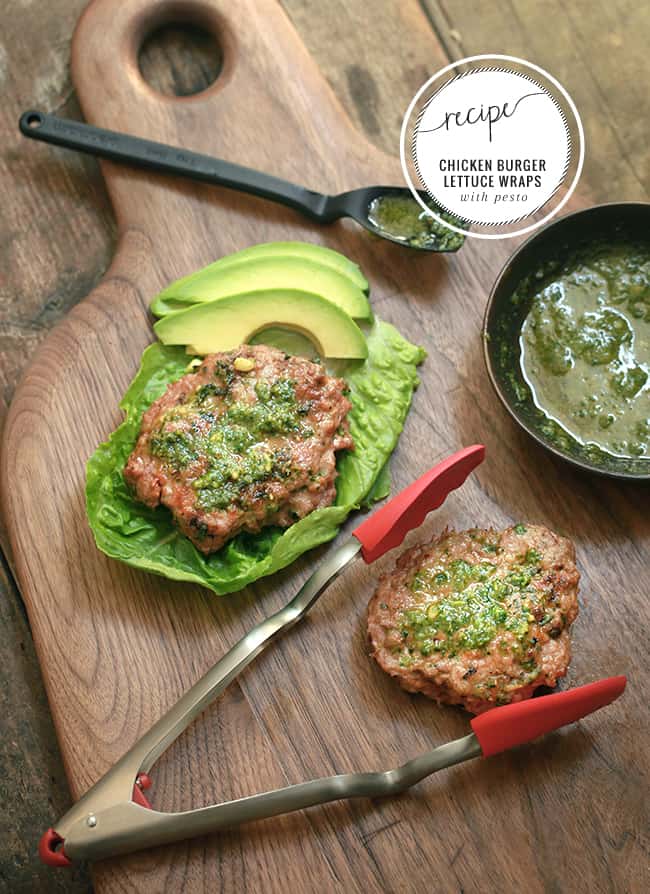 When I've made chicken burgers in the past, they've usually been hard and dry, and I always thought they needed some sort of filler like breadcrumbs or crackers to make them soft. The trick is to line half your grill with tin foil to cook the burgers on, and then sear them for the last five minutes to get the perfect smoky flavor. Bonus: These juicy burgers are also gluten- and dairy-free!
I used a few multifunction tools from Dreamfarm to make this burger-upgrade recipe, my favorite being the Garject. If you are a lover of fresh garlic, this tool does it all. It presses the garlic, swipes the pressed garlic, and then ejects the leftover clove from the press. No more using a knife to scrape off the pressed garlic, and then using a fork to try to pry out the leftover clove. Genius! And any tool that makes life easier and makes fewer dirty dishes is a winner in my book. The Oni knife (pictured below) is also super handy; it's built to cut, spread, and also cut plastic wrap.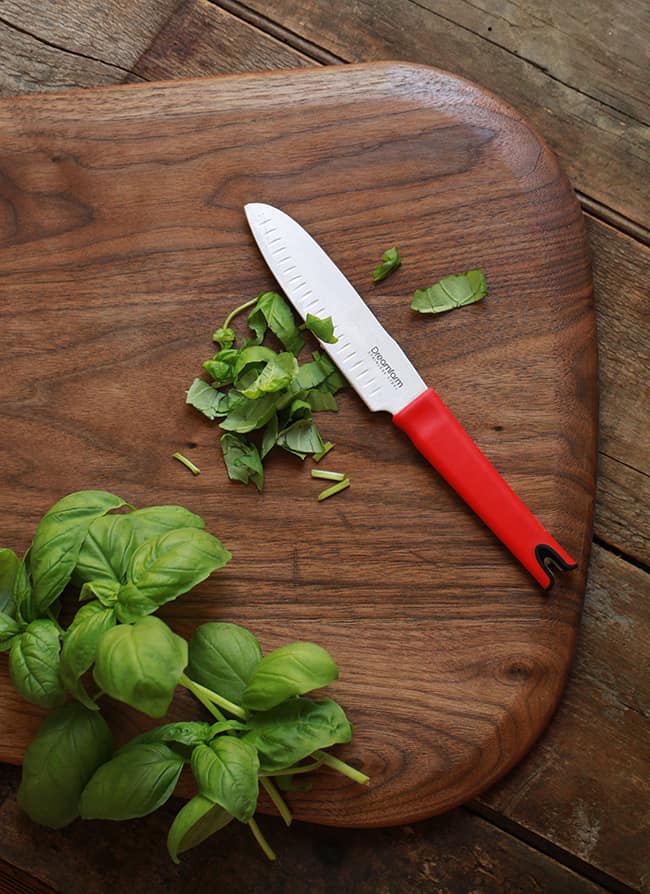 I also used Dreamfarm's Clongs. The best part of these tongs is the fact that you can place them on the side of your grill, and then bend in the tongs so the ends and your counter space don't touch and cross-contaminate—super important when working with meat.
The Mini Supoon (which also has the bend in the handle to keep the spoon from touching your work surface) measures a teaspoon and can also be used as a spatula to scrape bowls clean, perfect for the pesto recipe in this post. I think I will go ahead and throw out all the measuring spoons and spatulas in my overloaded utensil drawer, now that I've got these handy tools. (For more on how Dreamfarm can help you clean out your junk drawer, scroll to the bottom of this post.)