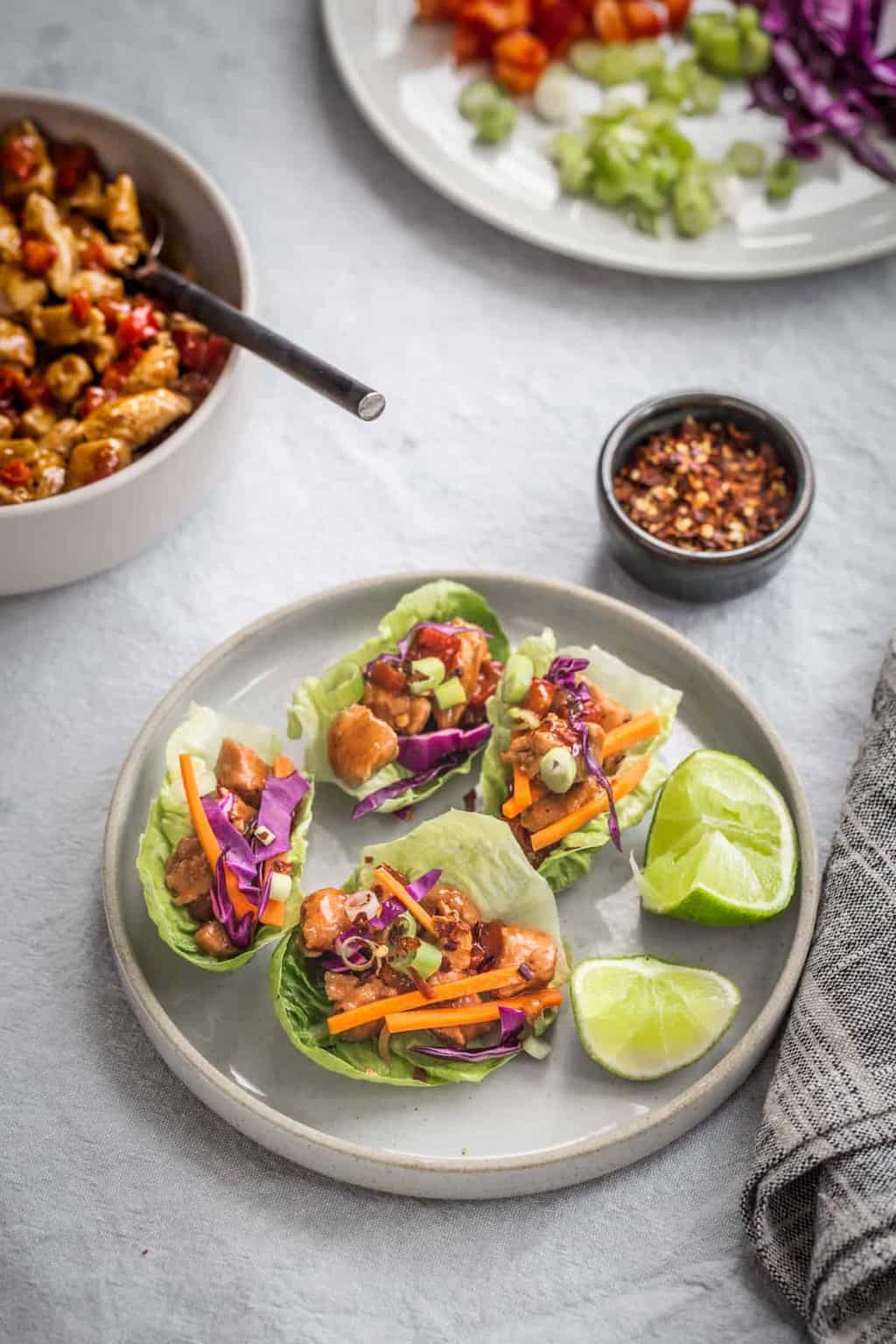 Dinner does not have to be complicated to be delicious. That is probably my favorite thing about cooking. Occasionally I'm in the mood to make an involved recipe that takes hours of prep, chopping, marinating, and roasting. But most nights, it's just about getting a nutritious meal in front of my family in about 30 minutes using only what I have in my fridge and pantry.
That's where these tangy chicken vegetable lettuce wraps come in. At first glance they may seem involved with many components, but in reality they take only 30 minutes to prepare and depending on what you have on hand, they can be modified to fit your own unique ingredients–like this vegetarian version!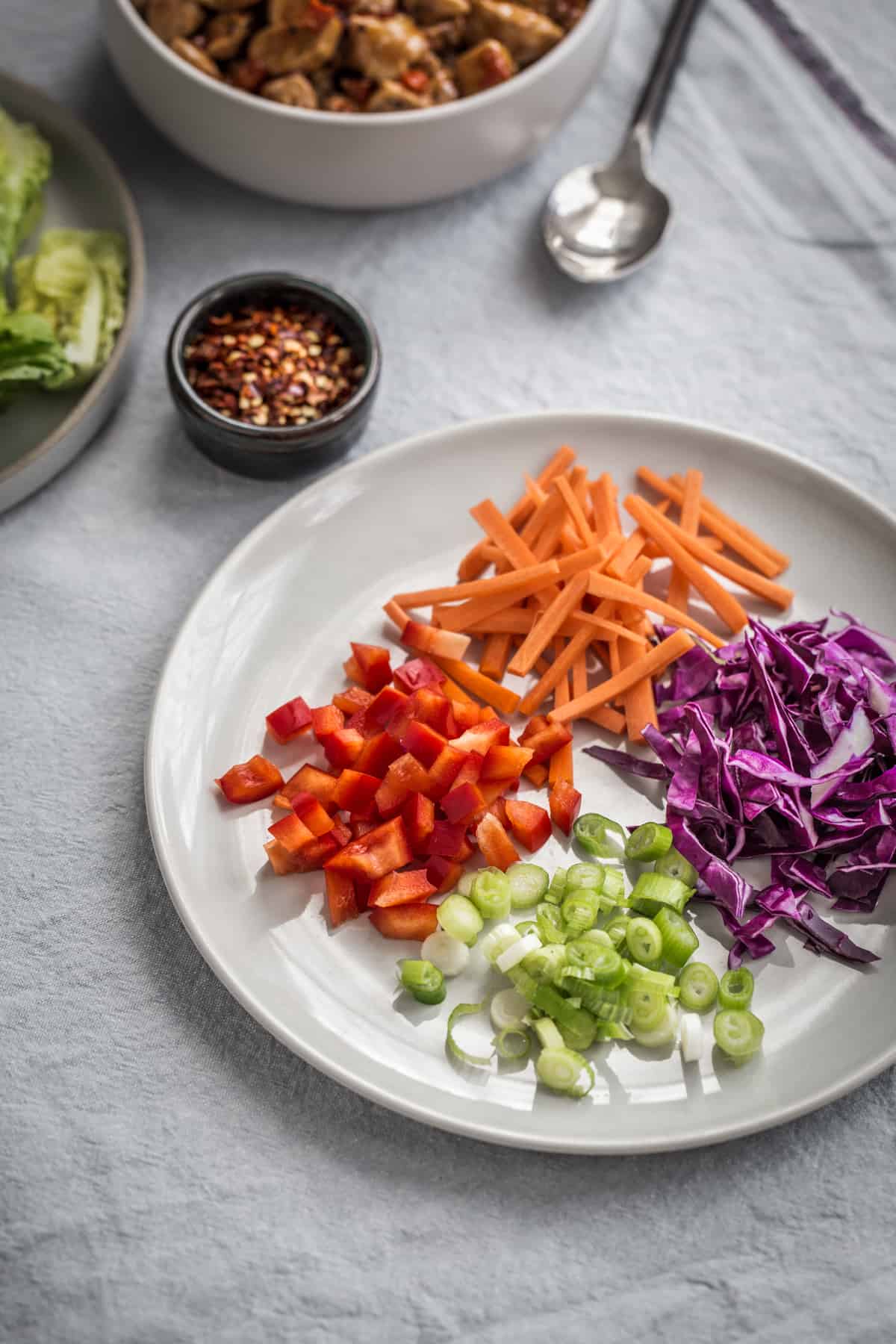 I'm a strong supporter of a well-stocked pantry because of my tendency to not effectively meal plan the way I should. Knowing that I have a few ingredients like soy sauce, rice wine vinegar, and Sriracha means that I can always whip up a tangy, Asian-inspired sauce that makes just about anything taste fantastic.
This week, I had some boneless skinless chicken on hand as well as a few bell peppers, a head of cabbage from my CSA, and some carrots. This recipe can be adapted to what you happen to have in your fridge at the moment. Tofu, pork, or even ground turkey would be amazing proteins to use with this same recipe method.
This is a quick recipe, and while the chicken is cooking you can work on cutting the rest of the vegetables for the topping. The combination of tangy, spicy chicken with crisp fresh vegetables wrapped up in little lettuce leaves is oh-so-satisfying. Plus, who doesn't love a colorful dinner?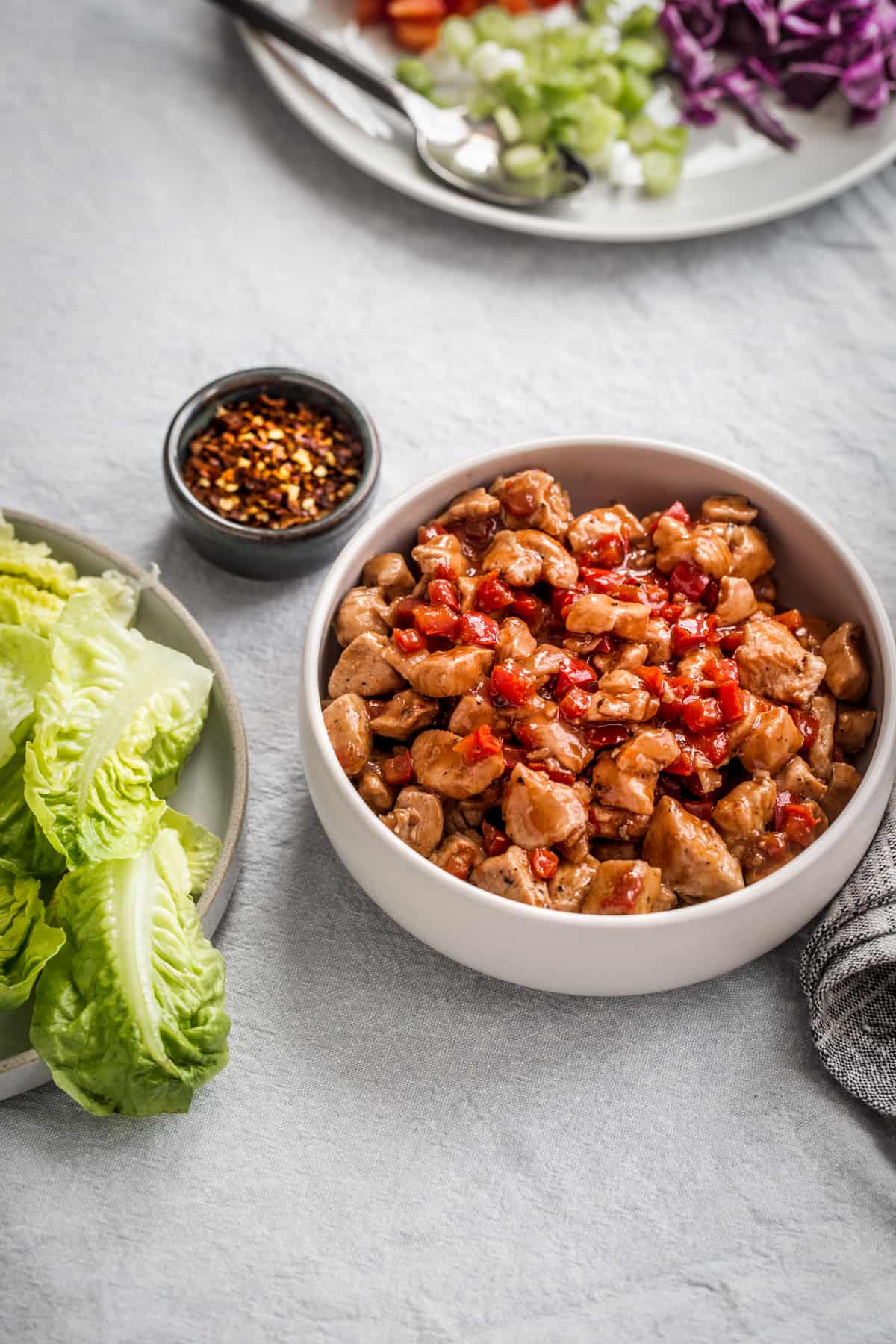 For my tangy chicken vegetable lettuce wraps, I happened to have a few heads of little gem lettuce in my fridge, but you can use Boston lettuce, butter lettuce, romaine lettuce leaves, or even iceberg. You'll just want to choose a leave that has a natural cup shape to hold all of your ingredients.
A squeeze of zesty lime juice and a sprinkling of crushed red pepper flakes finish off these simple, quick lettuce wraps. Return to this recipe again and again for delicious and beautiful weeknight meals.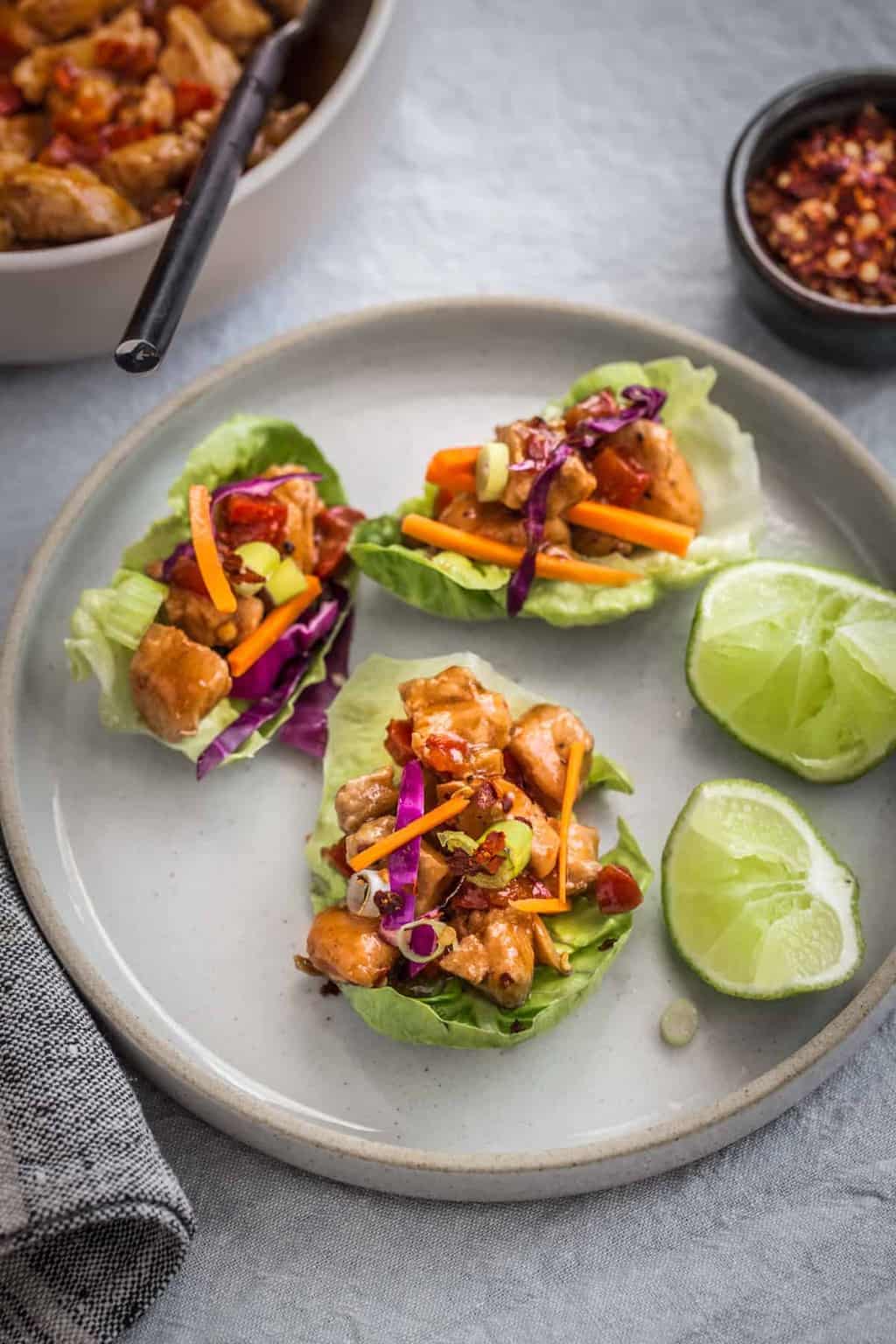 Tangy Chicken Vegetable Lettuce Wraps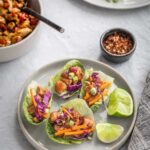 If you're searching for an easy meal that will please the whole family, look no further than these tangy chicken vegetable lettuce wraps.
For the filling:
1/4 cup soy sauce
2 tablespoon rice vinegar
1 tablespoon hoisin sauce
1 teaspoon sesame oil
1 teaspoon Sriracha
1 teaspoon cornstarch
2 tablespoons avocado oil
2 cloves garlic (minced)
1 pound boneless skinless chicken breast (diced)
1 red bell pepper (diced)
Kosher salt and black pepper (to taste)
To assemble:
Little Gem or Boston lettuce leaves
1 carrot (julienned )
1 red bell pepper (diced)
1/2 cup shredded red cabbage
3 scallions (sliced)
Lime wedges
Crushed red pepper flakes (optional)
In a small bowl, whisk together soy sauce, rice vinegar, hoisin sauce, sesame oil, Sriracha, and corn starch. Set aside.
Heat avocado oil in a large skillet over medium high heat. Add garlic and sauté for 30 seconds or until fragrant. Add chicken and season with salt and pepper. Cook chicken, stirring frequently, until golden brown and almost cooked through; about 4-5 minutes.
Add the red bell pepper and cook for an additional 2 minutes or until chicken is fully cooked. Pour soy sauce mixture over chicken and stir to coat. Bring mixture to a simmer and allow sauce to thicken slightly; about 2 minutes. Season to taste with salt and pepper. Remove from heat.

Spoon chicken mixture into lettuce leaves and top with fresh bell pepper, carrots, cabbage, and scallions. Squeeze fresh lime juice over the top and sprinkle with crushed red pepper flakes if desired.

Instead of soy sauce, you can use coconut aminos instead.
Store leftovers in the refrigerator for 2-3 days.
0