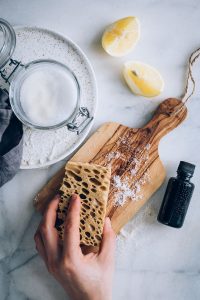 Citrus Cutting Board Scrub
Ingredients
1/4 cup soap flakes
1/2 cup coarse salt
1/2 cup baking soda
lemon essential oil
1/2 lemon (optional)
Instructions
Combine soap flakes, salt and baking soda in jar.
Add 10 drops essential oil. Replace lid and shake to combine.
To use, sprinkle on cutting boards - or dirty pots and pans - and scrub clean.
For tough jobs, apply the scrub with the cut side of a lemon half - it'll disinfect and kill odors too.
Recipe by Hello Nest at https://hellonest.co/clean-cutting-board-wood/