Cooking in the summer can feel like punishment, so it's always good to have some easy, healthy recipes on hand that cool you off and don't take much effort (or heat). Some of the tricks we use every summer include non-boring salads, grilling outside to avoid turning on the oven, and of course, those no-cook raw recipes that ever so often save the day.
This chilled lentil salad recipe with tangy apple cider vinegar, hydrating cucumbers and super-healthy parsley is a great recipe to throw into the summer rotation! And while it may look humble, it's actually packs plenty of health benefits.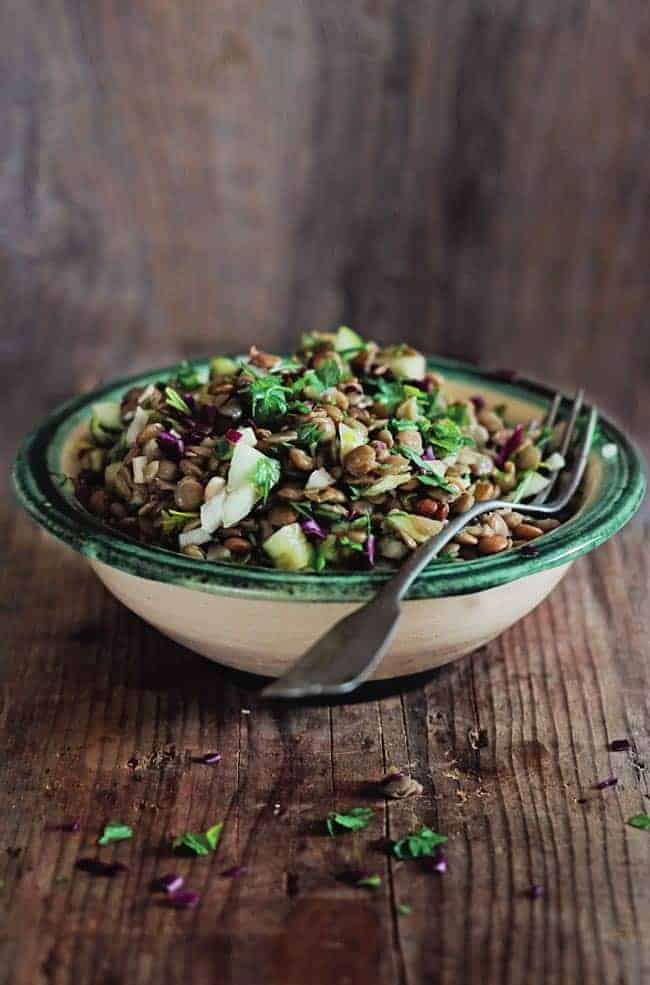 Cooling Lentil Salad
Parsley has antioxidants and folic acid, which help protect your body from free radicals, cardiovascular disease and diabetes. It also adds a nice peppery flavor to the cucumber (which is hydrating and helps battle bloating) and lentils, which are packed with potassium, protein and fiber. Apple cider vinegar adds a nice tang to this vegan salad that is so easy to make on a weeknight, even when it's 90° and humid. (Which it currently is here.)
To save even more time, and to avoid turning on the stove, cook the lentils a couple days in advance and let them chill in the fridge until you're ready to assemble. Or you can opt for canned lentils, just make sure you rinse them well before using. The salad gets more flavorful as it absorbs the dressing, so you can make the whole thing ahead and pack it for lunches as well. Did someone say picnic time?
Photo by Ana Stanciu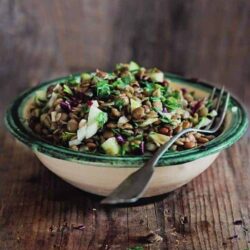 Tangy Lentil Salad
Ingredients
1

cups

lentils

2

cups

water

½

teaspoon

sea salt

1

bay leaf

1

cup

cucumber

diced

⅓

cup

red onion

diced

1

handful parsley

chopped

2

tablespoons

apple cider vinegar

1

tablespoon

extra virgin olive oil
Instructions
Clean the Lentils: Measure the lentils into a strainer or colander and thoroughly rinse under running water. Transfer the rinsed lentils to a saucepan and pour in the water and add the bay leaf.

Cook the Lentils: Bring the water to a rapid simmer over medium-high heat, then reduce the heat to maintain a very gentle simmer. Cook, uncovered, for 20-30 minutes. Add water as needed to make sure the lentils are just barely covered. Lentils are cooked as soon as they are tender and no longer crunchy. Strain the lentils and remove the bay leaf. Place the lentils in a bowl and add salt and let cool slightly.

Make the Salad: Add cucumber, onions and parsley to lentils. Whisk together apple cider vinegar and olive oil and drizzle over lentils. Toss and serve.