Healthy dinners are so overrated. Or at least that's what I'll tell you 5 days into my latest healthy eating kick. While salads are delicious and they certainly have their time and place, I can only take so much before I'm craving real food again. Hamburgers, chicken tenders, fries—you know, all those comfort foods from childhood that just feel good when you eat them.
Well, let me just say, these chicken tenders will take you right back to your childhood. But unlike the ones you had as a kid, these are baked instead of fried and loaded with protein, healthy fats, and tons of flavor. And even though they're "healthy", you'll feel like you're eating the real thing.
Crispy Grain-Free Chicken Tenders
Healthy chicken tenders can be a little tricky. They usually get a bad rap because it's hard to find a breading that tastes like the real thing–crispy, crunchy, slightly spicy and perfect for dipping. But I think I have finally found the perfect grain-free breading recipe. It's super flavorful thanks to ancho chile powder, lime and a dash of salt, and it crisps up just like bread crumbs. They're so yummy you won't even believe they're paleo, dairy-free and gluten-free.
And just for the record, even my husband who hates healthy versions of unhealthy foods, went back for seconds. So don't just take my word for it.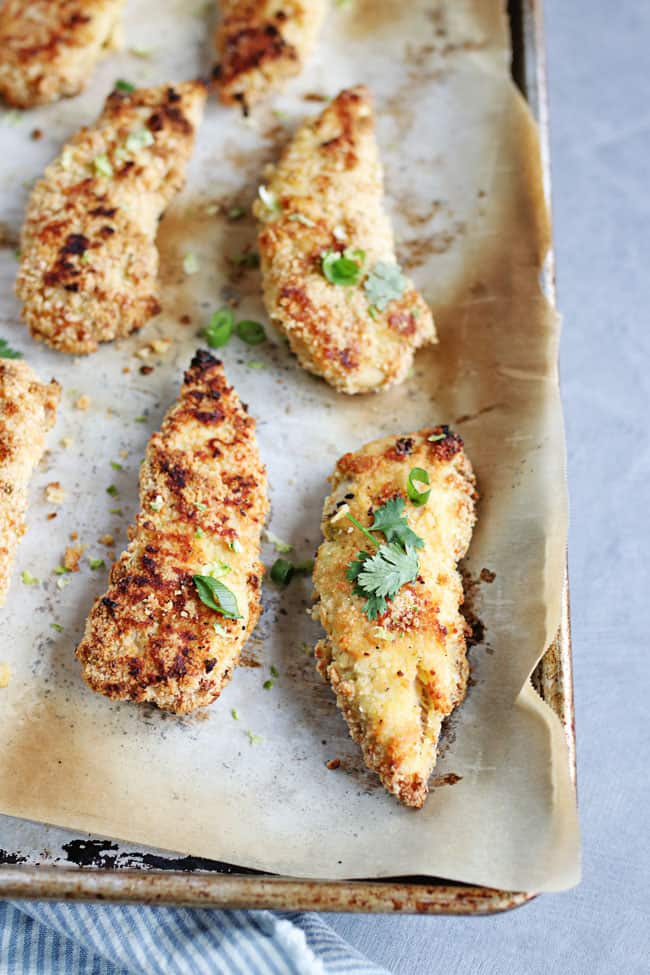 While nuts are a pretty rich choice for the breading, they're perfect for these because they toast up beautifully and give them a satisfyingly crunchy texture. They also have a high concentration of nutrients! Nuts are notoriously rich in vitamins, minerals, proteins and healthy monounsaturated fats.
A few things to keep in mind when you're making these: First, when chopping your almonds, keep the texture slightly coarse. This will ensure that you get the crispy, crunchy coating that we all associate with chicken tenders.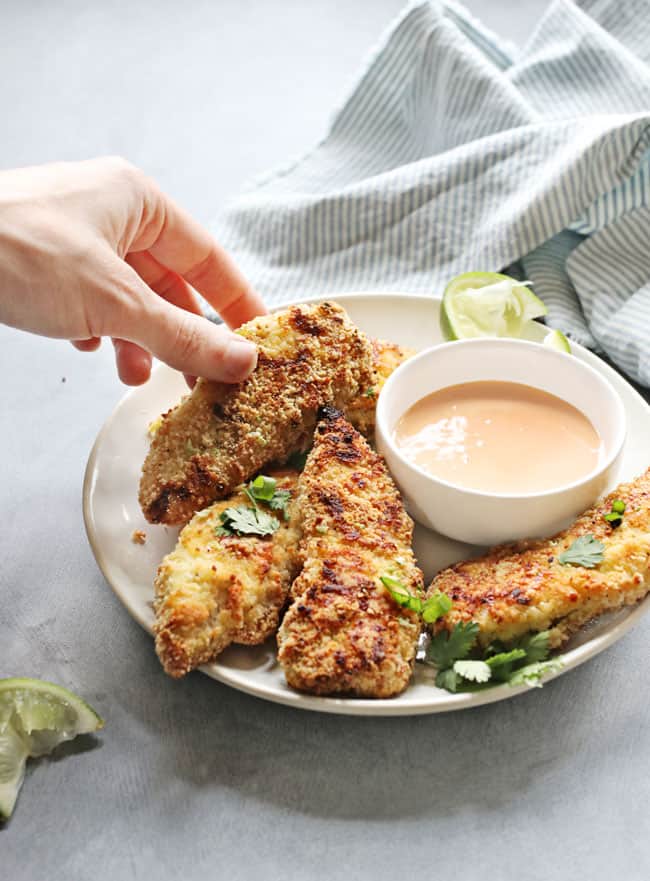 Second, you'll want to take extra precautions to keep your tenders from sticking to the pan (and thus pulling off the breading). Line your baking sheet with parchment paper and then spray with an ample coating of oil or nonstick spray to be safe.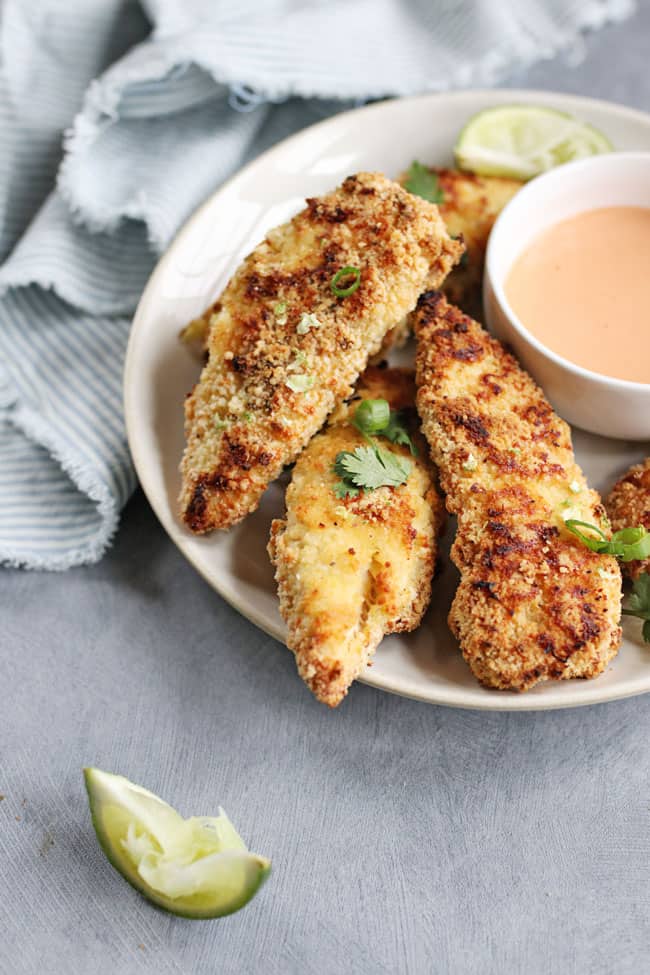 Third, they won't look like much halfway through baking. That's okay! Just flip them over and bake them for a little bit longer and I promise they'll toast right up. If they're still not as golden as you'd like, turn on the broiler for the last 5 minutes of baking and keep a close eye on them.
And by all means dip away! They're amazing served with an extra squeeze of lime and a spicy sriracha dipping sauce.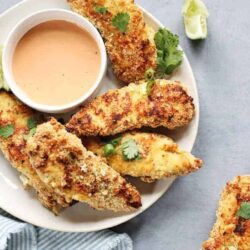 Crispy Almond-Breaded Chicken Tenders
These Crispy Almond-Breaded Chicken Tenders are grain-free, gluten-free, and perfect for paleo diets. And did I mention they're also totally irresistible?
Ingredients
2

cups

almonds

coarsely ground

1/2

teaspoon

salt

1/2

teaspoon

ancho chili powder

Zest from 1/2 lime

1 1/2

teaspoons

garlic powder

divided

2

eggs

1 1/2

pounds

chicken cutlets

1/4

cup

Greek yogurt

2

tablespoons

sriracha

Juice from 1/4 lime
Instructions
Preheat the oven to 450ºF. Line a baking sheet with parchment paper and spray with oil or nonstick cooking spray.

Place the ground almonds in a medium bowl. Add the salt, chili powder, lime zest and 1 teaspoon garlic powder. Use a fork to mix everything together.

Place the eggs in a separate bowl and whisk.

Rinse and dry your chicken cutlets. Then take one strip at a time and dip it in the eggs. To keep your tenders from getting soggy, be sure to wipe off any excess egg. Next, dip it in the almond flour mixture. Use your fingers to press the breading into the chicken so it's fully coated, without any bare spots.

Place the tenders on the parchment-lined baking sheet with about an inch of space between each one. Bake for 20 minutes, flip, and continue baking an additional 15 minutes. If your tenders aren't browning as quickly as you would like, turn on the broiler for the last 3-5 minutes of bake time. Watch closely to make sure they don't burn!

For the dipping sauce, whisk together the Greek yogurt, sriracha, lime juice and 1/2 teaspoon garlic powder in a small bowl.

Serve the tenders straight out of the oven with a squeeze of lime and a little chopped cilantro.
Notes
These are best served immediately. If you do prefer to re-heat them, pop them in the oven for a few minutes at 350 to crisp 'em up again. 
Eat within 2-3 days.