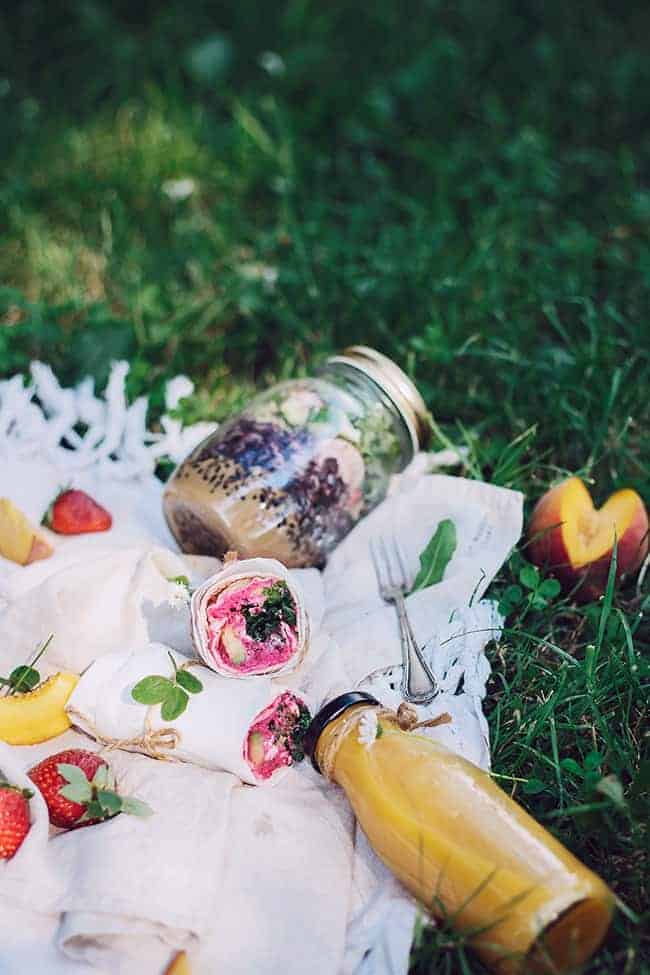 Picnics are a social rite of summer. It's an opportunity to make memories with your friends and family, just like when you were a kid – gathering outside, laughing all day long, and playing games. Everything seems so much better when you are outside: the jokes, the good vibe, the food. Especially after a long winter of mostly staying in, picnic season is always something to look forward to. Today we're keeping things simple with this easy and healthy picnic salad recipe.
Picnic food really doesn't have to be fancy or heavy. Rather than going for the coleslaw, alcohol, potato salad and greasy burgers, only to feel exhausted afterwards, how about keeping it light, to actually gain energy and improve your mood?
Our suggestion: a crunchy mason jar salad that's packed-full of nutrients, one that's easy to put together, and travels well. Because obviously, no one wants to eat a warm mush of veggies from some sad tupperware.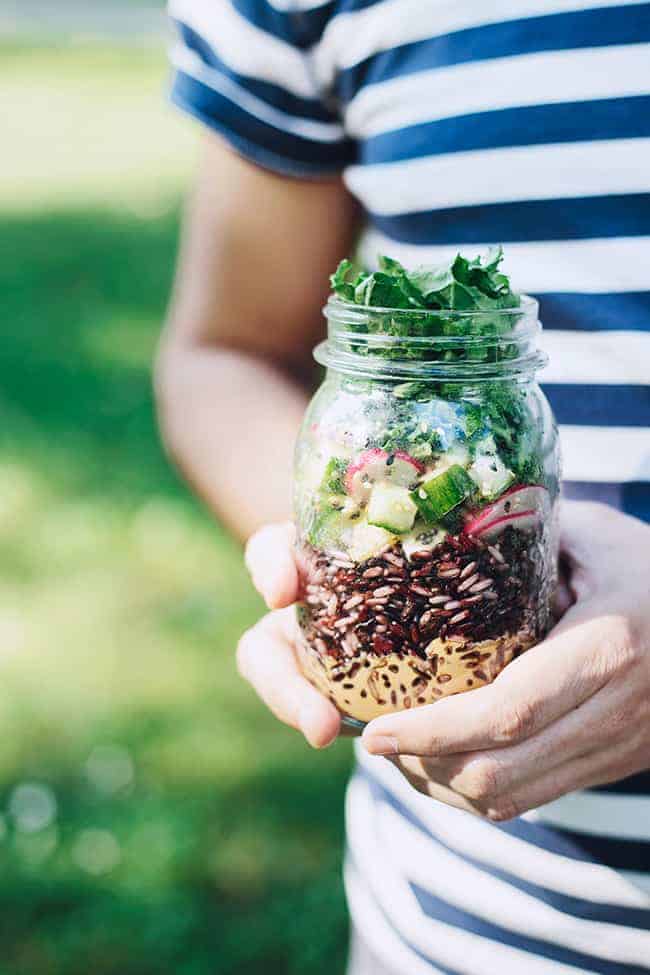 Crunchy Kale Slaw Mason Jar Salad Recipe
The summer season is a bounty of fresh fruits and vegetables, so why not take advantage? Prepare smoothies or fruit lemonades to keep you hydrated at the picnic, and bring fresh vegetables as a side dish. Don't forget a filling salad! We love one that's full of crunchy veggies and bathed in a light dressing instead of coleslaw. Using less oil and more lemon, vinegar or fruit juice to dress your salad keeps it fresh and cuts fat, which is the option we went with.
To make it easier to travel with, we packed our salad in mason jars. Glass jars are eco-friendly, safe, and they don't alter the taste of the food. You can very well bring this salad in as your next work lunch – the combination is so tasty and satisfying, you might want to eat it beyond the weekend picnics.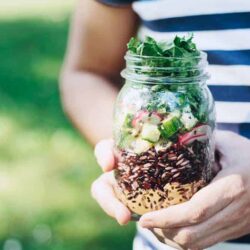 Crunchy Kale Slaw with Spicy Peanut Butter Dressing
Filling, crunchy and nutritious, tossed in light and spicy peanut butter sauce, this salad is a great choice for a healthy picnic and works great layered in lidded jars to-go.
Ingredients
1

cup

black rice

or any whole rice available, cooked (makes about 2 cups)

1

cup

fresh kale leaves 

chopped

1

bunch

fresh mint

2

carrots

grated

2

radishes

sliced

1

cucumber

cut in small cubes

1

small onion

finely diced

1

tsp

rice vinegar
For the Peanut Butter Dressing
1 1/2

tbsp

peanut butter

juice from 3 limes

1

tsp

tamari sauce

1

tsp

honey

organic raw

1/2

inch

ginger root

grated

1/4

cup

SILK coconut milk

1/2

tsp

red chili flakes

1

tbsp

sesame seeds

black or white
Instructions
Prepare the dressing first by adding all the ingredients into the blender. Pulse to obtain a creamy liquid, and pour it evenly into the serving jars.

Add the grated carrots, cucumber, onion, radishes and sesame seeds into a medium bowl, drizzle with vinegar, and toss to combine.

Continue by layering the ingredients - black rice first, tossed vegetables, and chopped kale on top.

Lid the jars and pack to-go.