Ganache might sound fancy but it's really the simplest sort of chocolate sauce. And it takes an ordinary dessert to a whole new level. A plain bowl of vanilla ice cream turns into a 'wow!' when you finish it with a drizzle of rich dark chocolate orange ganache. It's the kind of kitchen trick every home cook should have up their sleeve!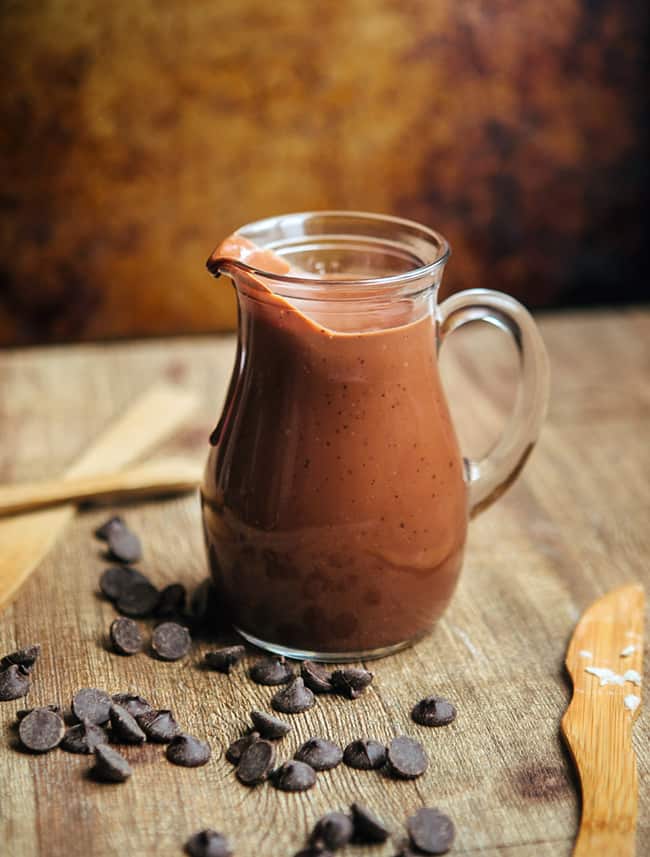 Good ganache is a simple combination of quality chocolate, cream and a pat of butter for gloss and shine. Adding a hint of orange flavor to the mix just makes it a little bit richer and that much tastier!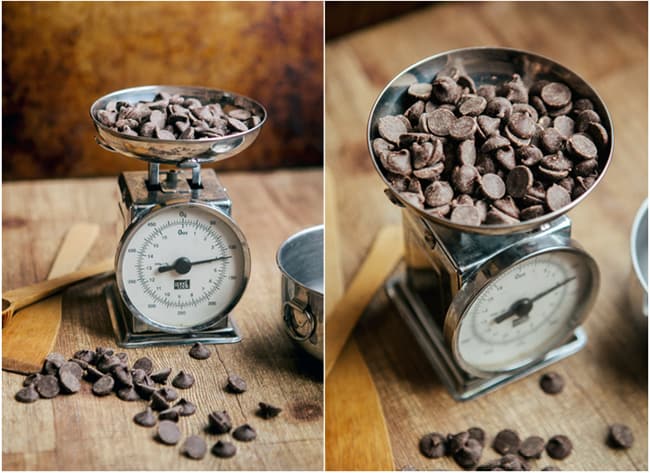 First, measure out eight ounces of high quality dark chocolate. Dark chocolate is preferable because it's less sweet and adds more flavor to the finished product. I use Ghirardelli or Scharffenberger dark chocolate chips to save time, but finely chopping a bar of dark chocolate works just as well. Place the chopped chocolate or chips in a medium glass or metal bowl.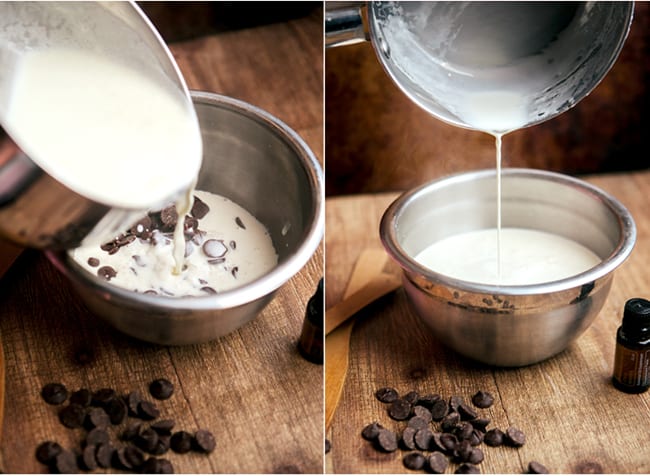 In a small saucepan, heat 2 cups of heavy whipping cream over medium-low heat until it begins to bubble. Pour the hot cream over the chocolate. Let it sit for a couple of minutes while the chocolate begins to soften and melt.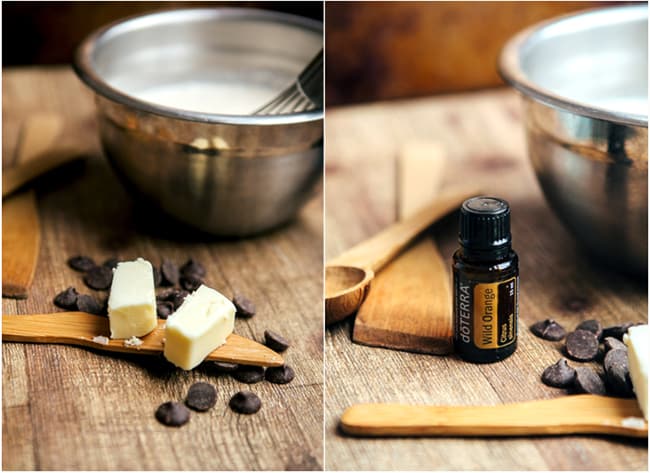 Now whisk in 2 tablespoons of butter and 6 drops of orange essential oil. If you don't have edible essential oils available, you can substitute 1/4 teaspoon orange extract or a tablespoon of orange flavored liqueur. Then continue whisking until the chocolate is dark, evenly smooth and glossy.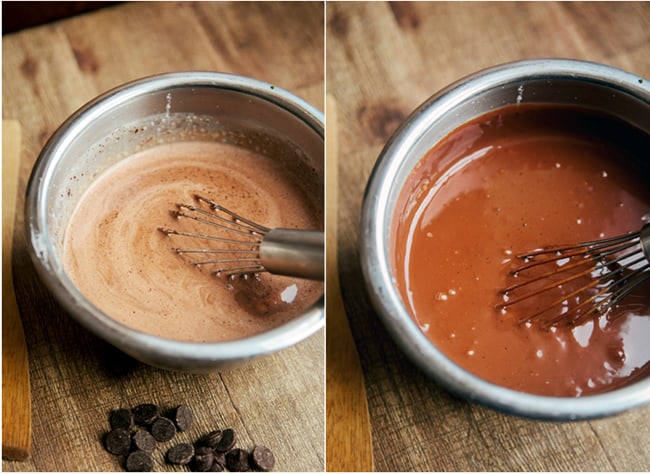 The ganache will keep in the fridge for 3 to 5 days. It will harden as it cools so warm it over low heat or in the microwave until it's pourable again.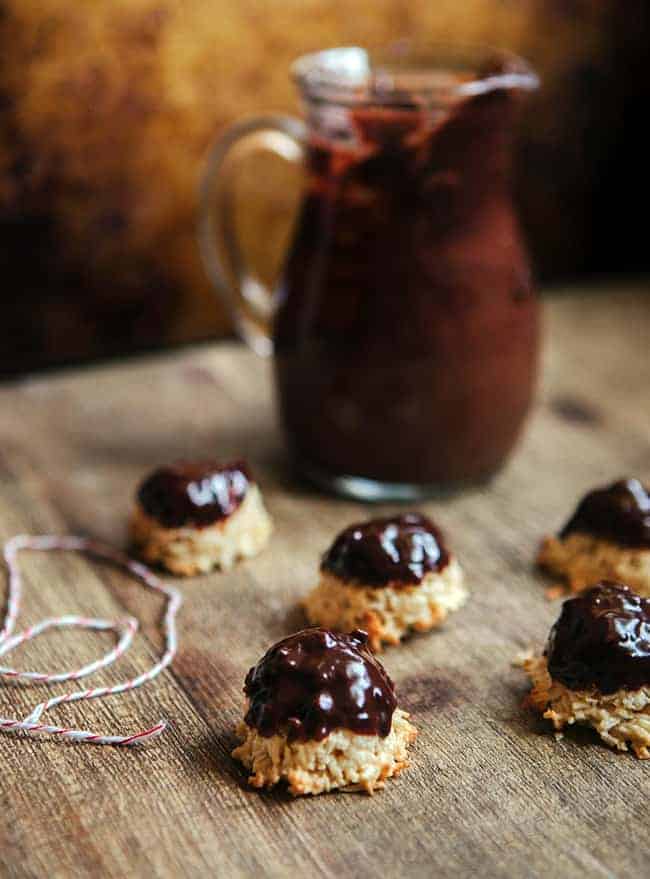 One of my favorite ways to use dark chocolate ganache is as a dip. You can dip everything from nuts and fruit to cookies and brownies for an extra burst of chocolate flavor. These coconut macaroons take less than 30 minutes to whip up, and a quick dip in our dark chocolate orange ganache creates a fantastic dessert bite.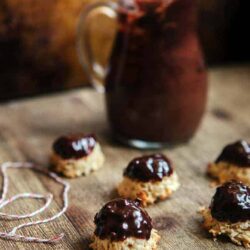 Dark Chocolate Orange Ganache Macaroons
Ingredients
For the Ganache:
8

oz

high quality dark chocolate

finely chopped

2

cups

heavy cream

2

tablespoons

butter

5 to 6

drops orange essential oil or 1/4 teaspoon orange extract
For the Macaroons:
2 1/4

cups

unsweetened flaked coconut

2 1/4

cups

sweetened flaked coconut

2/3

cup

all purpose flour

1

14 ounce can sweetened condensed milk

1/4

teaspoon

salt

1/2

teaspoon

vanilla
Instructions
Preheat oven to 350 degrees Fahrenheit. Line a baking sheet with parchment paper.

In a large bowl, combine coconut, flour, and salt. Stir in the condensed milk and vanilla. Using your hands, knead/stir the mixture until completely combined. Using an ice cream scoop or cookie scoop, place golf ball size balls onto prepared cookie sheet. Bake for 10 to 12 minutes or until lightly golden. Cool on a wire rack.

To prepare the ganache, place the chocolate in a glass or metal bowl. In a medium saucepan, heat the cream over medium-low heat until it begins to bubble. Quickly and carefully pour the heated cream over the chocolate and let it sit for 1 to 2 minutes while the chocolate softens. Whisk in the butter and orange flavoring to taste. Whisk until chocolate is dark, smooth, and glossy.

While the ganache is warm, dip the cooled cookies into the chocolate. Serve immediately or refrigerate for 10 minutes until the chocolate has hardened.