Happy Monday! How was your weekend? I barely survived a 2-year-old birthday party. Two kids peed their pants, which I consider a sign of major party success.
To get your week going, I wanted to share a quickie DIY. When Anthropologie described their headband as "craft-time inspired," I couldn't resist giving it a go with an actual pipe cleaner. Made in about 5 minutes with materials I had on hand it didn't cost anywhere near the $38 Anthro price tag.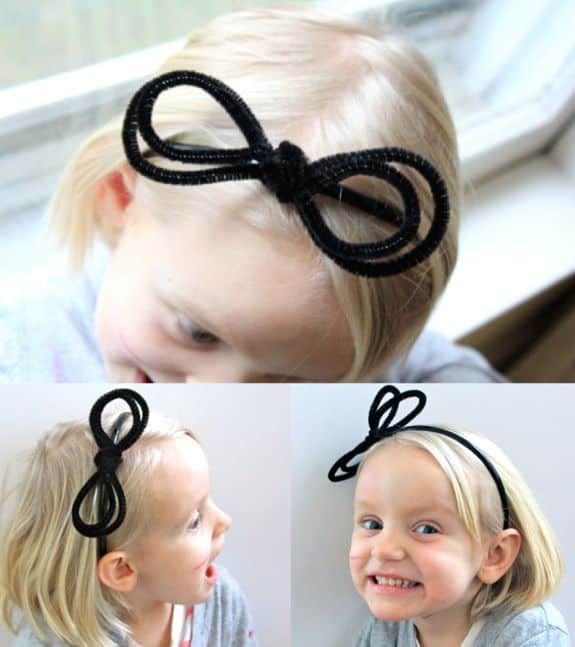 Caroline, ever the reluctant model, wouldn't let me wipe off the paint on her face. Then, in an effort to get away, she ran into a chair and gave herself a goose egg on the forehead. That pretty well ended the picture taking!
And for what it's worth, I think this actually looks pretty good on adults too.
Pipe Cleaner DIY Headband
Supplies:
Thin headband
2-3 pipe cleaners
Scissors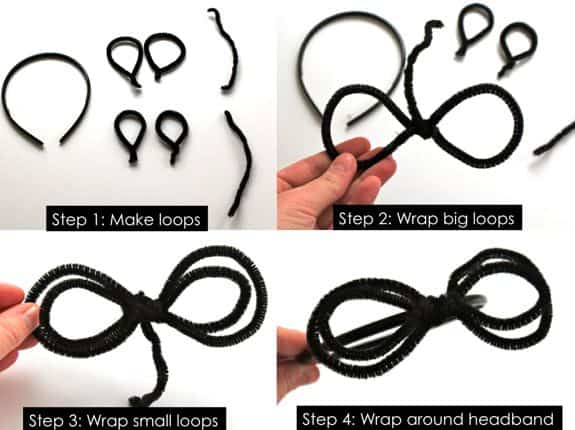 Step 1: Make a big loop with the pipe cleaner, twist the ends, and cut off the extra length. Repeat with 1 more big loop and 2 smaller loops.
Step 2: Hold the big loops together with your fingers and wrap the middle with a short piece of pipe cleaner. I used some of the extra length that I had cut off.
Step 3: Now add your smaller loops. Again hold in place with your fingers and start to wrap with a longer piece of pipe cleaner. Only go around one time.
Step 4: Attach the bow to the headband by wrapping the rest of the pipe cleaner around the headband.