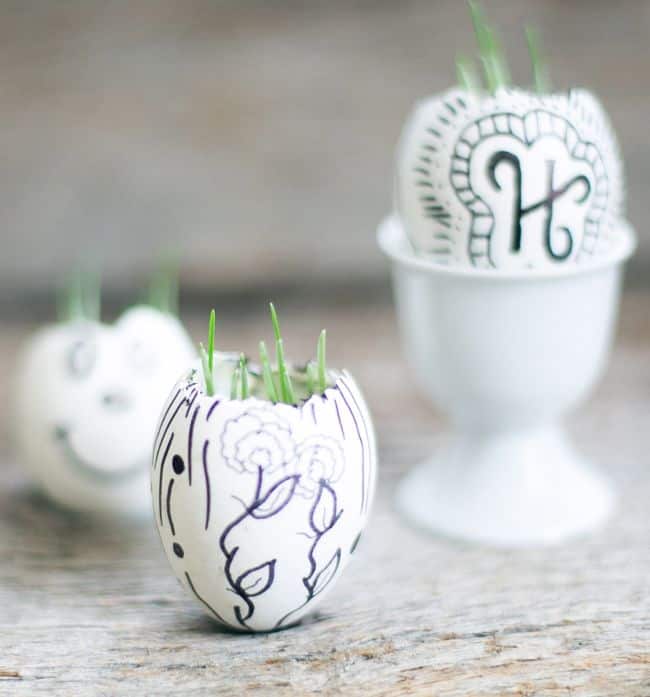 A week or two after I finish a craft, I'm ready to toss it. There's a week of savoring the fact that I managed to actually finish a project. Then by the second week I'm plotting its demise. A hoarder I am not. Instead I'm one of those terrible moms who sends 99% of the kids' artwork straight to the trash bin. (It's a total bummer when they find their stuff on top, and you have to be all 'I have no idea how that got in there!')
These eggs had reached my appreciation expiration date. Fortunately, they got a second life as a tiny DIY eggshell garden and candles. Close one, guys.
Eggshell Wheat Grass Garden
Planting wheat grass is super satisfying. The sprouts above were from just 4 days after planting. Must.plant.more! So we did, using the marbled and glitter eggs from this weekend.
Instructions
Use a spoon or knife to tap the smaller end of the egg and break off a small piece. Remove the yolk and rinse. If you're using a blown egg, be extra careful to not crack too much of the egg. Then add dirt and lots of wheat grass seeds. Give them some water and watch 'em grow!
Eggshell Candles
I've been wanting to make little egg candles for eons (see above problem with actually completing a project.) I'm glad I waited to use decorated eggs – much cuter!
Instructions
Again, use a spoon or knife to tap the smaller end of the egg and break off a small piece. Clean the eggs and put them back into the carton to keep them steady.
Cut a small length of wick, 4 or so inches, for each egg. Melt the wax in a double broiler. You can use whatever wax you want here – it's a perfect time to repurpose old candles you already have.
Insert the wick into each egg and pour a small amount of wax into each shell to anchor it. Use your hand to hold the wick upright while the wax cools. When the wick is steady, reheat the wax (if needed) and pour into each of the shells. Then let the wax cool and harden.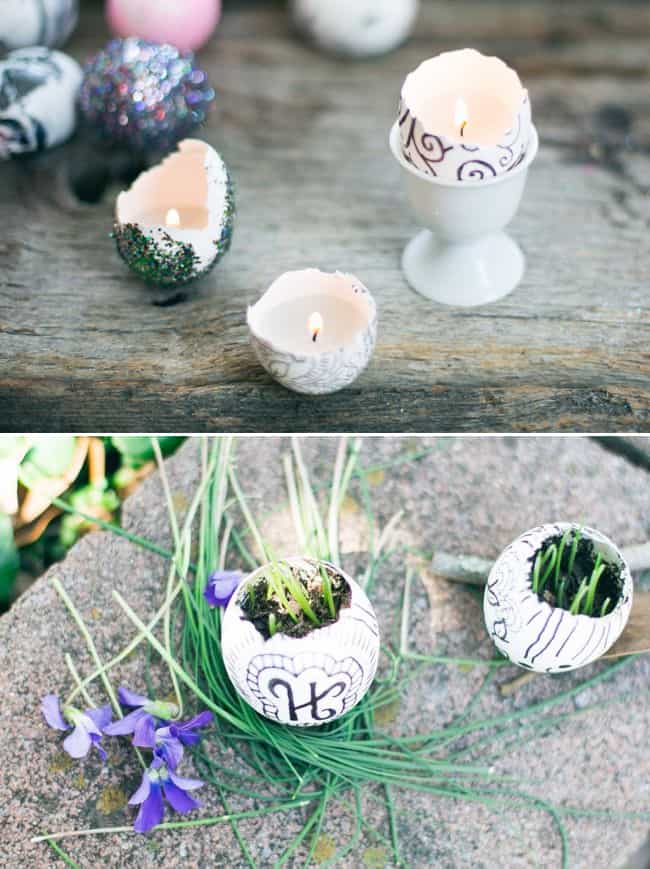 I might love these little guys more now than the first time around!
Are you a craft keeper or tosser?
0