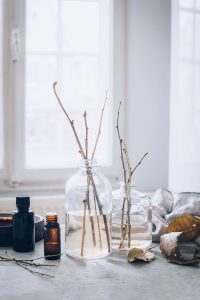 Bedside-Dream DIY Reed Diffuser
Instructions
Measure and pour the carrier oil into a glass bottle.
Add the essential oils to the carrier oil and swirl the bottle to combine.
Insert the reeds and let them sit in the oil for 1-2 hours, then take them out and turn them over to expose the oil-soaked ends.
Flip the reeds every couple of days and add more essential oils as the scent fades.
Recipe by Hello Nest at https://hellonest.co/diy-essential-oil-reed-diffuser/