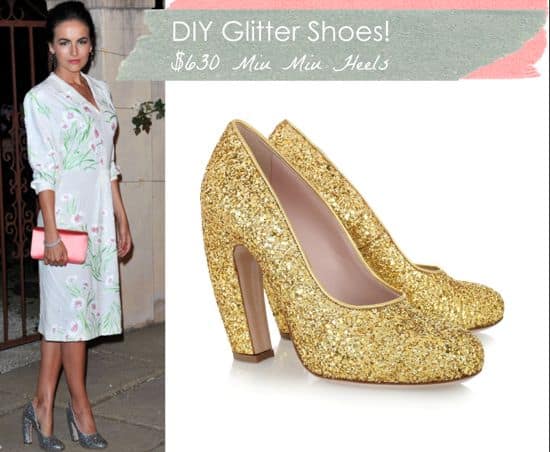 It has been a crazy few days in the Gerber house. Henry's been teething and now has an ear infection. When Mommy is going a little crazy it's funny how a craft project calms my nerves. And glitter totally makes me happy. I saw these $630 Miu Miu shoes and thought, "Ohh, fun!!"
I'm all about revamping old stuff that I don't wear anymore. When it works, I'm ecstatic. If it tanks, I trash it and move on. The chunky, slightly weird heel on the Miu Miu shoes reminded me of this old pair I had in my Goodwill pile. How hard could it be to Modge Podge those puppies? Turns out, making your own glitter (that won't fall off) shoes is super easy!
You will need:
A pair of shoes – the hard plastic of these held the glitter really well
Glitter – you can do gold, silver, red, go wild!
Something to paint on or in – you don't want to end up with a glitter dinner table
Step 1: Mix the glitter with the Mod Podge until it's pretty thick.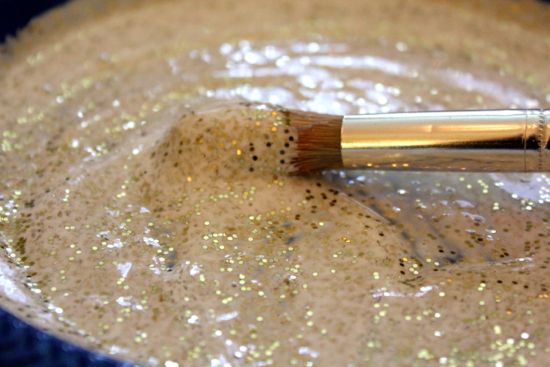 Step 2: Do several coats of glitter, waiting at least 30 minutes between coats. I did 3 coats (I forgot to take a photo of the last one) and also touched up a couple of spots.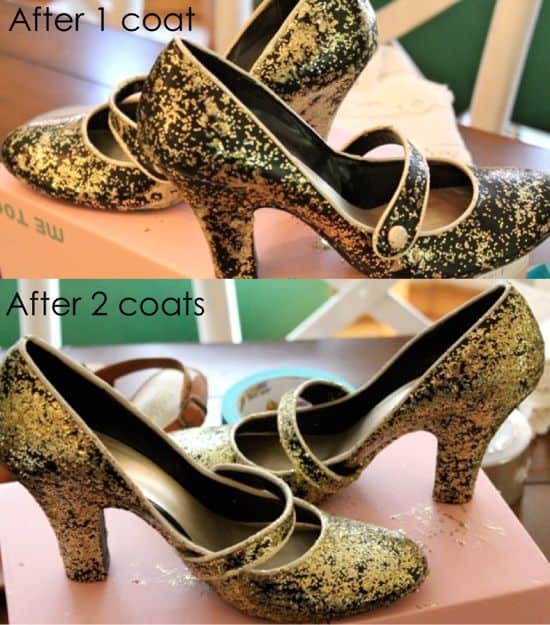 Step 3: Do a final coat of Modge Podge only (no glitter). A bit of the black underneath peaks through, but I'm ok with the black & gold color scheme.
Step 4: Wear them on hot date with the hubby! I can't wait to style an outfit around these shoes – if I can get them back from Caroline! (She calls them "sprinkle shoes.")