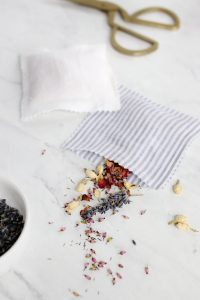 DIY Herbal Sachets
Ingredients
½ yard linen fabric
Dried flower petals like lavender, rose and jasmine
Dried herbs like rosemary, thyme and sage
Fusible bonding tape (like Stitch Witchery)
Iron
Pinking shears
Instructions
Using a pair of pinking shears, cut an even number of squares measuring 5×5″. You will need two squares for each sachet.
For each sachet, cut four 5" pieces of fusible bonding tape.
Lay a linen square face down on your ironing board. Lay a piece of bonding web on each edge of the square (four pieces total). Finally, place a second square on top, sandwiching the bonding web in between the two pieces and taking extra care to line up the edges.
Iron only 3 sides of the square, leaving one side open so you can stuff it with your herbs and flower petals.
Place a handful of dried herbs inside the linen pouch and iron the top closed.
Place sachets in dresser drawers, closets and underneath pillows.
Recipe by Hello Nest at https://hellonest.co/diy-herbal-sachets/