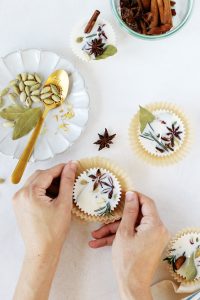 Homemade Wax Fire Starters
Ingredients
4 cups (about 1 pound) natural soy wax flakes
Bay leaves
Cinnamon sticks, broken in half
Dried spices such as cloves, star anise and cardamom
Small pine cones or pine needles
Essential oils such as cinnamon, clove and spruce
Cotton wicks
12-cup regular muffin pan
Unbleached baking cups
Glass jar for melting wax
Instructions
Line your muffin tin with paper liners. Fill each one with a mixture of bay leaves, cinnamon sticks, and dried herbs. Place a cotton wick in the center of each cup.
Place your soy wax in the glass jar. Microwave in 30-second intervals until melted. Add your essential oils and stir.
Pour melted wax into each muffin tin until almost full. Add extra herbs if needed, then let cool completely.
Remove the fire starters from the pan and store in an airtight container until ready to use.
To use, place a fire starter at the bottom of a wood-burning fireplace and stack the logs on top. Light the wick and allow the fire starter to burn until the wood catches.
Recipe by Hello Nest at https://hellonest.co/diy-homemade-wax-fire-starters/