Remember my wooden bead necklace from last week? Well, guess what, I made another one! I stumbled on a Kate Spade necklace that was dying to being DIY'd.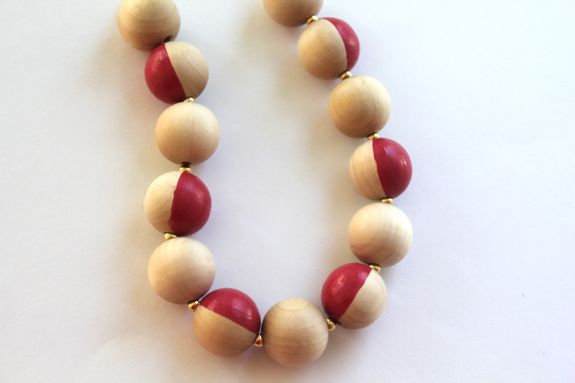 I laugh that most of my DIYs are perfect for preschoolers. That is my idea of a perfect craft. This necklace, however, requires a bit more assembly. Don't worry – it's still easy, it just has a few more steps.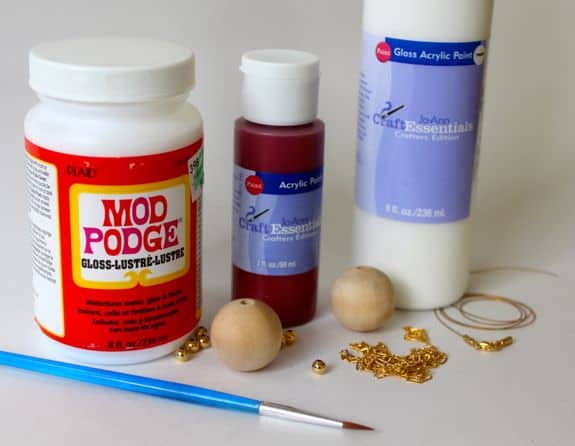 What you need:
13 wooden beads: They come in several sizes, I used 25mm. Available at JoAnn's and Hobby Lobby.

14 small gold beads: You will need beads that are big enough so that they don't get swallowed by the wooden beads. I used 5mm.

One length

jewelry wire. I found this at my local craft store.

About a foot of gold chain.

2 gold jump rings.

Acrylic paint: I mixed the shade of pink I wanted by using red and white.

Mod Podge gloss

Paint brush

Painters tape

Scissors

E-6000 glue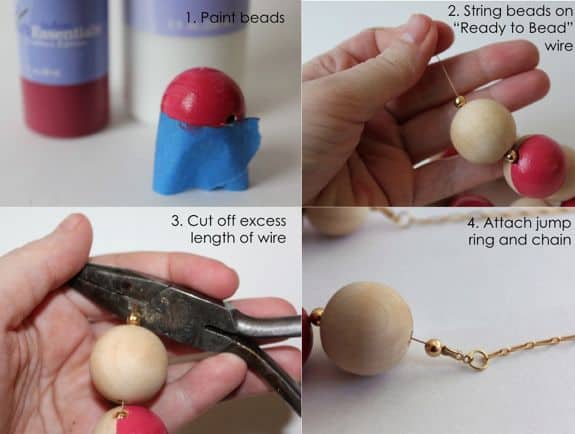 Instructions:
1. Paint 6 wooden beads with a bright pink. I'm terrible at eye-balling so I used painters tape to mark off half of the bead. Paint two coats of paint. After that has dried, give it a coat of Mod Podge gloss. Leave the other beads plain.
2. Starting with a small gold bead, add your beads to the wire. Alternate a plain wooden bead with a painted one, remembering to put a gold bead between each.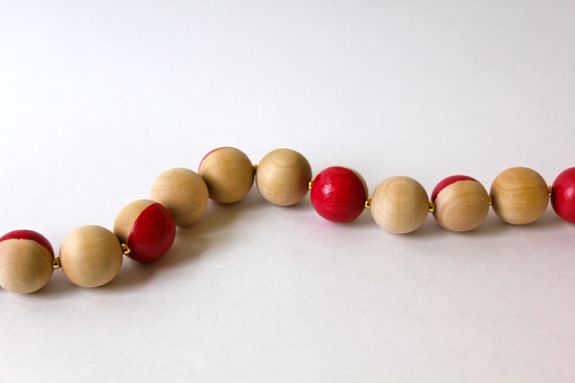 3. After you are done stringing, cut off any excess wire. My picture shows wire cutters but plain scissors actually worked better. You want to cut as close to the bead as possible while still being able to keep a hold of it. (Otherwise all your beads will fall off and you'll have to restring.)
4. Attach the crimp end to the wire by crimping or gluing. Remove the preattached lobster clasp.

5. Attach a jump ring to both ends and add the gold chain. You don't need a clasp because the necklace will easily fit over your head.