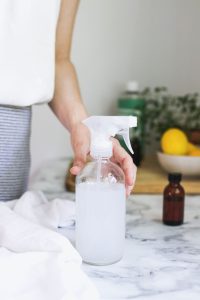 DIY Natural Granite Cleaner
Yield 16 ounces
With just 4 ingredients, this DIY natural granite cleaner spray, made without vinegar, will clean and disinfect your countertops.
Ingredients
1 cup rubbing alcohol
1 cup filtered water
10 drops castile soap or dish soap
20 drops essential oil of your choice (I love lemon and basil for mine)
16-ounce spray bottle
Instructions
Combine all ingredients in a glass spray bottle and gently shake to combine.
Lightly spray on granite countertops and buff using a microfiber towel.
The rubbing alcohol acts as a preservative so store on the counter or under the kitchen sink indefinitely. Just give it a gentle shake prior to each use.
Recipe by Hello Nest at https://hellonest.co/diy-natural-granite-cleaner-with-essential-oils/