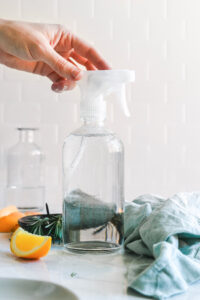 DIY Upholstery Spray
Yield 16 ounces
Instructions
Combine all ingredients in a glass spray bottle.
Screw the lid on tightly and give it a good shake to mix the ingredients.
Spray directly on upholstery to remove odors and make your home smell fresh.
If needed, spray a second time to take care of any lingering odors.
Since this spray contains water it won't keep indefinitely (even with the rubbing alcohol and vinegar), so it's best to use within two weeks.
Recipe by Hello Nest at https://hellonest.co/diy-upholstery-spray/