Valentine's Day is just around the corner, and if you have left it all for the last minute, don't fret! Here's an easy gift idea that I'm sure the ladies in your life will love: a lovely DIY vase to show off those spring blooms!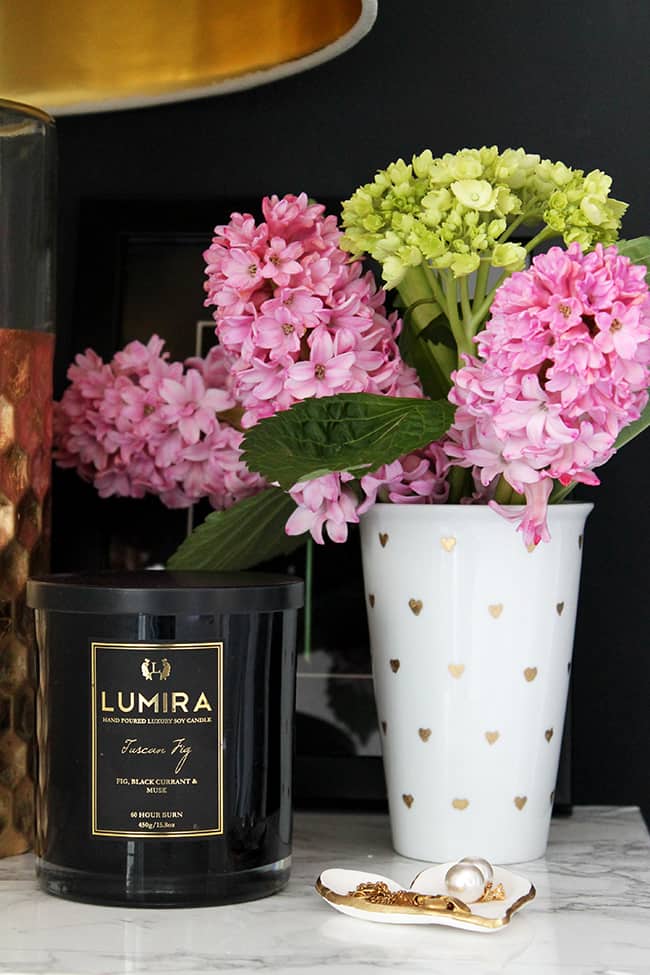 Aren't these tiny gold hearts super cute? You'll see that they are very easy to make, and honestly, does it get better than gold hearts and fresh blooms? Ok, if we're diamonds and chocolates I guess it could, but wouldn't this make a great gift? You still have time to put this DIY together – here's how!
DIY Gold Foil Mini Heart Vase
Supplies needed:
A pencil
A pen
A x-acto knife
Washi tape
A porcelain vase
Step 1: Draw a heart shape on your pencil's eraser with the pen and using the x-acto knife, carve out the shape.
Step 2: Use the washi tape as your guide and tape it all around your vase. A little tip: By using a polka dots washi tape you'll be able to stamp your hearts at precise spots. It's not necessary, but it does help to get a more even look.
Step 3: Press the gold foil pen on the heart shape and start stamping them on the vase. I left 4 "dots" of space in between and repeated the same for rows 1, 3 and 5. For rows 2 and 4 I just started 2 "dots" ahead of the previews sets.
Step 4: Let it dry for 15-20 min, take off the tape and fill it with fresh flowers! Your pretty DIY vase is ready.
2