You already know we love eating watermelon, so why not get crafty and make use of the whole watermelon? Seriously, this will wow your crowd. All you need is a small spigot which can be installed in watermelons for use as a temporary drink dispenser and then stored away in a drawer for use again and again.
Watermelon Drink Dispenser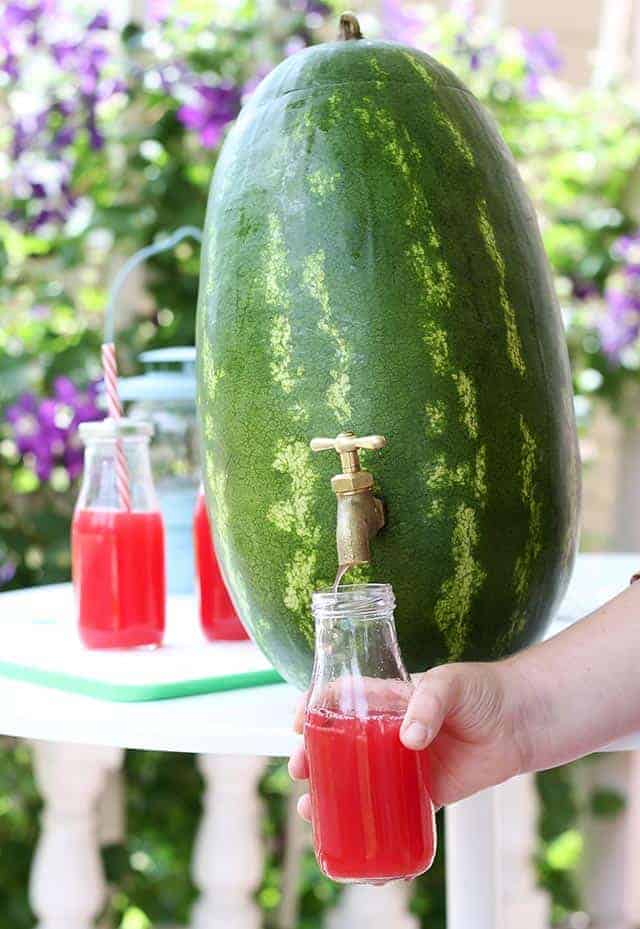 Here's how we made ours: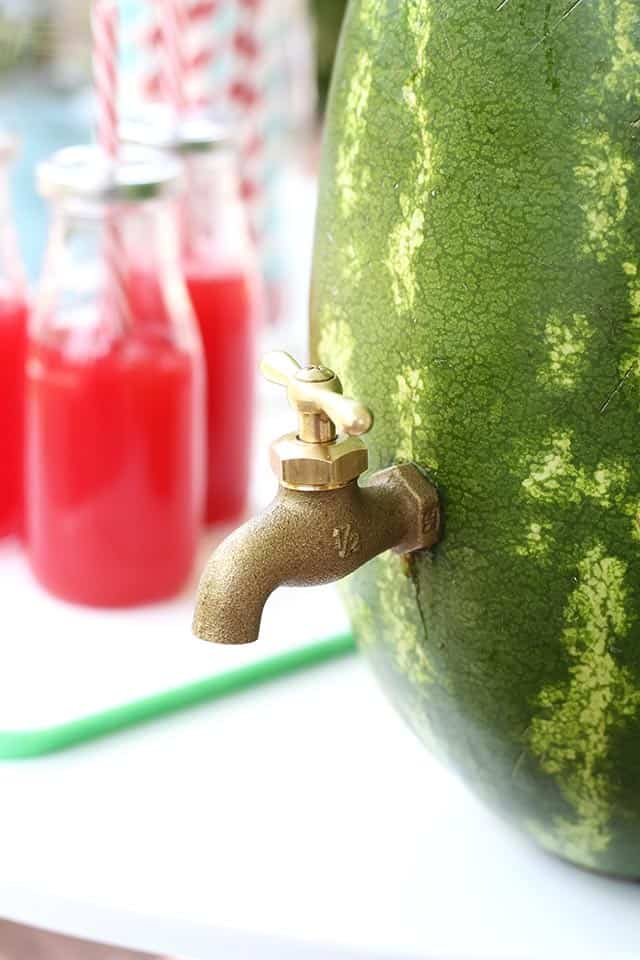 SUPPLIES NEEDED
Watermelon
Spigot & nut (I found mine at a local hardware store and picked up a plastic tailpiece nut just in case)
Ice cream scoop (or melon baller)
Serrated knife
Apple corer (or small knife)
Large mixing bowl
Water pitcher
For this project you can choose to use a seedless watermelon, or one with seeds. Typically, the seedless melons are short and round, while the ones with seeds are tall and thin. You can use either type, just keep in mind you'll have a bit more prep work to do extracting all the seeds if you don't pick a seedless in the first place, but since they are larger you'll have to spend less time filling it up during your party.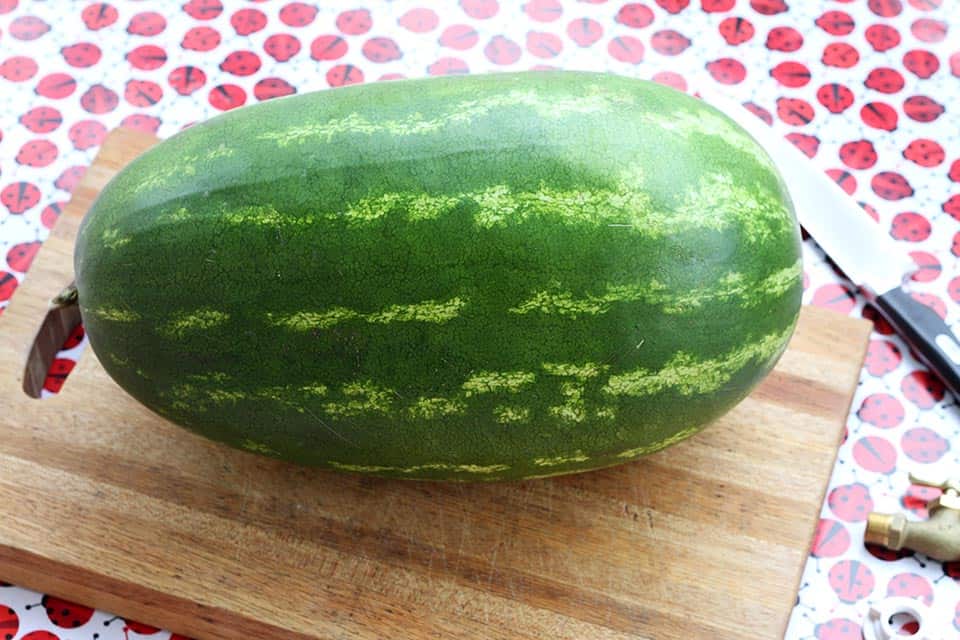 Step 1: Wash your watermelon and find the nicest side.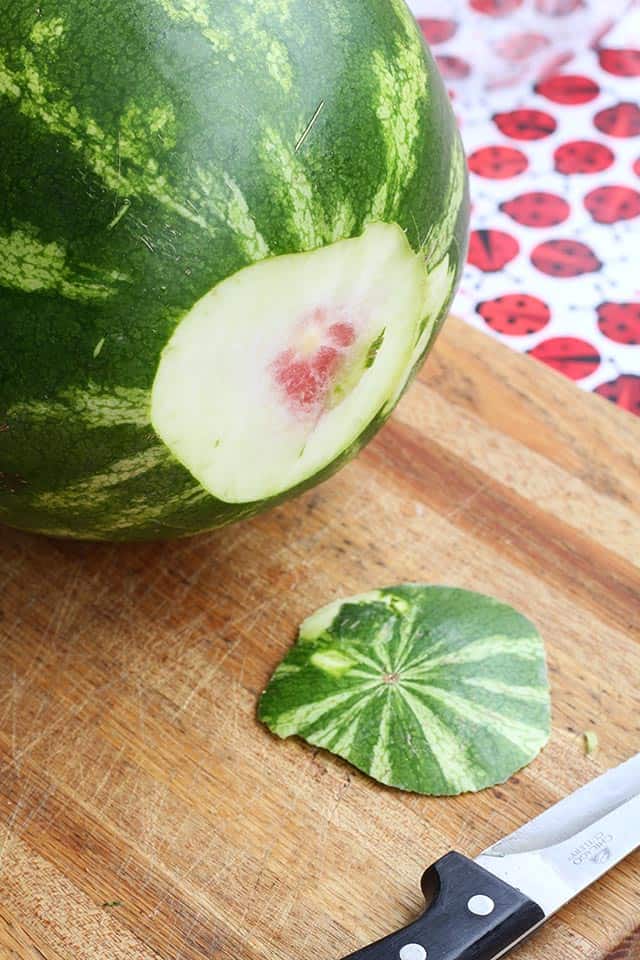 Step 2: With your serrated knife, trim a very small amount off the bottom of your watermelon so it sits flat. You want to expose as little of the actual melon as possible. If you expose some of it, it will be alright, just be sure to leave an extra 2 inches or so of fruit on the bottom of your melon when digging out the insides.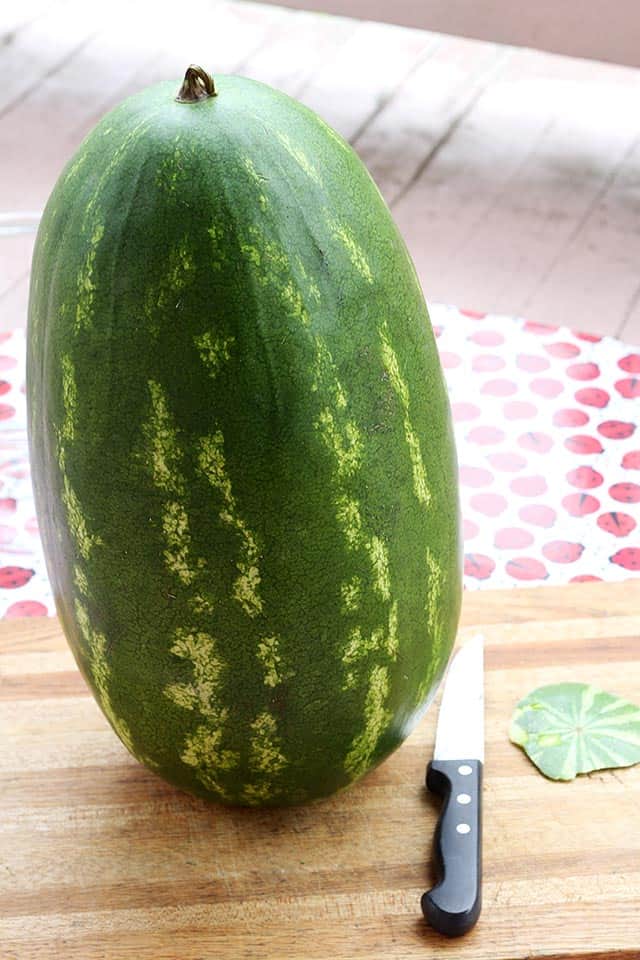 After making the initial cut to the bottom, set the watermelon on the table so you can judge whether or not you need to make any additional cuts to level the melon.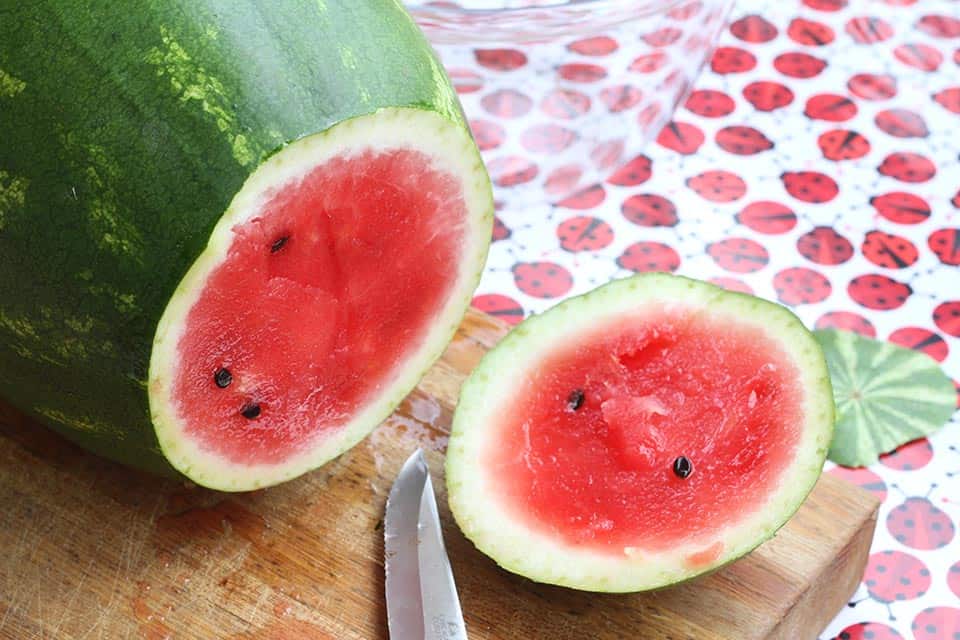 Step 3: Cut 2-3 inches off the top portion of the melon. Try to make the cut as clean as possible so you can set it back on later to keep pesky bugs and flies out of your delicious beverage.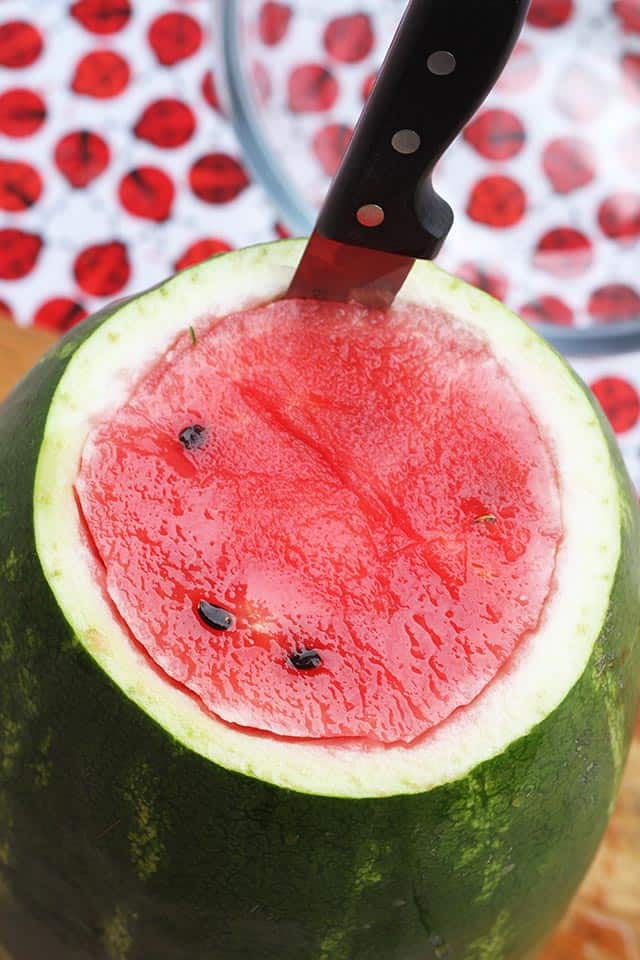 Step 4: Before installing the spigot you'll need to transfer all the melon to a clean bowl. Use your knife to cut the melon away from the rind.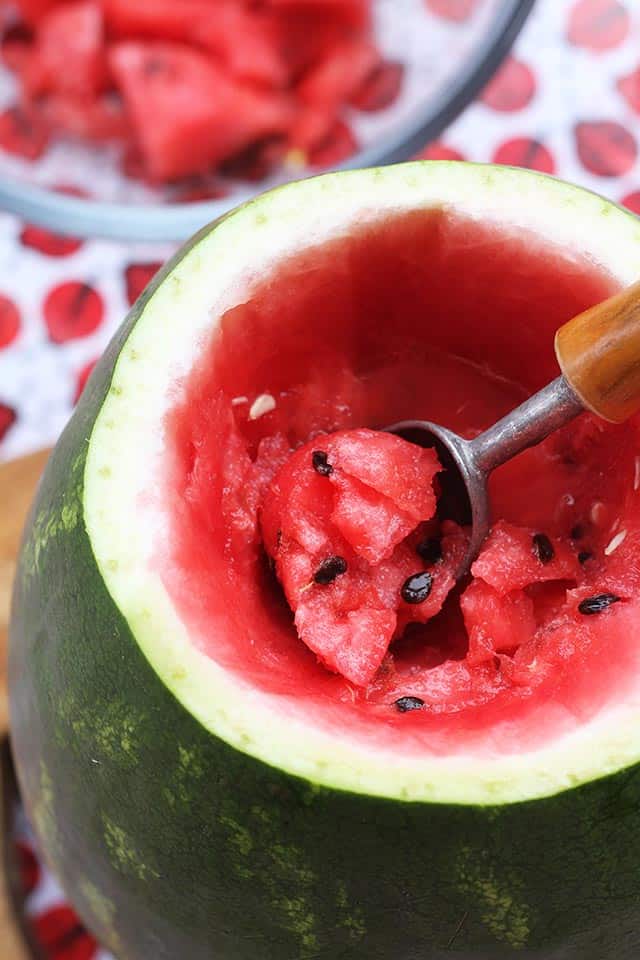 Step 5: Scoop out all that delicious melon with a melon baller or an ice cream scoop. The larger the scoop the faster the job will go!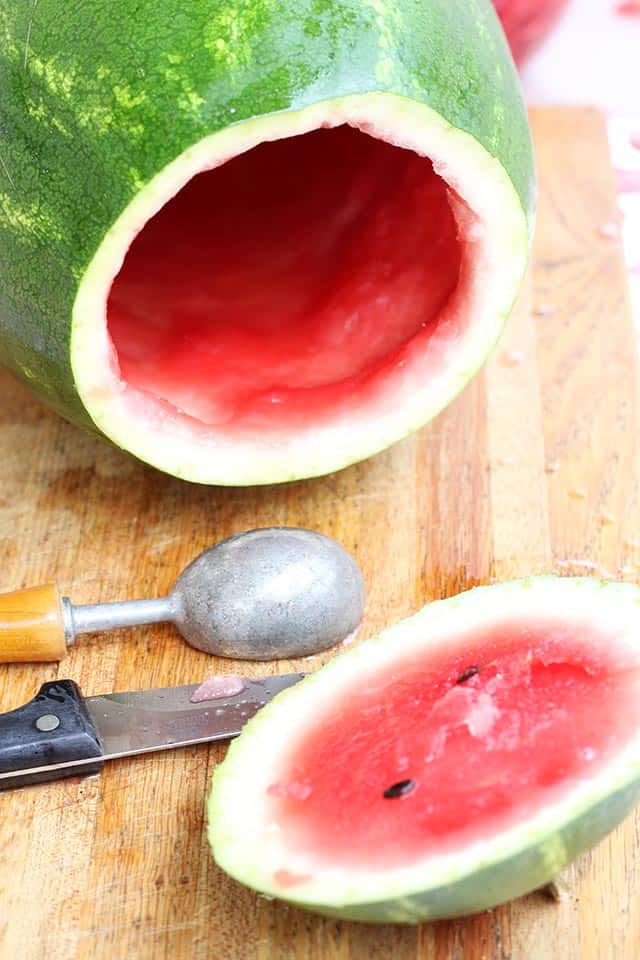 Step 6: Make sure you've scooped out as much of the melon as possible. Any leftovers can clog up your spigot. Set the watermelon back on the table so that it's standing vertically, the way it will stand when presented on your table.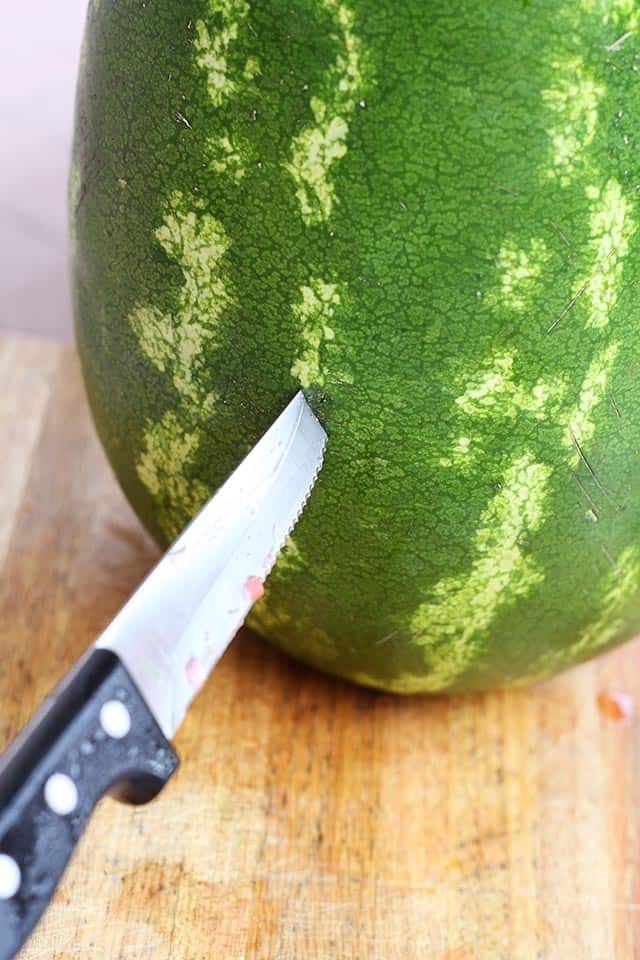 Step 7: For the next step, you can use an apple corer but I like to use the tip of a knife so I can gradually make the hole larger if need be -you definitely don't want to make the hole too large! Locate the area where you need to place your spigot (don't install it to high up, consider where your beverage line will drop down to inside the melon) and score the area with an X. Slowly turn the tip of your knife in a circle until it starts to bore a small hole. Stick that ice cream scoop back inside the watermelon and scoop around the hole until you can see just a tiny bit of daylight inside the melon.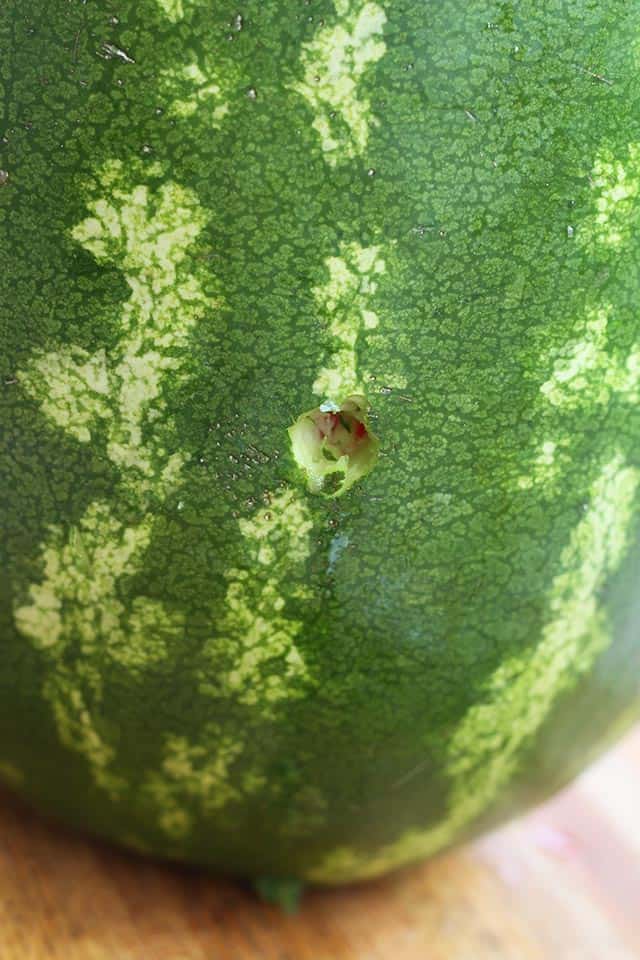 Step 8: Once the hole seems large enough, clear out the debris ad begin to thread the spigot in.
Step 9: Remember to thread slowly! You don't want to over thread and punch through the rind.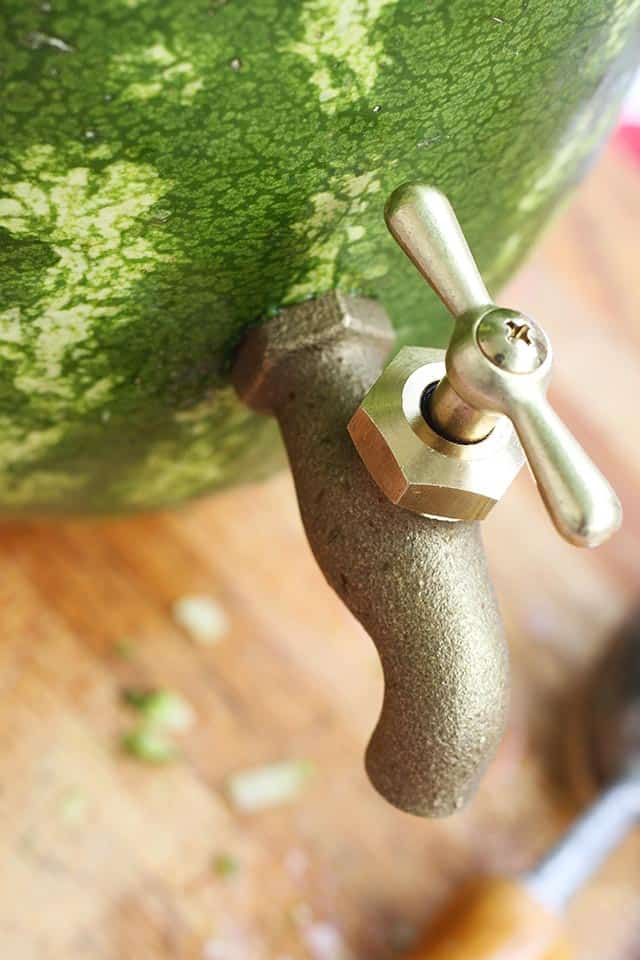 Step 10: Pour your favorite beverage inside, place the cap on and you're all set!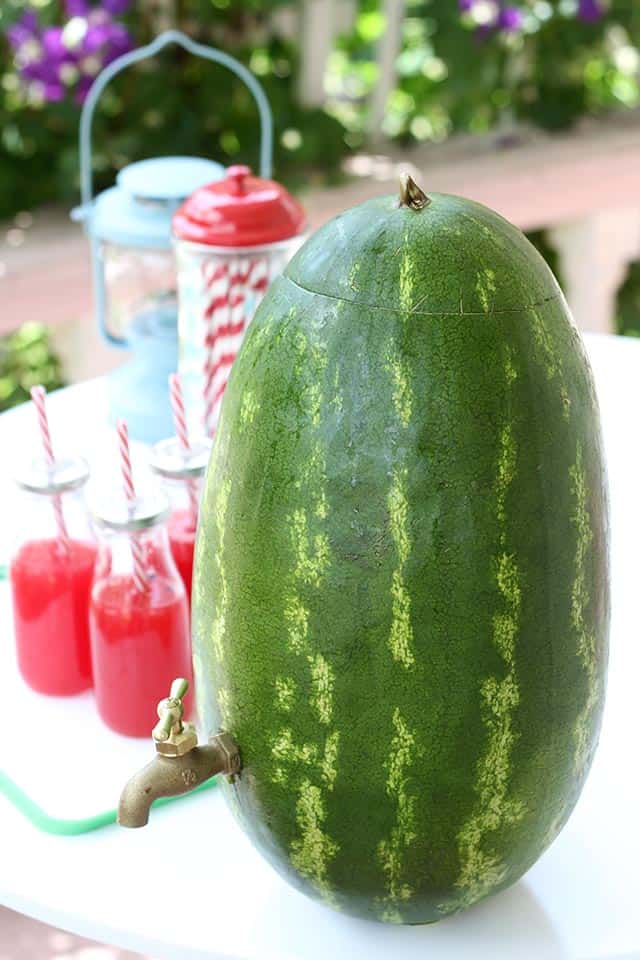 If you're looking for a great watermelon lemonade recipe, we found one right here that we love!