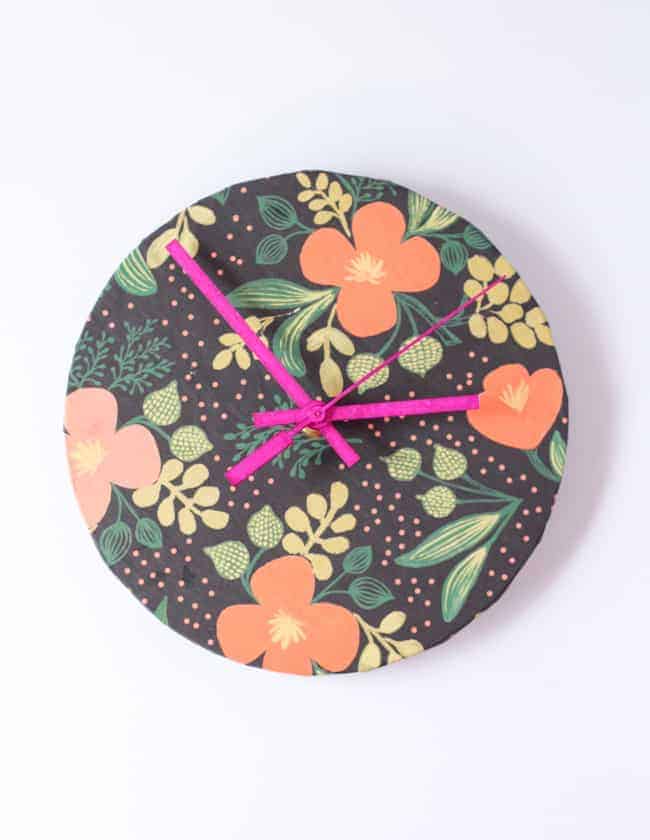 You might say that I have a bit of an obsession with Rifle Paper Co. If it comes in a whimsical floral design – calendar, card, wrapping paper – I am completely smitten. Seriously, it's out of hand. When I came across this wrapping paper, I knew had to display it in our apartment somehow. What better way than to make your own DIY clock covered in recycled wrapping paper? Now every time I check the time, I can admire the lovely print!
Upcycled Wrapping Paper DIY Clock
Supplies Needed
Clock base
Clock kit
Wrapping paper of your choice
Mod podge
Sponge brush
Spray Paint (optional)
Instructions
Step 1
If the paper you chose is dark, consider painting the clock hands a bright color to make them pop. Simply lay the pieces flat, spray paint and let dry.
Step 2
On the back of your paper, trace around the clock base with a pen. Then cut out the circle leaving a one-inch margin all the way around.
Step 3
Apply a generous, smooth layer of mod podge to the clock base. Cover with your paper circle (pattern facing out), then smooth over any lumps with your finger or a bone folder. Wrap the paper around the edges of the clock base and seal with mod podge.
Step 4
Let the glue dry completely and then cut out the hole in the center of the clock with an X-Acto knife. Be careful; you don't want to rip the paper on the front of the clock.
Step 5
Attach your clock kit according to the instructions and decide where to put it. I'm kind of in love with my new DIY clock – the florals and the bright pink make me smile every time I look at it!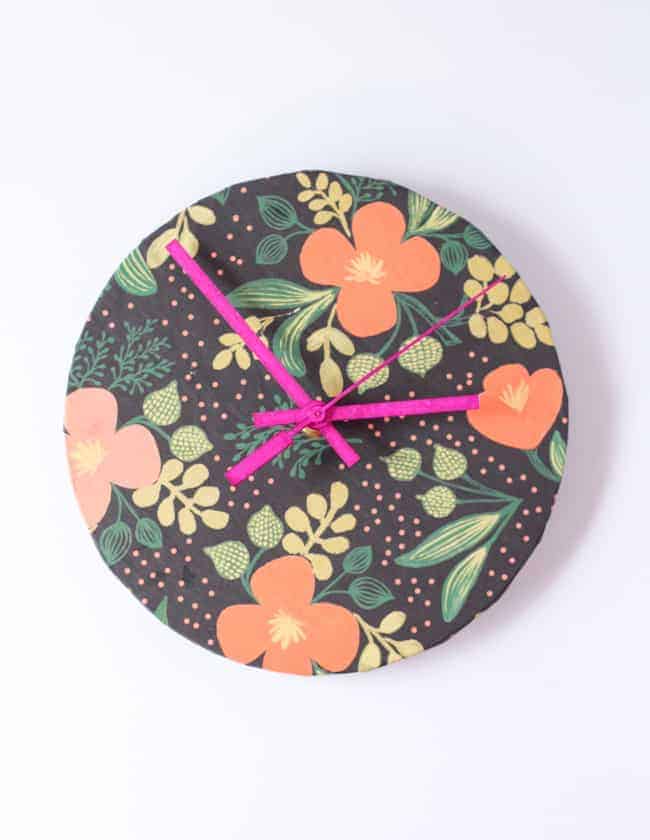 Want more upcycling inspiration? You might like these wine bottle candles and these nail polish plant pots.
9