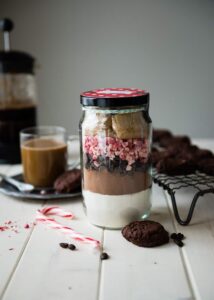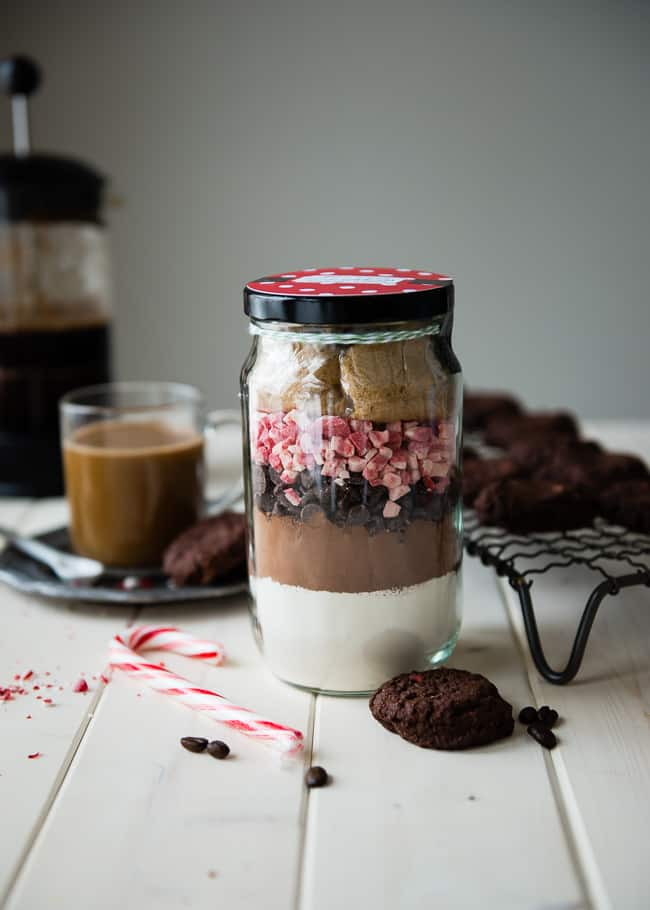 Double Chocolate Peppermint Cookies in a Jar Recipe
Yield 2 dozen
Layer the ingredients for these yummy, peppermint-y cookies in a jar and include directions for a fun gift.
Ingredients
1 cup all-purpose flour
1/2 cup cocoa powder
1/2 teaspoon instant espresso powder
1/2 teaspoon baking soda
1/2 teaspoon salt
3/4 cup packed brown sugar
1/2 cup semi-sweet chocolate chips
1/2 cup peppermint baking chips
Needed for mixing recipe:
8 tablespoons butter, softened
1 large egg
1 teaspoon vanilla extract
Instructions
In a quart size jar, layer ingredients in the order given. The brown sugar can be placed in a resealable bag to keep it separate.
Mixing directions:
Beat butter with an electric mixer. Add the brown sugar and beat until fluffy. Add the egg and beat again for 1-2 minutes. Add the vanilla and beat 30 seconds more. Add the remaining ingredients from the jar a little at a time, mixing well.
Preheat oven to 350°F. Line two baking sheets with parchment paper. Using a small ice cream scoop or two spoons, drop dough onto the baking sheets. Bake for 10-12 minutes, rotating baking sheets back to front and top to bottom half way through baking time for even baking. Let cool on baking sheet for 5-10 minutes, then remove from baking sheet and finish cooling on rack. Store in airtight container.
Courses Dessert
Recipe by Hello Nest at https://hellonest.co/double-chocolate-peppermint-cookies-in-a-jar/