Way more than I'd like to admit, 5 o'clock rolls around and it dawns on me that's just about dinnertime – and there's nothing ready! That is unless I get my act together and get my slow cooker going. That's when I hit up my trusty list of quick meals. This easy white bean soup is one of my go-to favorites. It's pretty much the fastest, easiest soup ever.
Easy White Bean Soup with Tomato, Spinach + Sausage
This soup is easily my favorite weeknight go-to. I'm not a stickler for ingredients, so I favor recipes I can make my own or alter using ingredients I have on hand (often going bad since I'm prone to forgetting about things in the produce drawer). Tweak this recipe with whatever you have in your fridge or pantry at the moment. No sausage? No problem! Just add extra beans or ground beef. Any leafy green can be used instead of spinach – chard is particularly great and kale is a nutritional powerhouse. Want more veggies in there? Add 'em! The more the merrier. Add some paprika or Italian spices, red pepper flakes, whatever your heart desires! Your choice of tomatoes here too – diced, pureed, stewed, crushed, etc. You can even use fresh from the garden. This soup is your oyster!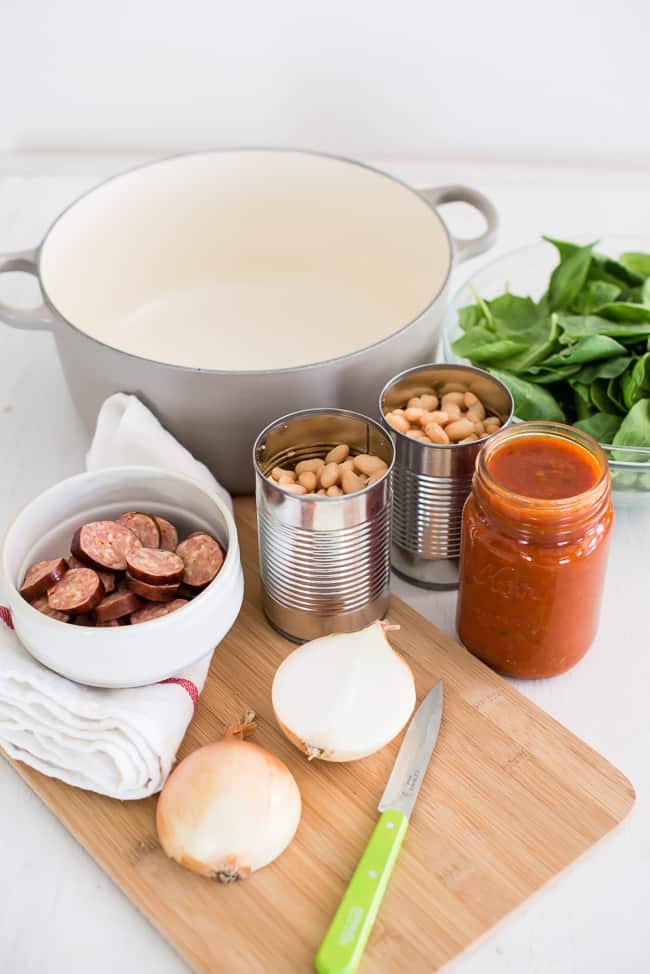 Dice an onion, cut up a sausage, open a few cans and dinner is served! You can eat it with bread or rice, but it's equally as good over polenta or just by itself. The goal here is to make it easy (have I said that enough, ha!). Use whatever you've got that can prepare in the time the soup's simmering on the stove. Why can't a home cooked dinner always be this fast – and delicious? Sigh.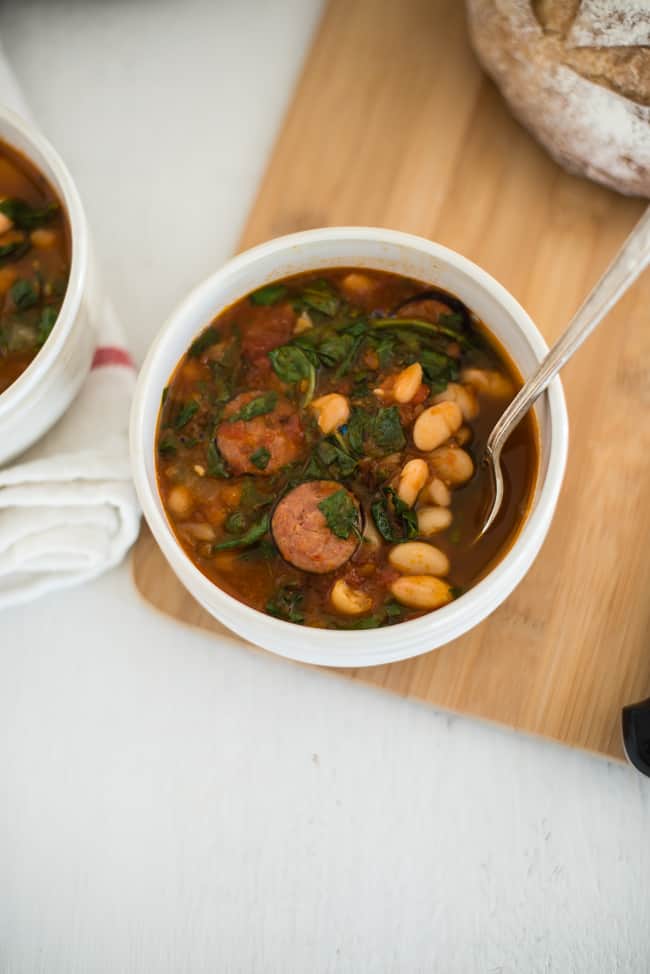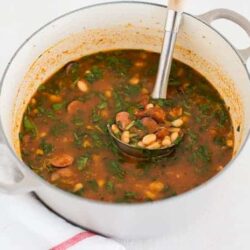 White Bean, Sausage and Spinach Soup
A hearty, flavorful soup made with white beans, sausage, and spinach.
Equipment
Large saucepan or Dutch oven
Ingredients
1

tablespoon

olive oil

1

large onion

diced

2

garlicky smoked sausages

thinly sliced

1

quart

water or stock

3

cups

cooked or canned white beans

drained and rinsed well

2

cups

tomatoes

crushed, diced, or pureed (your choice)

4

cups

fresh spinach

roughly chopped

Salt and pepper
Instructions
Heat olive oil in a large saucepan or Dutch oven over medium-high heat.

Add the onion. Cook, stirring often, until the onion starts to soften.

Add the sausage and cook, stirring often, until the sausage starts to brown nicely.

Add the water or stock, beans, and tomatoes. Bring to a simmer, cover, and let cook for 10-15 minutes.

Stir in the spinach and let cook for another minute or two.

Ladle into bowls and serve immediately.
Notes
Any kind of sausage can be used - veggie, chicken, pork, etc.-Substitute other beans for the white beans, if desired. Also good with chickpeas.-Any kind of leafy green can be used. Remove stems from chard, kale, and collards first.-More vegetables can be added, if desired. Lengthen cooking time as needed.
Serving suggestions - bread, biscuits, cornbread, polenta, rice, quinoa.