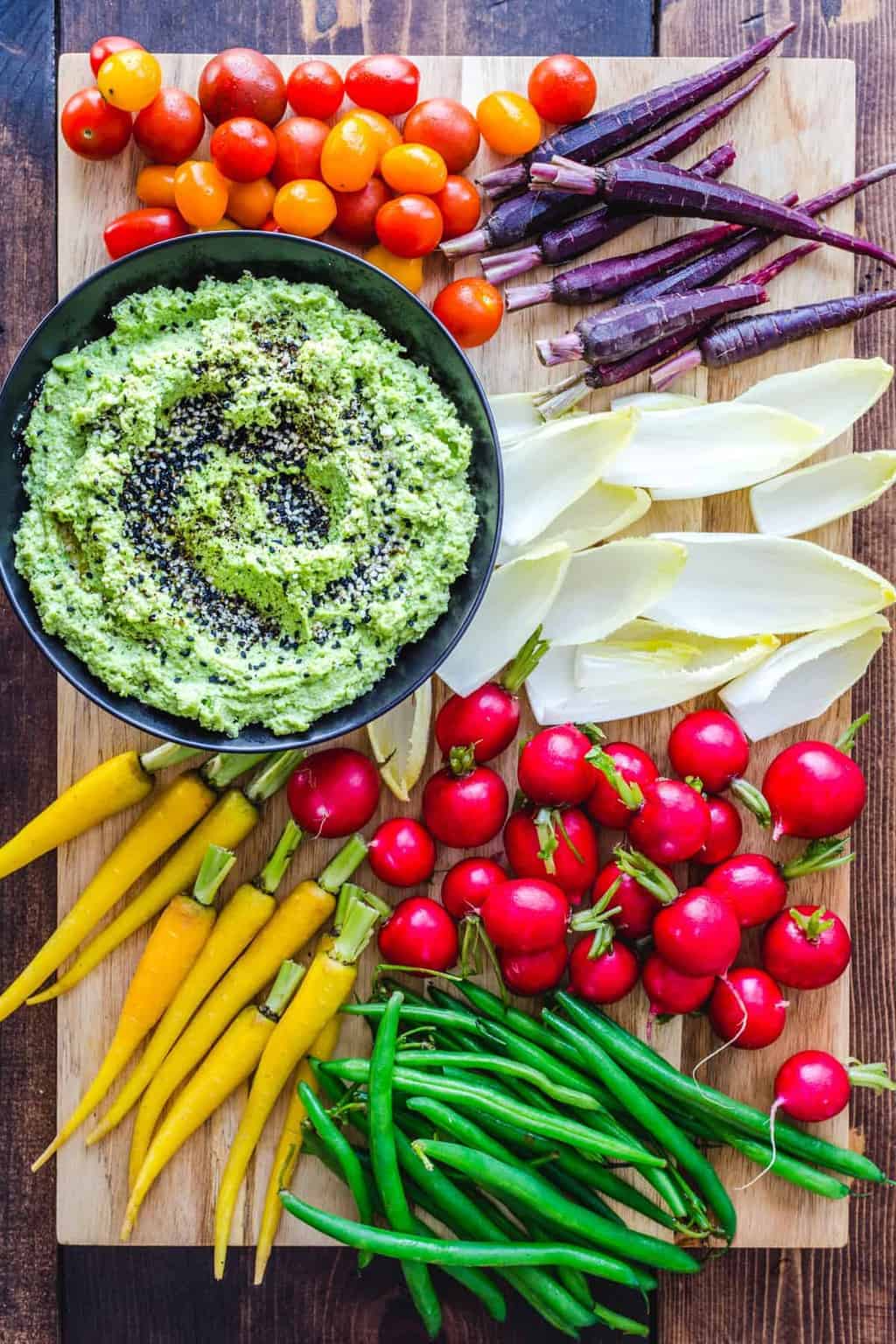 December is quite possibly my favorite time of the year. The crisp air, the holiday preparations, and the abundant opportunities to get together with family and friends make the whole month worth celebrating. There is something comforting about cooking for the holidays. Breaking out the classic family recipes that we turn to year after year, yet also taking the chance to try a new dish or a twist on a tried-and-true favorite.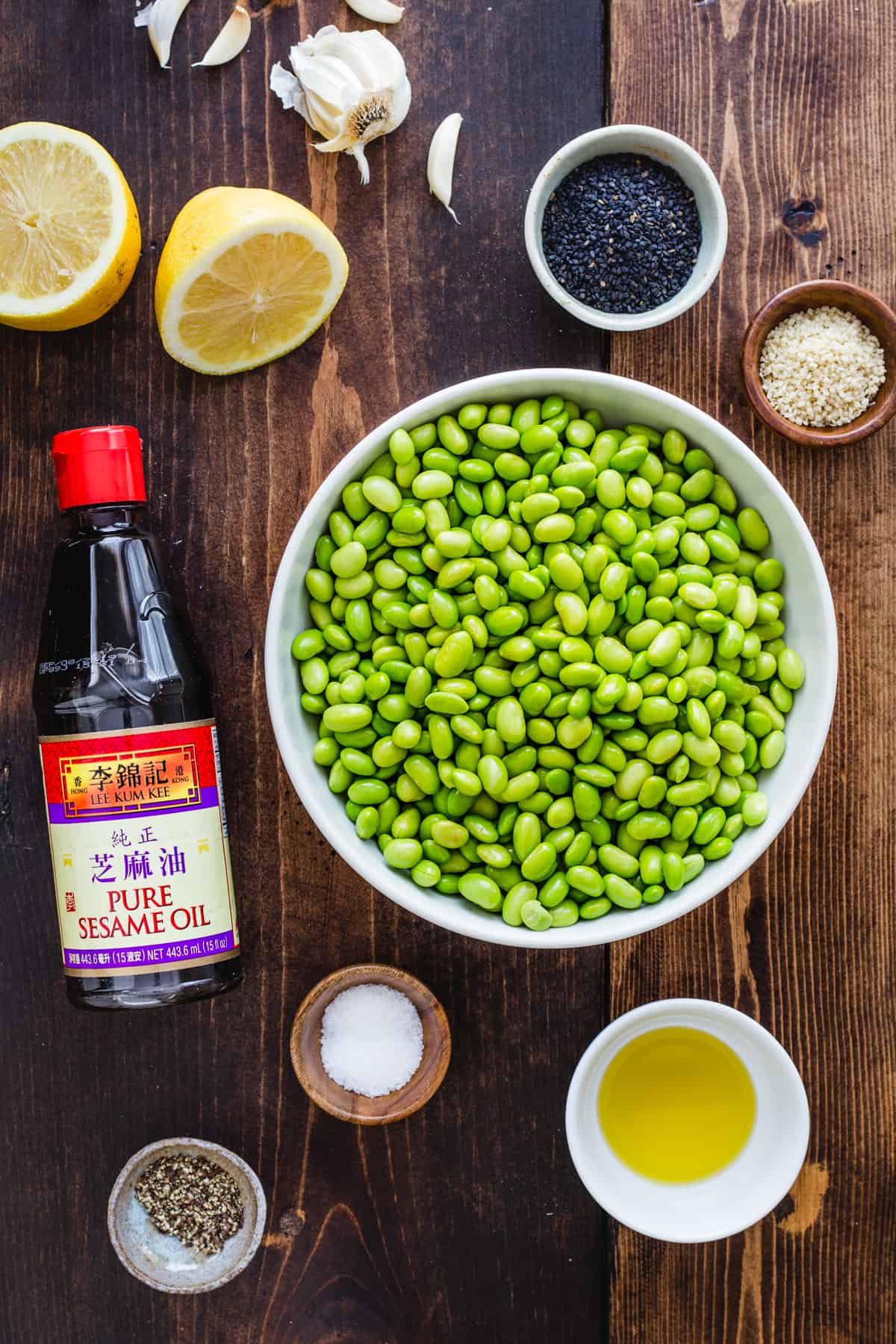 No matter what you're celebrating this year, a great holiday dinner party is not complete without a variety of appetizers (and desserts!). I try to provide a few types of appetizers with hosting a party:
Something Crunchy – This can be anything from seasoned nuts to a homemade snack mix.
Something Hot – This could either be a hot dip, baked brie, or glazed meatballs.
Something Fresh – Fresh vegetables paired with a lovely dip to keep things light before the main course.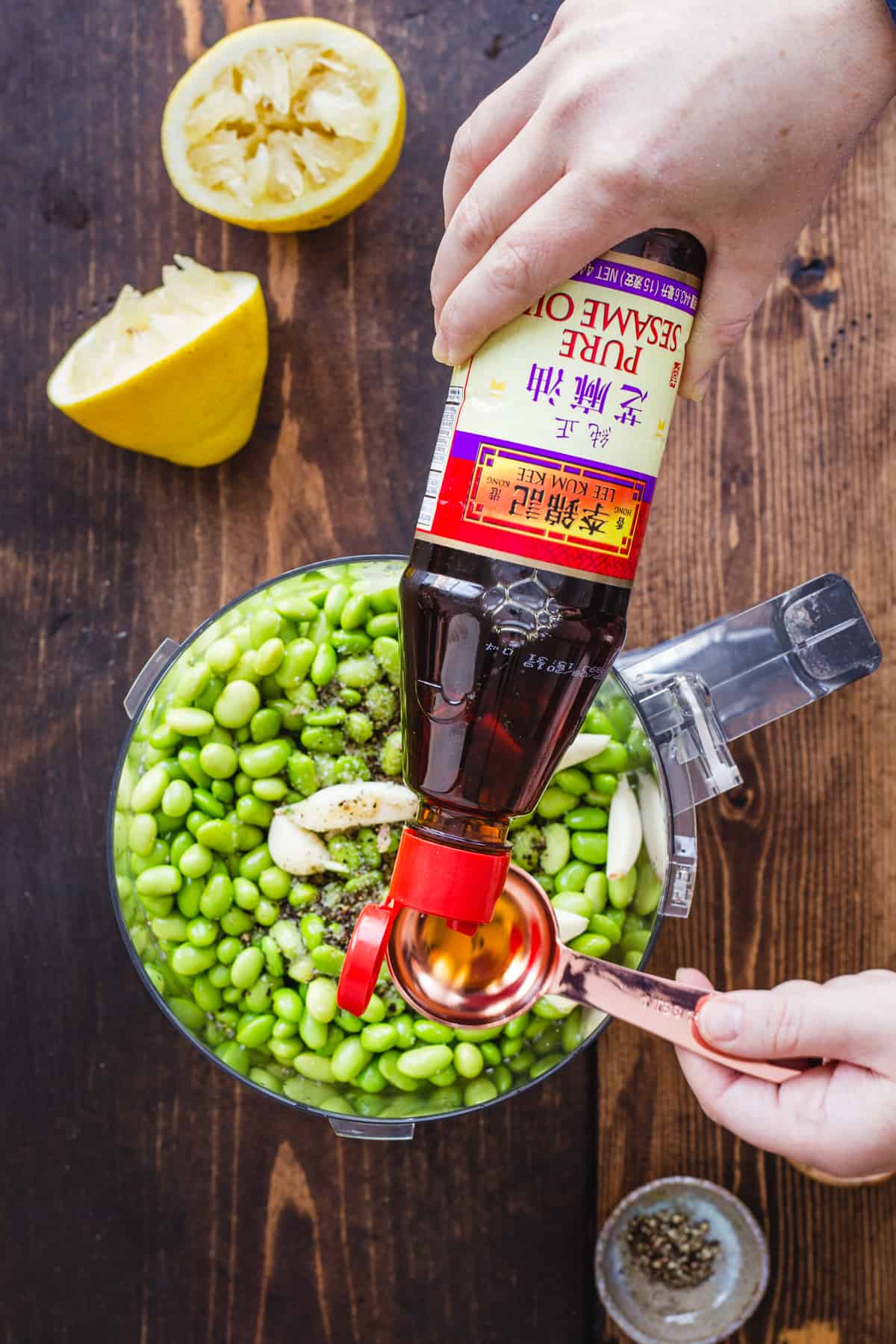 Edamame Hummus Crudité Platter
This year, I'm looking forward to serving a new twist on a party classic: hummus. Instead of classic hummus made from chickpeas, I am making a batch of Edamame Hummus with a full crudité platter.
Edamame hummus replaces the chickpeas with edamame beans, which are frequently found in the frozen food aisle of the grocery store. At my store, I'm able to find the shelled beans which does most of the work for me, making holiday party prep even easier.
Give your shelled edamame a quick blend in the food processor with some fresh garlic and, most importantly, Lee Kum Kee Pure Sesame Oil. The sesame oil in this recipe replaces the need for the traditional tahini, which doesn't quite work with edamame the same way it does with chickpeas. Sesame oil lends this hummus a delicate toasted sesame flavor, for an Asian-inspired twist on the classic recipe.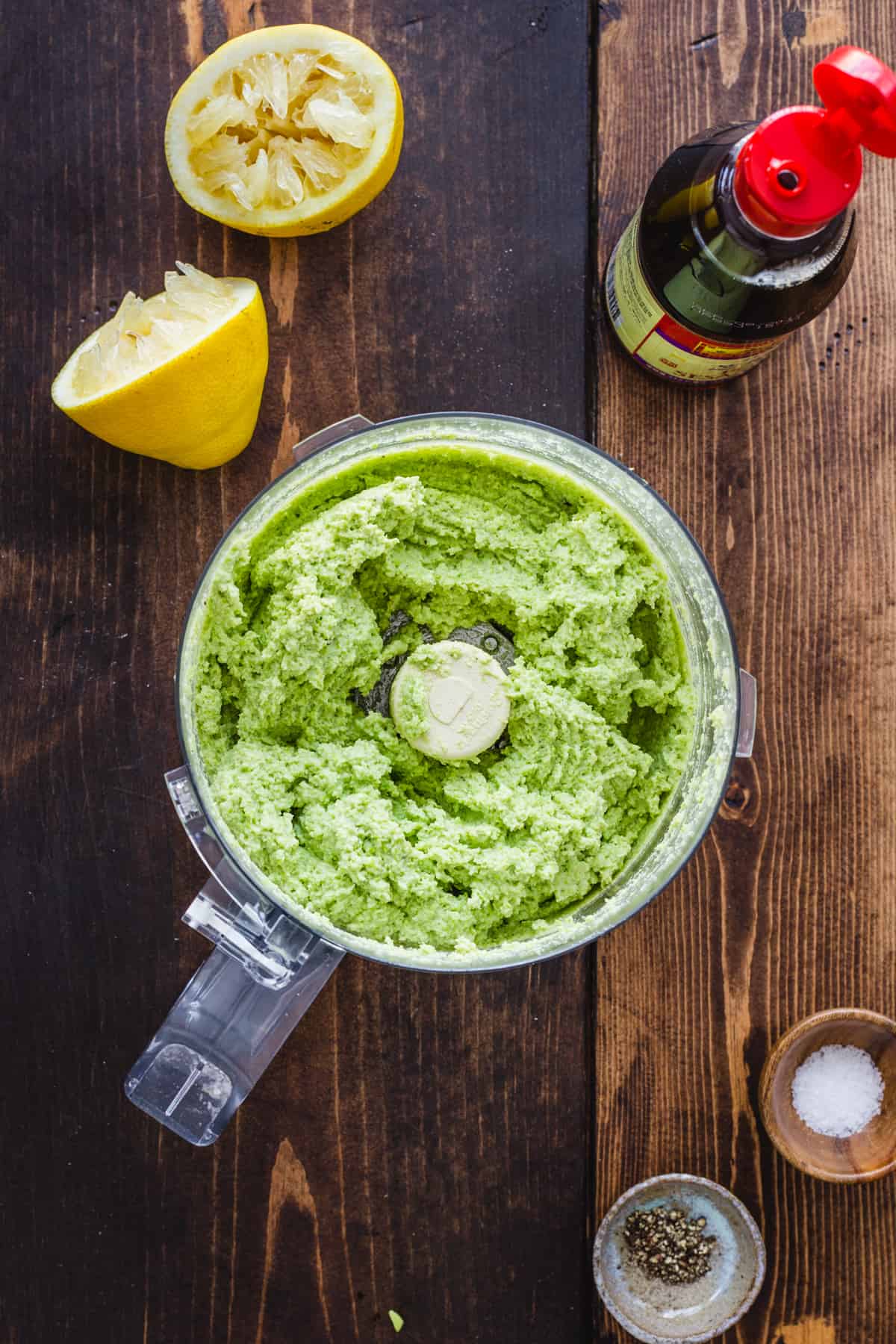 Lee Kum Kee Pure Sesame Oil is made from the finest roasted sesame seeds. It can add that burst of sesame flavor to so many holiday dishes and appetizers this season, whether it's a generous drizzle over roasted vegetables or a dipping sauce for homemade wontons. In addition to Pure Sesame Oil, Lee Kum Kee makes a wide range of great-tasting Asian-style sauces and condiments, which are delicious for helping elevate your holiday spreads.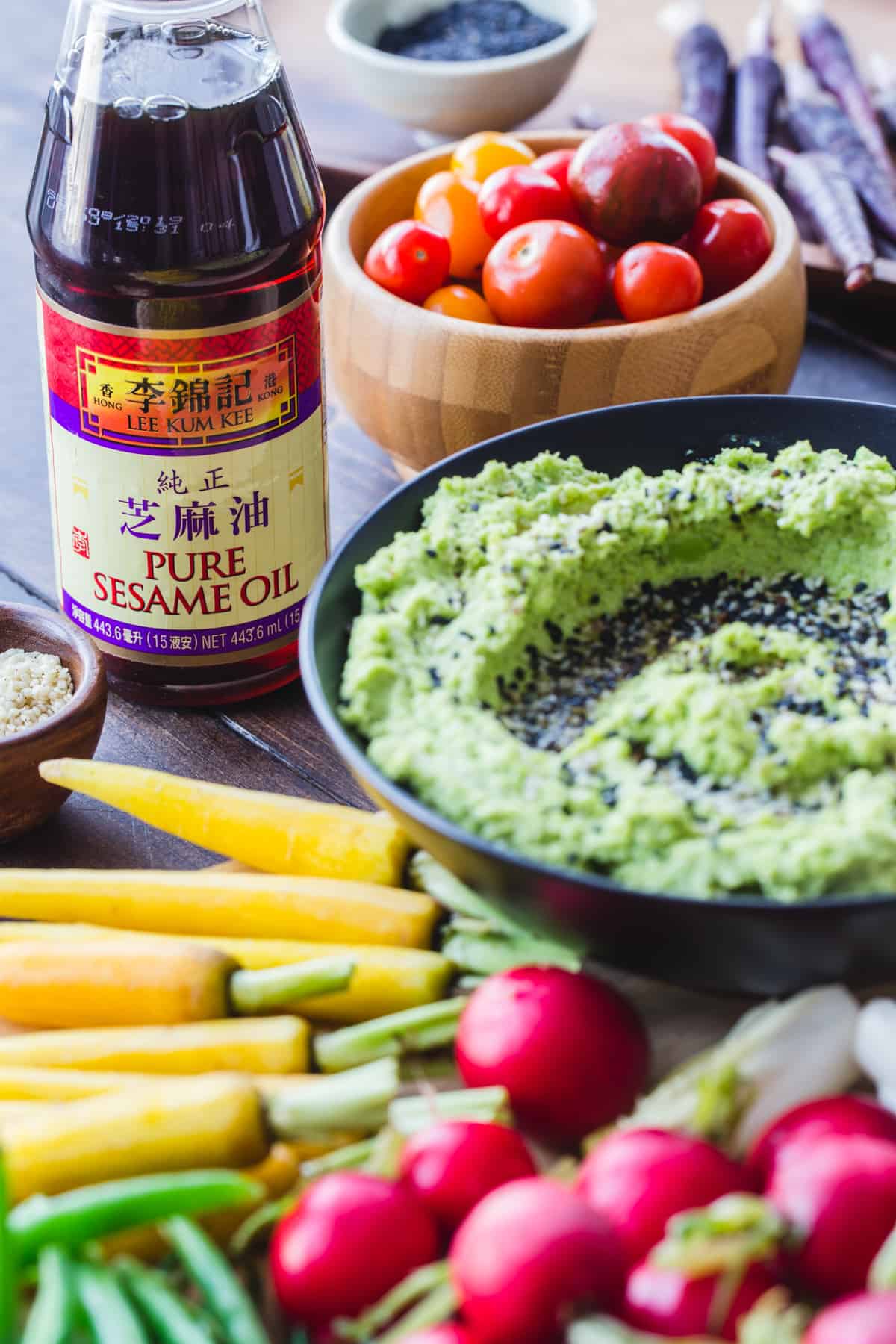 When it comes to putting together an entire crudité platter, I go for a variety of vegetables that will all pair well with the main attraction–in this case, the edamame hummus! Building a crudité platter couldn't be easier. Just pile up your favorite veggies around a large board or platter. Here, I used radishes, blanched green beans, a variety of small garden carrots, cherry tomatoes, and endive lettuce leaves. (I love how the leaves act as little scoops for the edamame hummus!) A simple garnish of sesame seeds and a drizzle of sesame oil finish off this amazingly gorgeous and satisfying appetizer spread.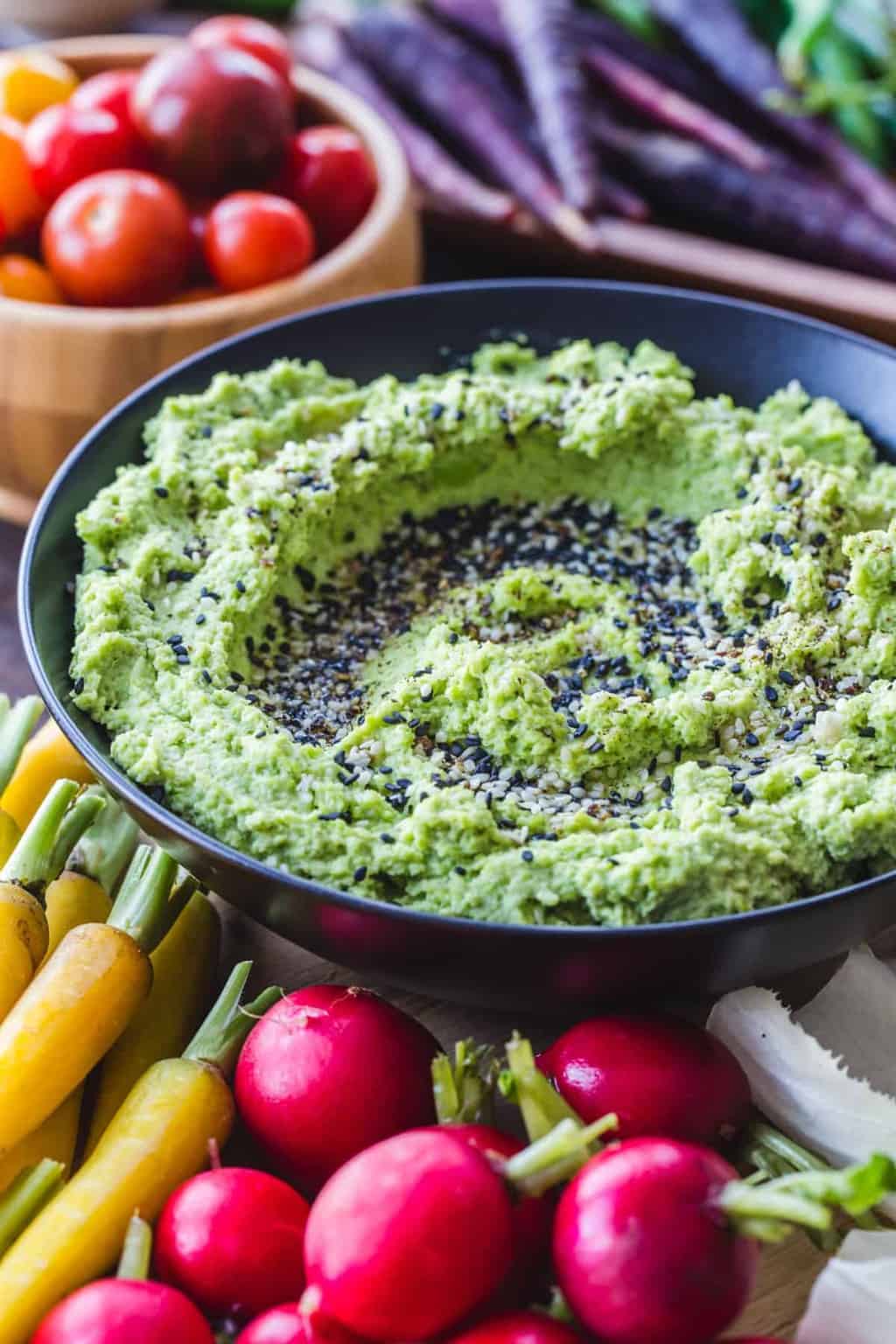 Your holiday guests will be thrilled!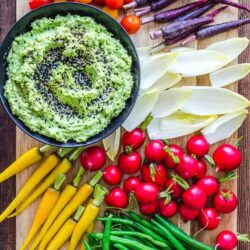 Edamame Hummus
This Asian-inspired edamame hummus is a guaranteed winner for your next party or holiday get-together. Light, fresh, and delicious!
Ingredients
1 1/2

pounds

frozen shelled edamame

6

cloves

garlic

1 1/2

lemons juiced

2

tablespoons

Lee Kum Kee Pure Sesame Oil

2

tablespoons

olive oil

1

teaspoon

Kosher salt

1/2

teaspoon

cracked black pepper

1

tablespoon

water optional

Black and white sesame seeds for garnish optional

Variety of vegetables for serving: radishes

carrots, cherry tomatoes, blanched green beans, and endive leaves
Instructions
Bring a pot of water to a boil. Boil the edamame for about 4 minutes or until tender. Drain and cool slightly.

Place the cooked edamame in a food processor. Add the garlic, lemon juice, Lee Kum Kee Pure Sesame Oil, olive oil, salt, and pepper. Process until the mixture is fairly smooth or desired consistency. Add water if needed to thin it out a bit.

Transfer the hummus to a serving bowl and sprinkle with sesame seeds and drizzle with more sesame oil, if desired. Serve with vegetables.
Notes
If you can't find shelled edamame, substitute about 2 pounds of in-shell edamame beans. Boil as directed and remove beans from shell pods before processing.