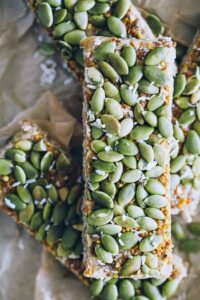 Pumpkin Seeds Granola Bars
Yield 6 bars
Loaded with antioxidants and minerals, these bars make the perfect breakfast on-the-run or afternoon snack.
Instructions
Preheat the oven to 350ºF.
Drain the dates and add them to a food processor with the coconut oil and process to obtain a puree.
Add the oats, coconut, flax and pollen, and pulse to obtain a sticky mixture.
Add the pumpkin seeds and pulse one more time to incorporate.
Transfer the mixture into a square baking pan lined with parchment paper and press it with a spoon to obtain an even layer.
Bake for 15 minutes or until set, then remove from the oven and let cool completely.
Notes
Cut the bars and keep them in an airtight container in the refrigerator for up to one week.
Courses vegetarian
Recipe by Hello Nest at https://hellonest.co/energizing-pumpkin-seed-granola-bars/