I've said it before and I'll say it again, homemade gifts are the best gifts. Christmas, birthdays, Teacher Appreciation Day, they're all fair game. But there is one holiday I have always shied away from when it comes to making gifts: Father's Day.
The standard gift of a DIY tie or a picture frame just seems, well, overdone. And I have already given my dad his fair share of gift cards over the years. But it recently dawned on me that DIY gifts for dad don't have to be cheesy. After taking a page out of my husband's book, I finally came up with the perfect Father's Day gift: beef jerky.
I mean, what man doesn't like to eat? And when it comes in three fun, tasty flavors, homemade jerky is instantly transformed into a gift the dads in your life will be fighting over.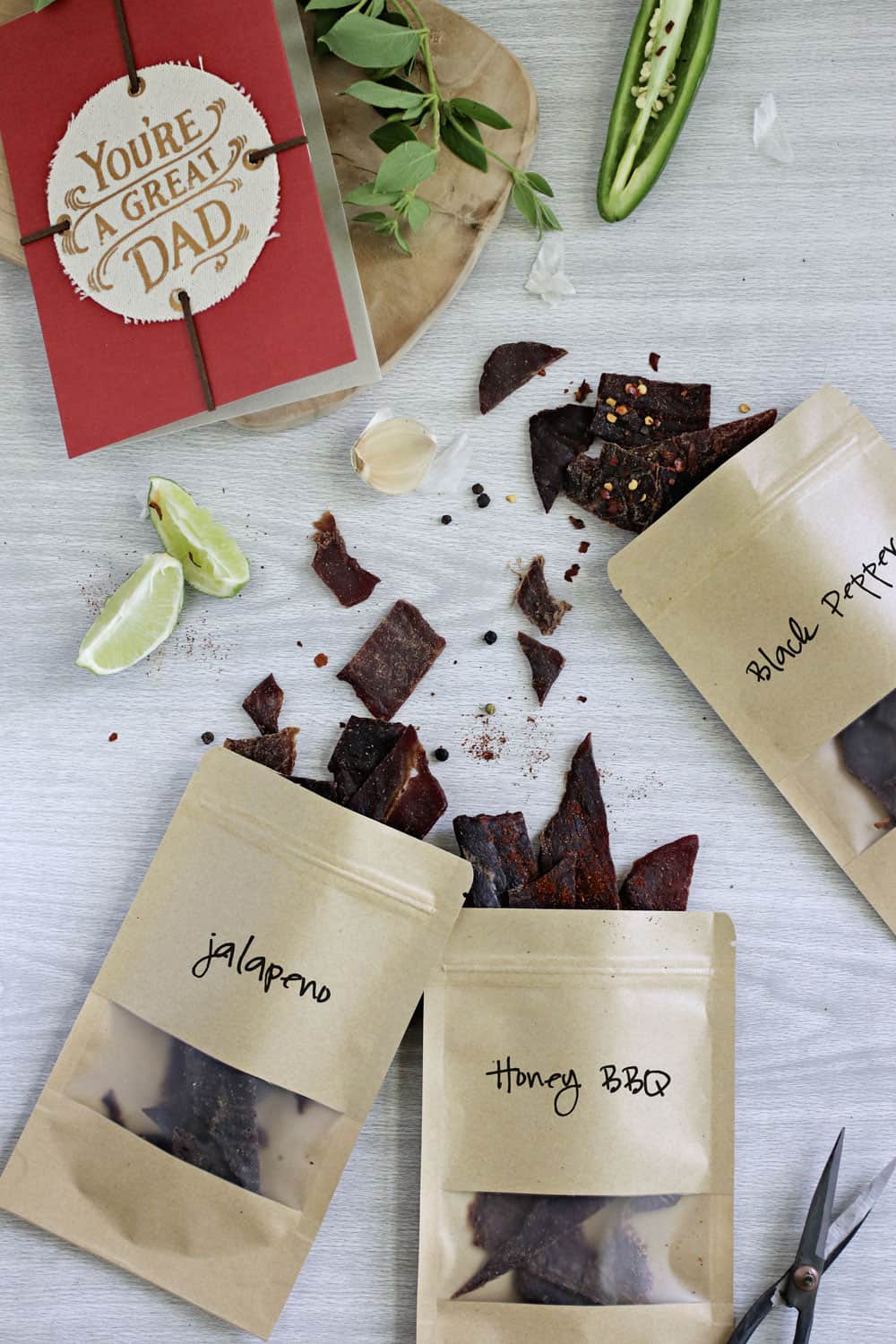 Grab a card and wrap everything up in some simple kraft paper packages. I then placed it all in a bag tied with twine. It's a pretty and tasty gift set I'm sure my dad is going to love.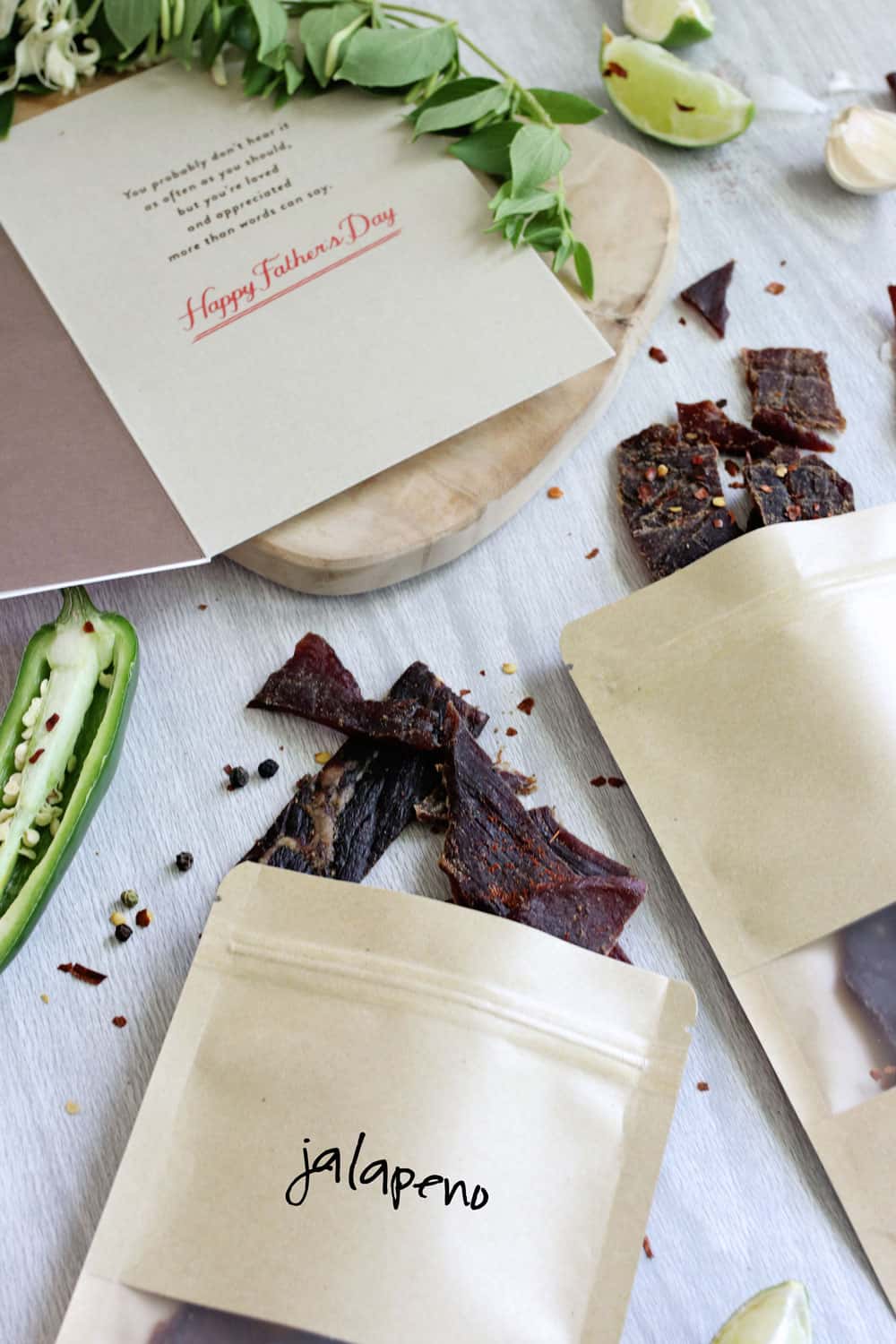 How to Make Beef Jerky
Good news is, beef jerky isn't hard to make at all. You don't even need a dehydrator! Just a little bit of time and an oven, and you're on your way.
Check out the video below to see how it's done or read on for step-by-step instructions.
Ingredients
3 pounds flank steak
1/2 cup soy sauce
1/2 cup Worcestshire sauce
Honey BBQ Jerky
1 tablespoon honey
1 teaspoon red pepper
1 tablespoon barbecue sauce
1 teaspoon garlic powder
Black Pepper Jerky
1 tablespoon ground black pepper
1 tablespoon onion powder
1 teaspoon garlic powder
Jalapeno Jerky
1/8 cup cilantro, chopped
1/4 cup lime juice
1/2 jalapeno, seeded and diced
1 tablespoon brown sugar
Instructions
Trim all traces of visible fat from your piece of meat. Since frozen meat it easier to slice uniformly, place the meat in the freezer for about 90 minutes until it's just barely frozen.
With a sharp knife, slice the meat in long thin strips. For jerky that's easier to chew, I like to slice mine against the grain. But feel free to slice it with the grain for chewier and somewhat leathery jerky. Place your meat in a re-sealable plastic bag and set aside.
In a large measuring cup or mixing bowl, add all the ingredients for the marinade and mix until very well combined. Cover sliced meat with the marinade and let sit for 3 hours or overnight.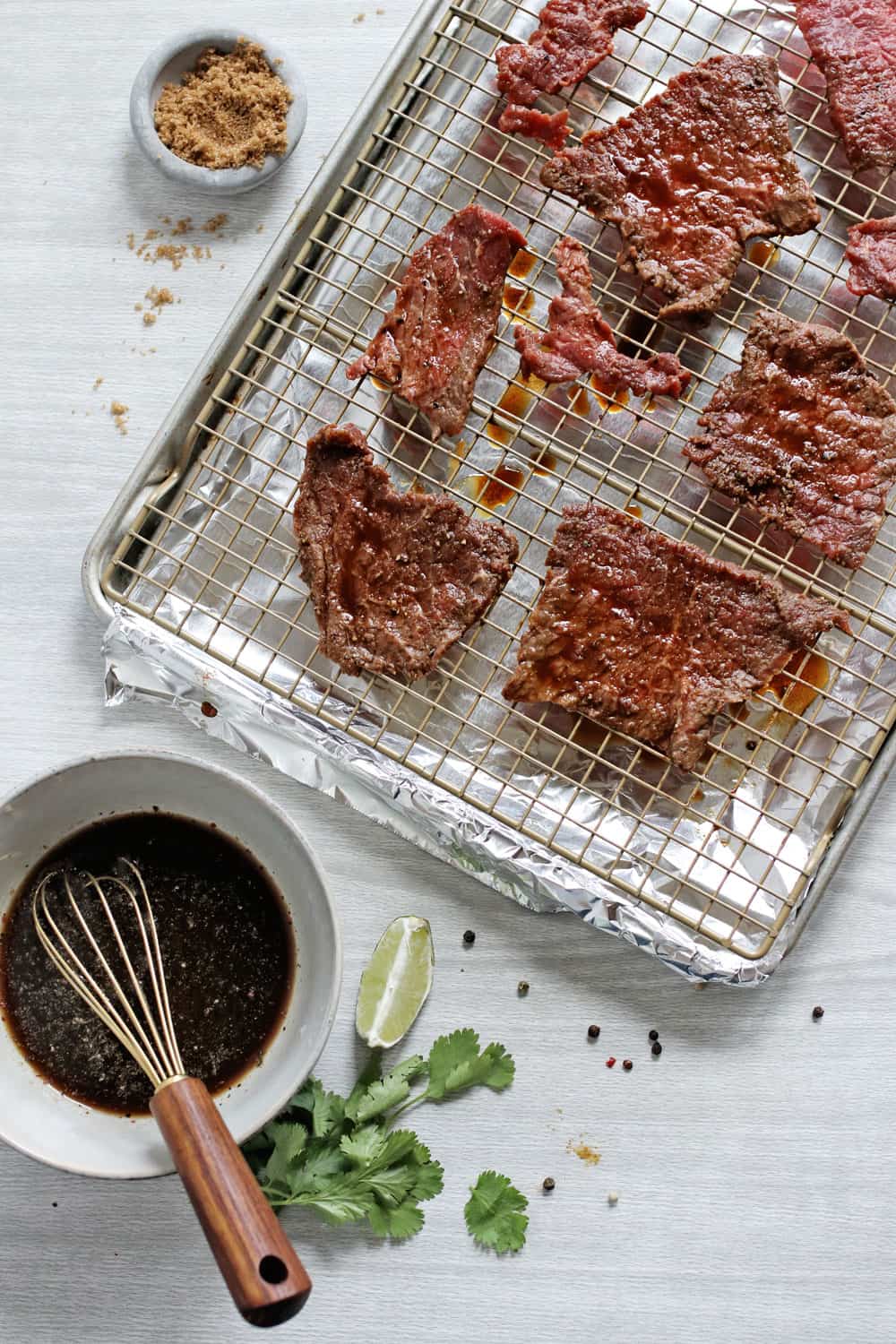 Line the bottom of a baking sheet with aluminium foil. Then place a wire rack on top of the baking sheet.
Remove the strips of meat from the marinade and, without patting them dry, place them on the wire rack.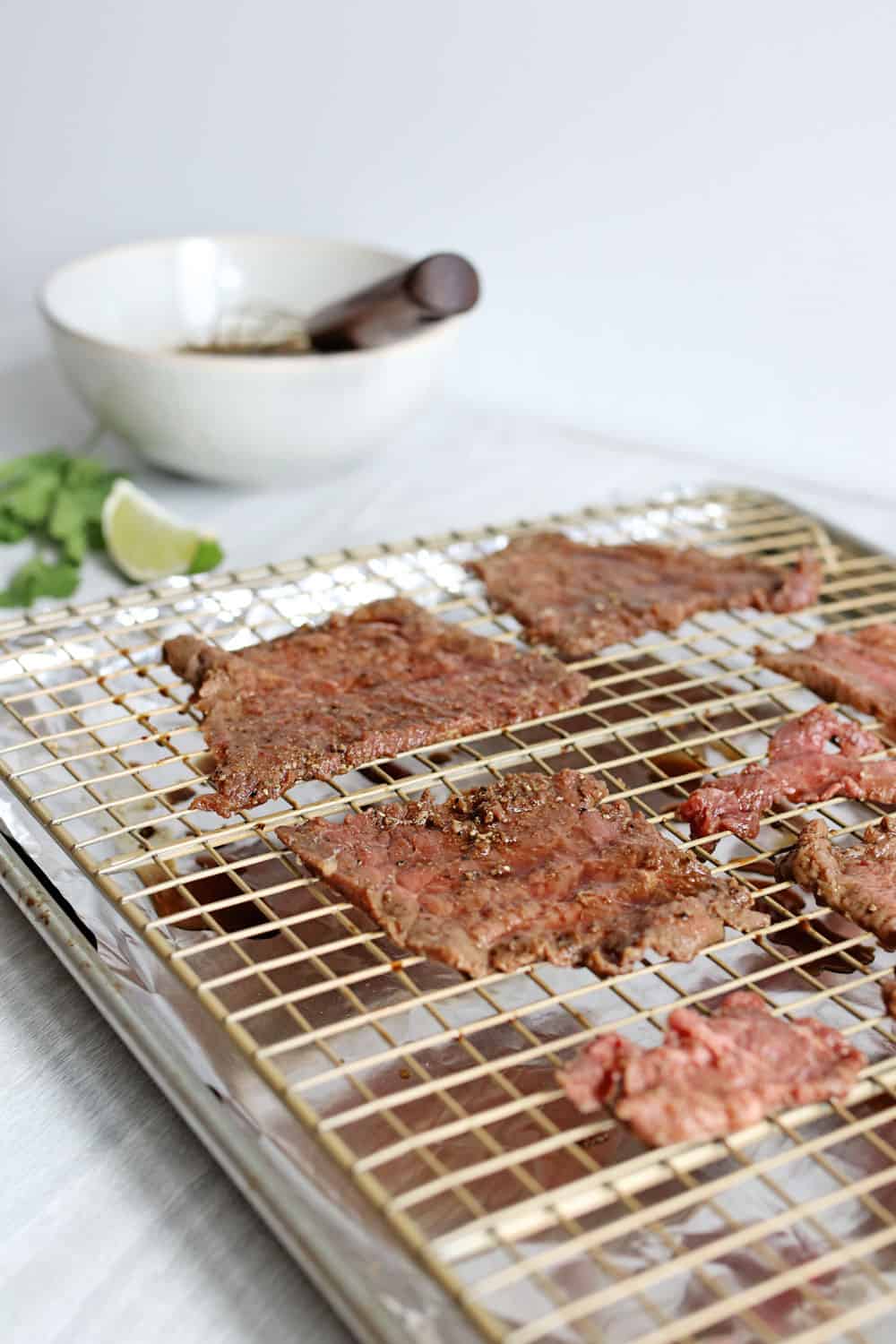 Place the baking sheet in the oven and set the oven temperature to 175ºF. Keep the oven door slightly open by sticking a wooden spoon in the door. This will allow some of the heat to escape so the meat has a chance to dry without cooking.
Let the meat dry for about 3 hours, then flip it over and give it another 2 hours or so. Total cooking time depends a lot on the size and thickness of your strips. The jerky will be done when you can rip off a piece easily but it's not so dry that it'll snap if you bend it.
Leave the jerky out to cool for a couple of hours, then transfer to sealable bag or container where it will keep unrefrigerated for 4 to 6 months.