When it comes to homemaking, there are a lot of things I love making myself: laundry detergent, candles, window cleaner. Heck, I'll even break out the sewing machine every now and then. But then there are things that cause me to break into a cold sweat at the mere thought of them. Making my own bread used to be one of those things.
It's a lesson in patience, for sure, but it's also a lesson in perfection that often clashes with my oh, just toss it in! personality. Or so I thought. After dipping my toe into the world of bread making, I discovered that there are a lot of recipes that don't require much sweat equity or attention to detail—and some that are just downright adorable.
This flowerpot peasant bread has quickly become one of my all-time favorite recipes. It doesn't require a laundry list of ingredients and it's foolproof, even if you're a bread newbie like myself.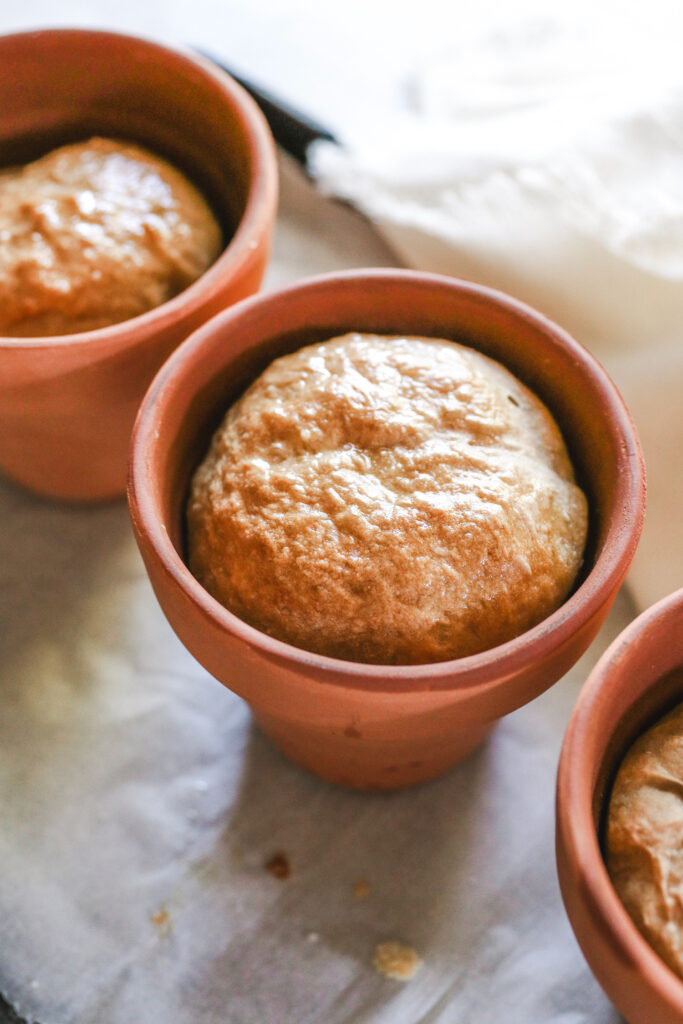 Flowerpot Peasant Bread
While you can make practically any type of bread in a flowerpot, peasant bread is one of the easiest to make at home in a pinch. Like the name suggests, it's a rustic bread once favored by peasants thanks to its easy-to-find ingredients and knead-free dough. That's also what makes it so perfect for beginning bread makers who might feel intimidated by other recipes (see: homemade sourdough starter).
At it's most basic, all you need is flour, salt, sugar, water and yeast to make these baby boules. Working with yeast often sounds scary, but trust me, this recipe makes it painless. If using dry yeast, activate it in a bowl of lukewarm water so it has time to bloom while you're measuring your other ingredients. If you're using instant yeast, just toss it in with the other ingredients.
Once everything is combined, let the dough rise for an hour or so while you do other things. The dough should just about double in size, at which point you can divide it evenly among your flowerpots. Let it rise a second time, then pop it in the oven and say hello to the cutest little loaves a mere thirty minutes later.
Like I said, it truly is a foolproof recipe that anyone can make.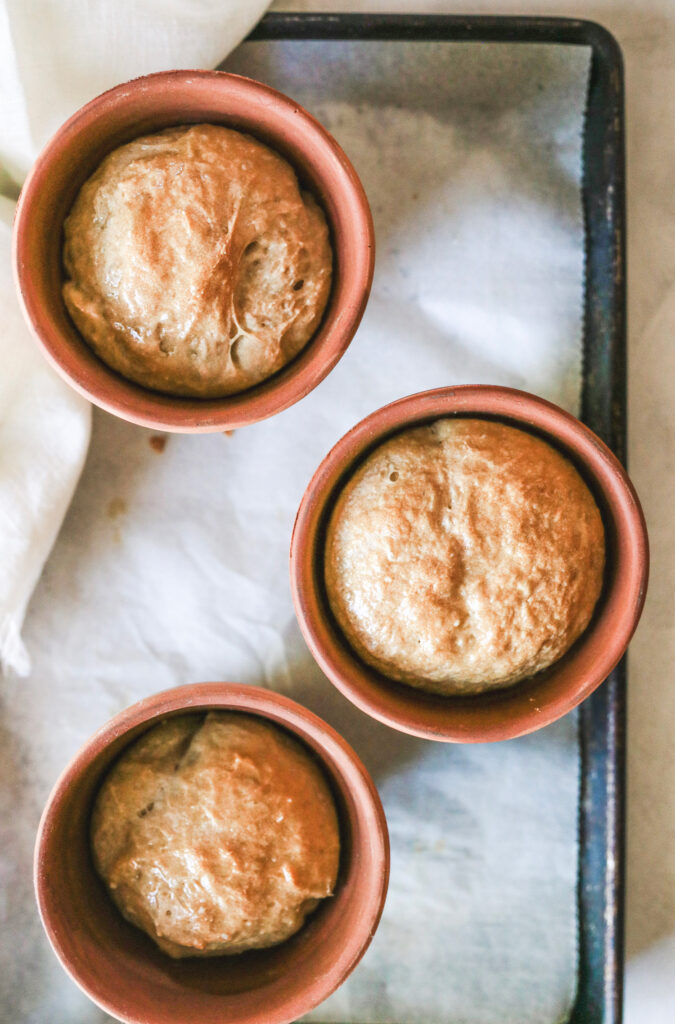 What about the flowerpots themselves, are they food safe? Well, it's tough to say. Terracotta is a food safe material, but depending on where you buy your pots from, they may contain lead, a glaze or something else that isn't particularly safe.
Look for high-end terracotta pots from a source you can trust, such as a local garden shop or pottery studio. If that's not an option, you don't even really need flowerpots at all (although I highly recommend them for the cuteness factor). You can bake your peasant bread in one large oven-safe bowl or Pyrex dish, or in individual oven-safe ramekins.
And the recipe variations are endless. Dress it up with herbs, cornmeal, cheese or even cinnamon sugar. Or simply brush the tops of your loaves with butter and add a sprinkle of sea salt for a simple bread that pairs well with everything.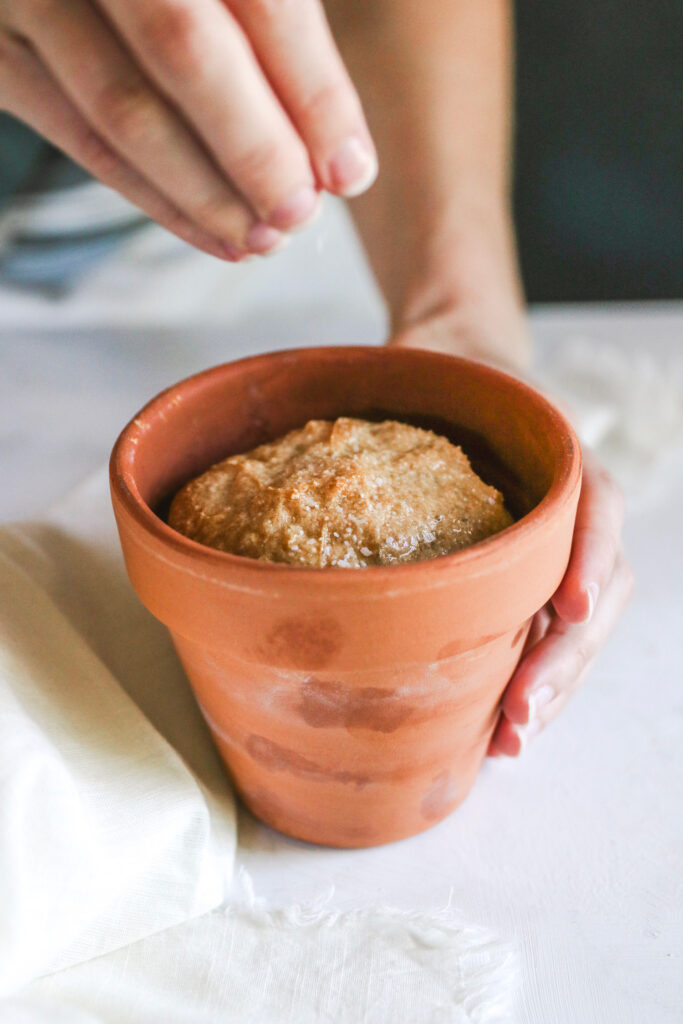 How to Make Bread in a Flowerpot
This recipe was adapted from the Bread Toast Crumbs cookbook
Ingredients
2 1/4 teaspoons (1 packet) yeast
1 tablespoon white sugar
2 cups lukewarm water (combine 1/2 cup boiling water with 1 1/2 cups cool water)
4 cups all-purpose unbleached flour
2 teaspoons fine salt
Butter, softened (for greasing the pots)
5 small flowerpots, approximately 4 inches in diameter
Instructions
1. Prepare the yeast: Dissolve the sugar in the lukewarm water. Sprinkle the yeast over top and, without stirring, let sit for 15 minutes or until you start to see frothy bubbles. (If using instant yeast, simply combine it with all the other dry ingredients in a medium-size bowl.)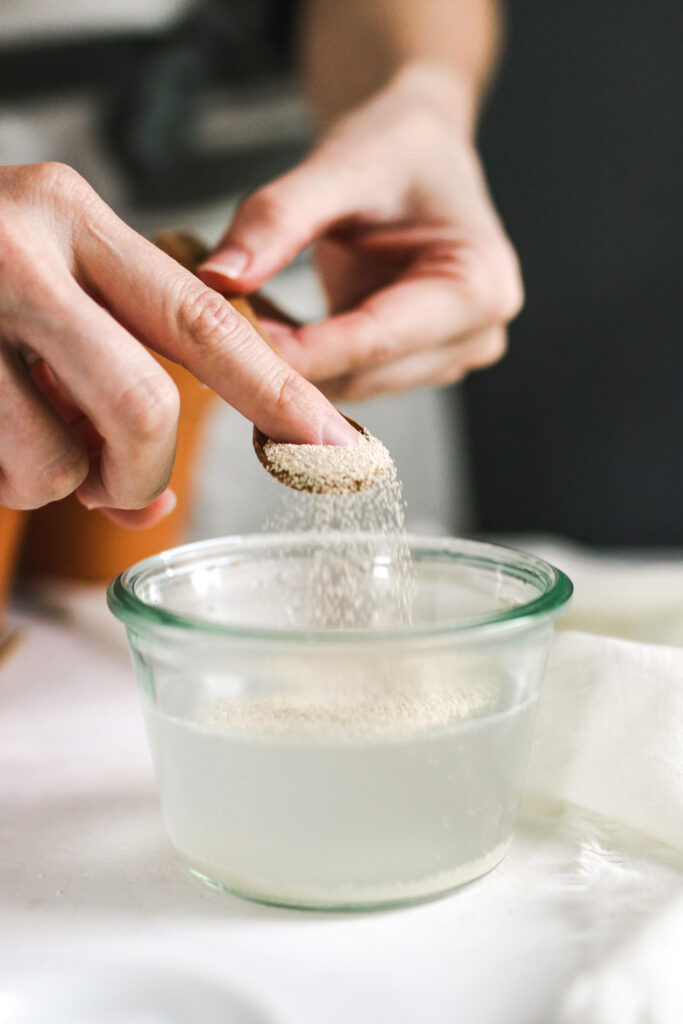 2. While the yeast activates, whisk the flour and salt together in a bowl. Once the yeast mixture looks foamy, stir it up and pour it into the flour mixture. Mix until the flour is absorbed.
3. Create a warm spot for the dough to rise by turning on your oven to 350ºF and letting it preheat for exactly 1 minute. Turn off the oven immediately. Cover the bowl of dough with a tea towel and place it in your slightly warm oven to rise for at least an hour.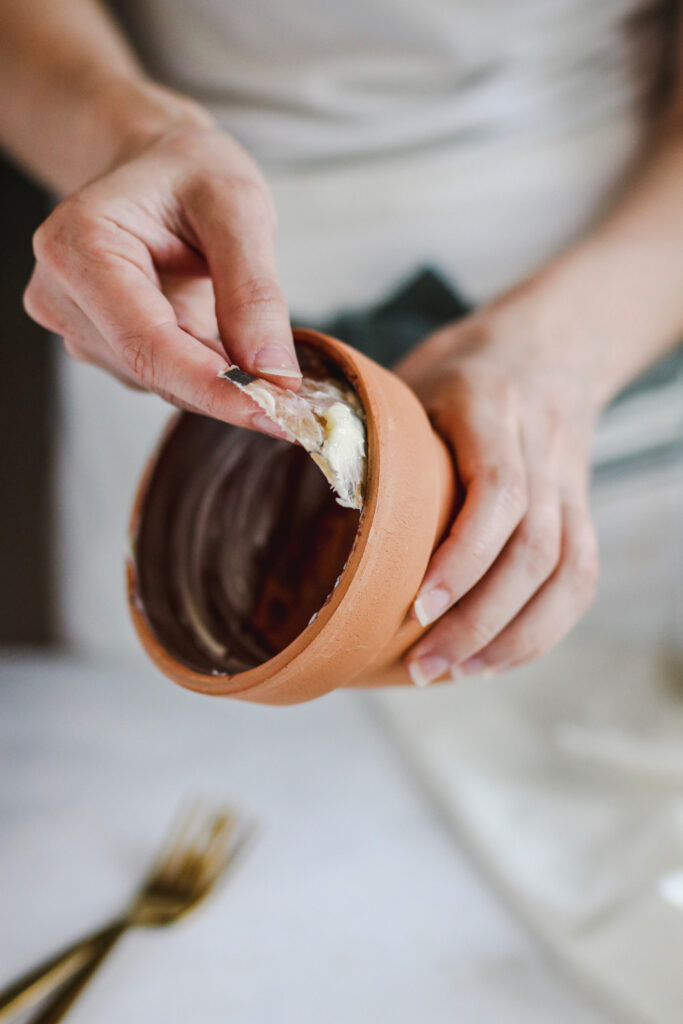 4. Place an oven rack in the lower third of your oven and preheat the oven to 425ºF. Grease each of your flowerpots liberally with a tablespoon of butter (don't skimp on this step, otherwise you'll have trouble getting the bread out of your pots).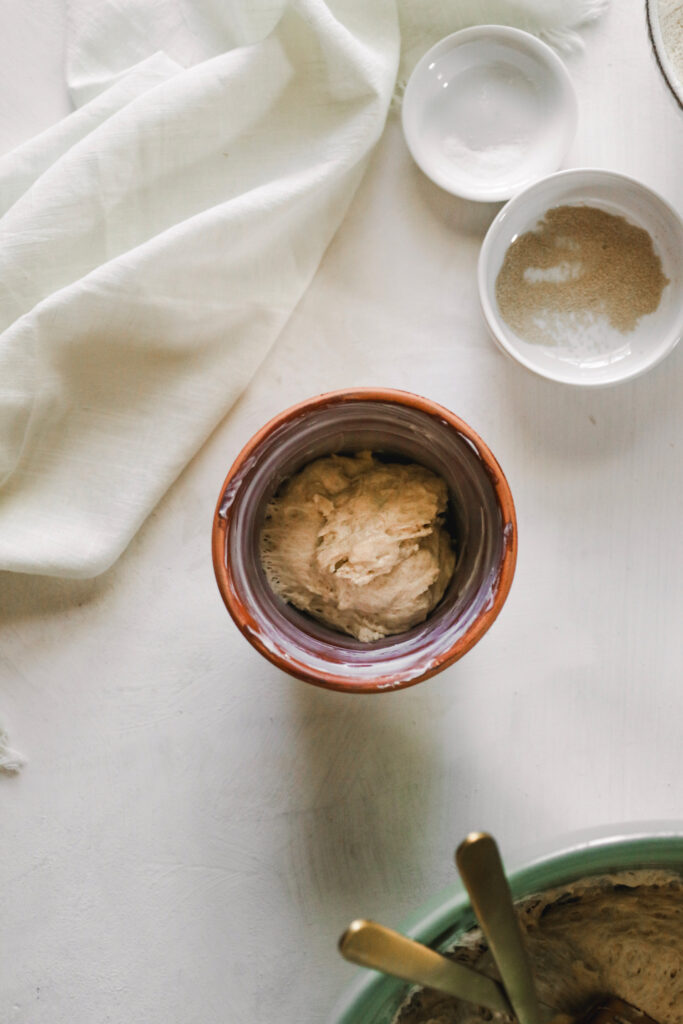 5. Using two forks, pull the dough towards the center of the bowl. Then, using your forks, divide the dough equally among the buttered flowerpots. Place the pots on a baking sheet. and set it on top of your pre-heating oven.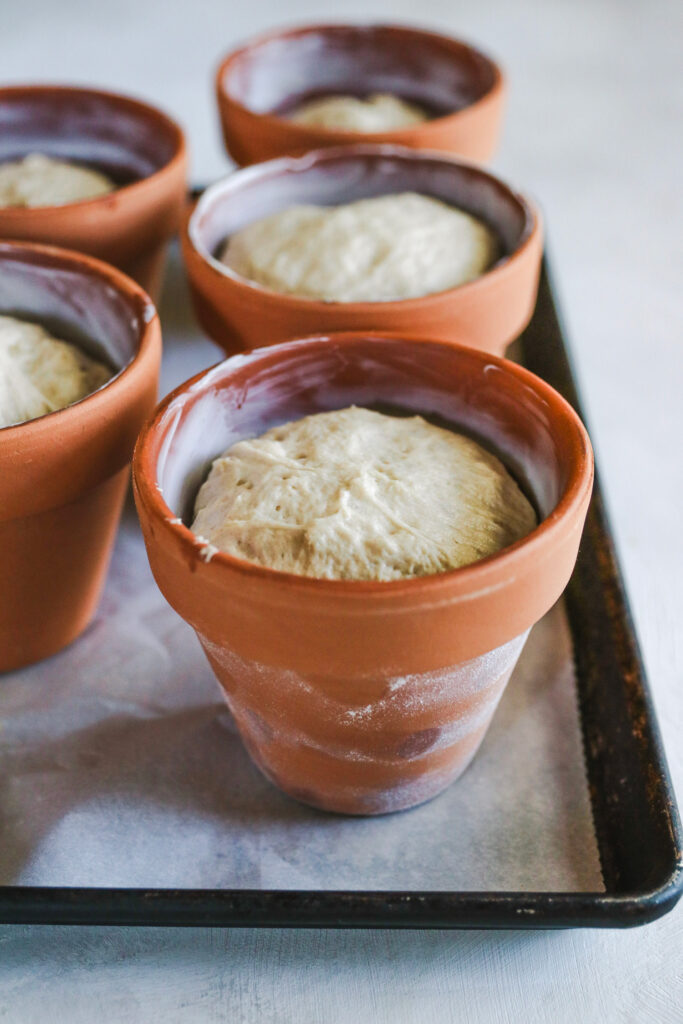 6. Let the dough rise for about 20 to 30 minutes until it just below the edge of your flowerpots. Be patient—it may take longer.
7. Bake for 15 minutes. Reduce the heat to 375º and continue baking for another 15 minutes.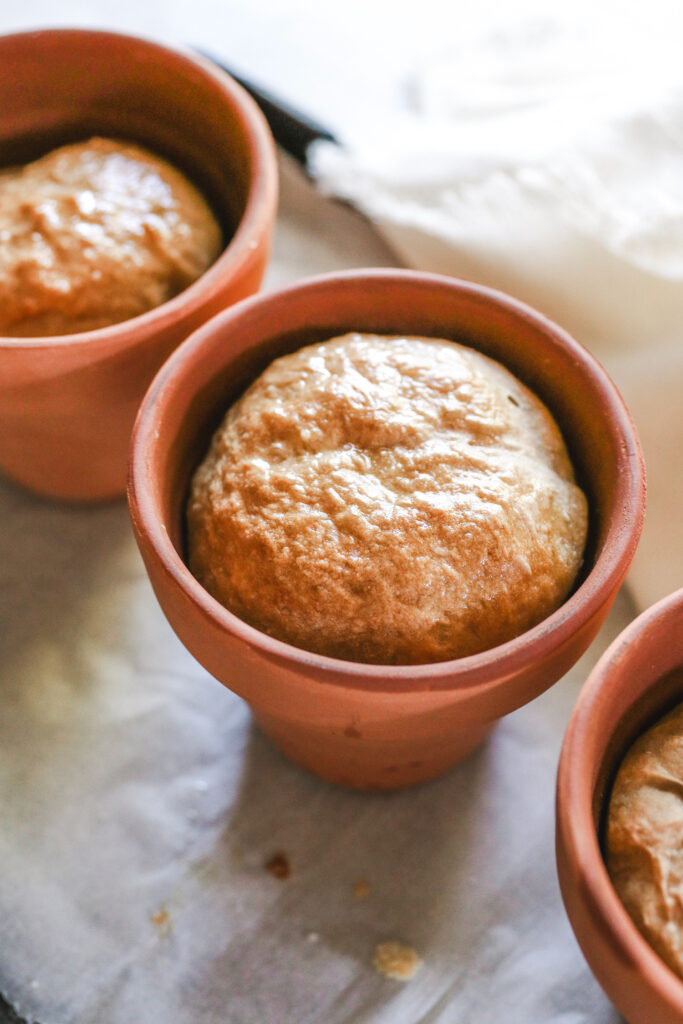 8. Once the top of the loaves look golden and crispy, remove from the oven and brush with melted butter and a sprinkle of sea salt. Use a knife to loosen the bread and place each one onto a cooling rack. Let cool completely.
3