Thanksgiving will be here before you know it. Is your menu planned? Is your kitchen ready? Once you've taken care of some of the big preparations, it's time to think about the details, like setting and decorating the table.
A Thanksgiving centerpiece can really dress up your table and make it special. There are so many ways to create a festive holiday centerpiece to reflect your own style and the mood you want to set for your meal.
I happen to love centerpieces created from foraged materials – not only is it inexpensive, it also adds a natural, wild element to my table.We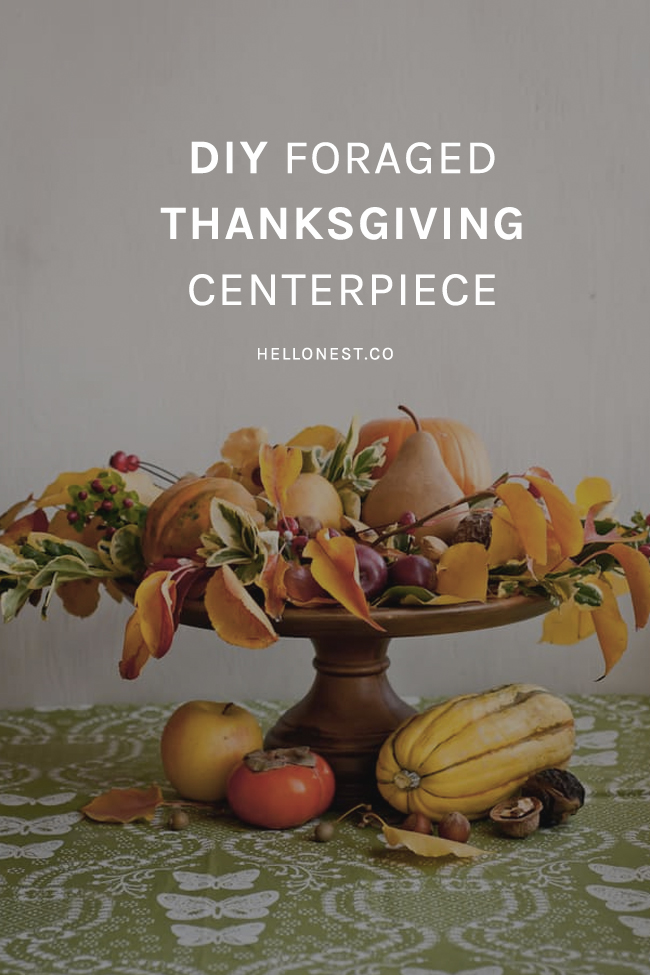 Fall is so full of warm colors. I love to see the leaves change each day out my window, as I'm sure you do too. It's just gorgeous! The colors of those exquisite fall leaves are the inspiration for this foraged Thanksgiving centerpiece.
The trees outside my windows have been the last to turn from green to yellow, and now they are golden orange tinged with bright red. I snipped a few thin branches to use as the base of my arrangement and then added other things I found or had on my counter – walnuts from my friend's tree, tiny red apples my daughter picked from a tree in our church yard, squash from the farmers market, hypericum and rose hips I snagged from Trader Joe's and gorgeous persimmons.
I wanted lots of color and texture for this centerpiece. Here's how it all came together – you can easily make your own!
DIY Foraged Thanksgiving Centerpiece
My favorite thing right now is my wooden pedestal. I had my eye on it for so long before I finally bought it. It was a bit of a splurge, but it's so versatile as a cake stand and for other things.
Since I have tall candlesticks down the length of my dining table I needed something taller and larger in the center of the table to anchor it and create an interesting focal point. But I didn't want it to be too tall so people couldn't see each other over it.
Then I snipped small branches from my favorite tree and pulled together other foraged items from the great outdoors. Sometimes I'm able to find rose hips after the roses drop their petals, but it isn't quite time yet. In a few weeks they will be visible. Those I purchased. You could also use fake ones.
The hypericum berries are so tiny and cute, plus they have pretty green leaves that help brighten things up. I also clipped some overgrown branches from a bush. I love variegated green leaves!

When we talk of Thanksgiving, we talk of bounty. I wanted to reflect a bounteous harvest so I added in some squash, apples, pears, nuts and persimmons.
The colors are perfect! I love the different textures, shapes and sizes.
To start, place a layer of branches with golden leaves over the top of the wooden pedestal.
You don't want it to be too even. I like some of the branches poking out a little further here and there. If the leaves had too many holes, I pulled them off but mostly I left it as they were when I clipped them.
I snipped tinier branches that were sticking up too much and kept them them to add back in later where I needed a leaf or two to fill a hole.
Once you have a basic leaf layer down, start filling up the open spaces with pretty squash, fruit and nuts.
As you go, tuck in the pretty branches from the bushes.
Let some of the leaves drape over the edge. The goal is controlled chaos!
Keep fitting in and moving around the different elements until it looks how you like it. You can make it more simple or keep adding until every last space is filled. (That's what I did.)
Place items around the base of the pedestal as well. You want it to look like there is so much stuff that it's falling off the stand and spilling over below.
I added the red berries last. Clip the stems so they are short enough to fit into all the nooks and crannies or wherever it needs a pop of color.
Here's a good view of it from the top. Look at it from all different angles and move things around or remove them. If you want to add some fresh flowers that would also be lovely.
And that's it! It took me about 20 minutes to put this Thanksgiving centerpiece together. It was very inexpensive, and it will last for quite a few days. So you can easily make it ahead of time and keep on a side table until Thanksgiving day.
How do you like to decorate the table for Thanksgiving?