If you think breakfast tacos are outside the realm of possibility for your mornings, let me tell you: if you have time to fry an egg, you have time to make these tacos. They are seriously easy, especially with a little bit of advance prep work.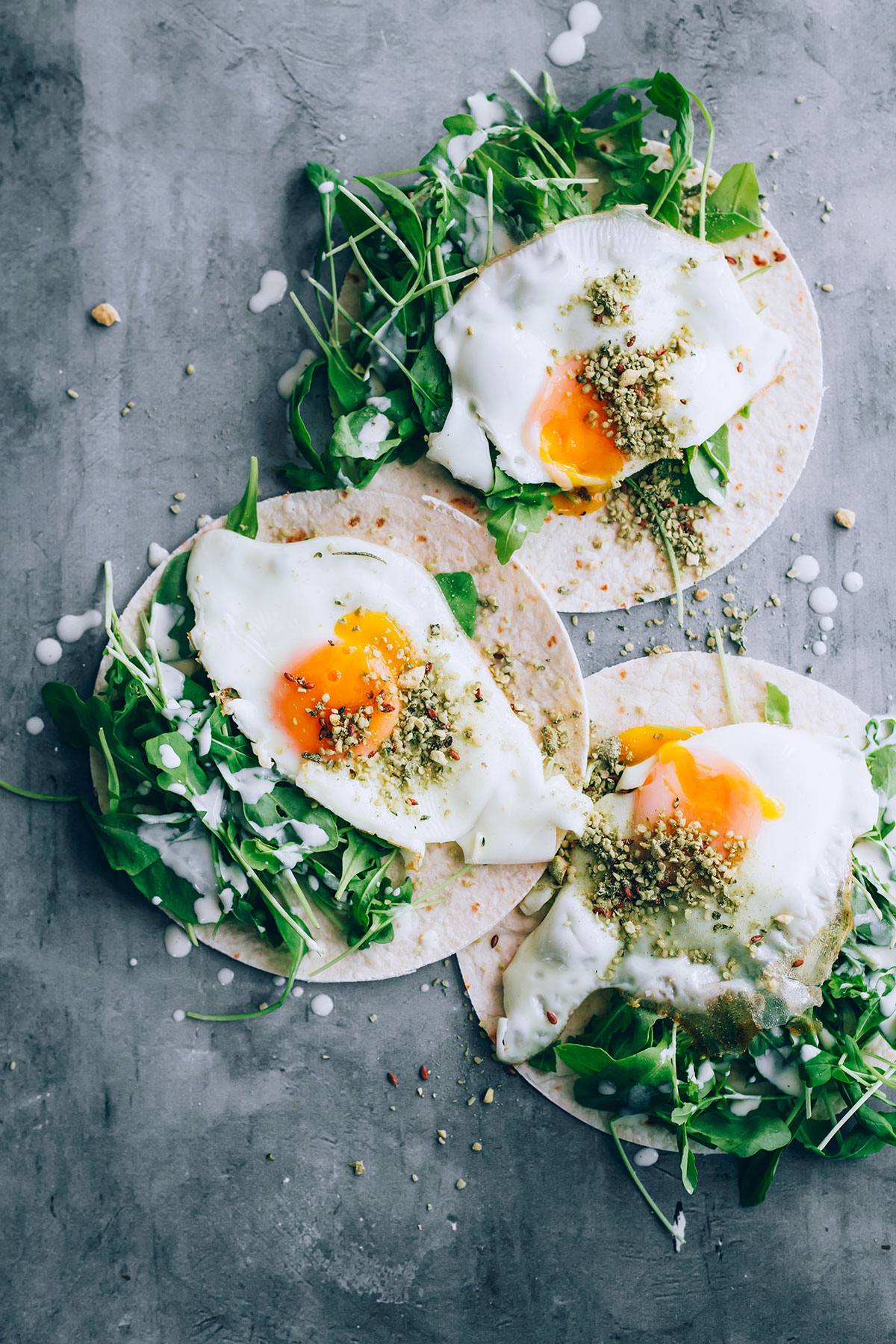 Make the dukka and store it in a small resealable container in your pantry. In fact, dukka can be sprinkled on almost anything to make it instantly better, so you should probably just have it on hand always.
Whisk together the dressing and keep it in the fridge.
Buy some good quality tortillas or make your own. Might I suggest these turmeric tortillas or maybe these coconut flour ones?
While the egg is cooking in the skillet, gather the rest of the ingredients, then assemble your breakfast taco and have the amazing breakfast you deserve.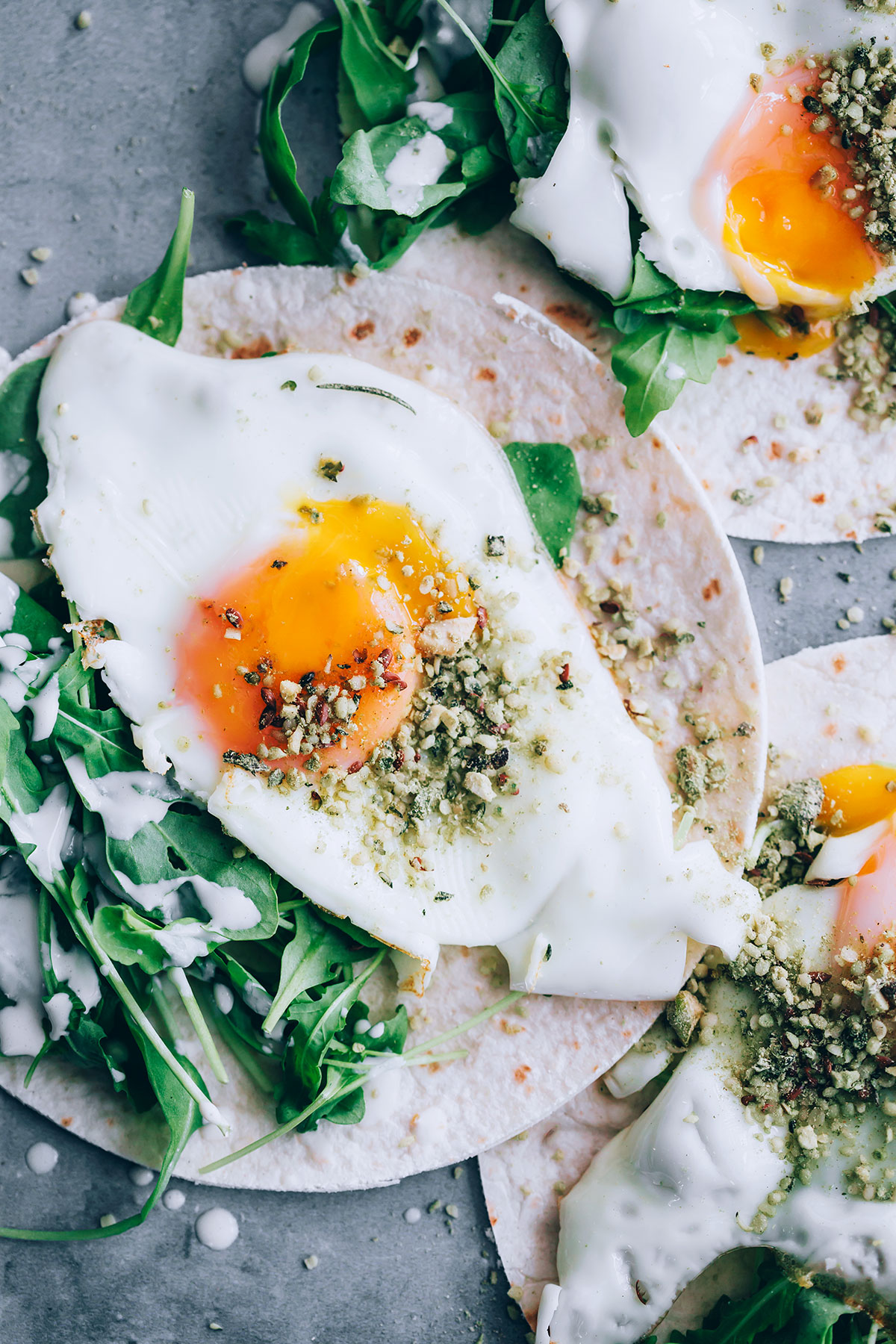 This recipe comes from Taco! Taco! Taco! The Ultimate Taco Cookbook by Sara Haas. I think we can all agree that tacos are the best food and this book has recipes for breakfast, lunch, dinner, and dessert. While much of the book is meat-based recipes, the vegetarian chapter is a total win, with Beet Falafel Tacos, Sesame Bok Choy Tacos, and even Vegetarian Sloppy Joe Tacos.
Oh, and the dessert chapter has a recipe for my personal favorite kind of taco: the Choco Taco. Yes!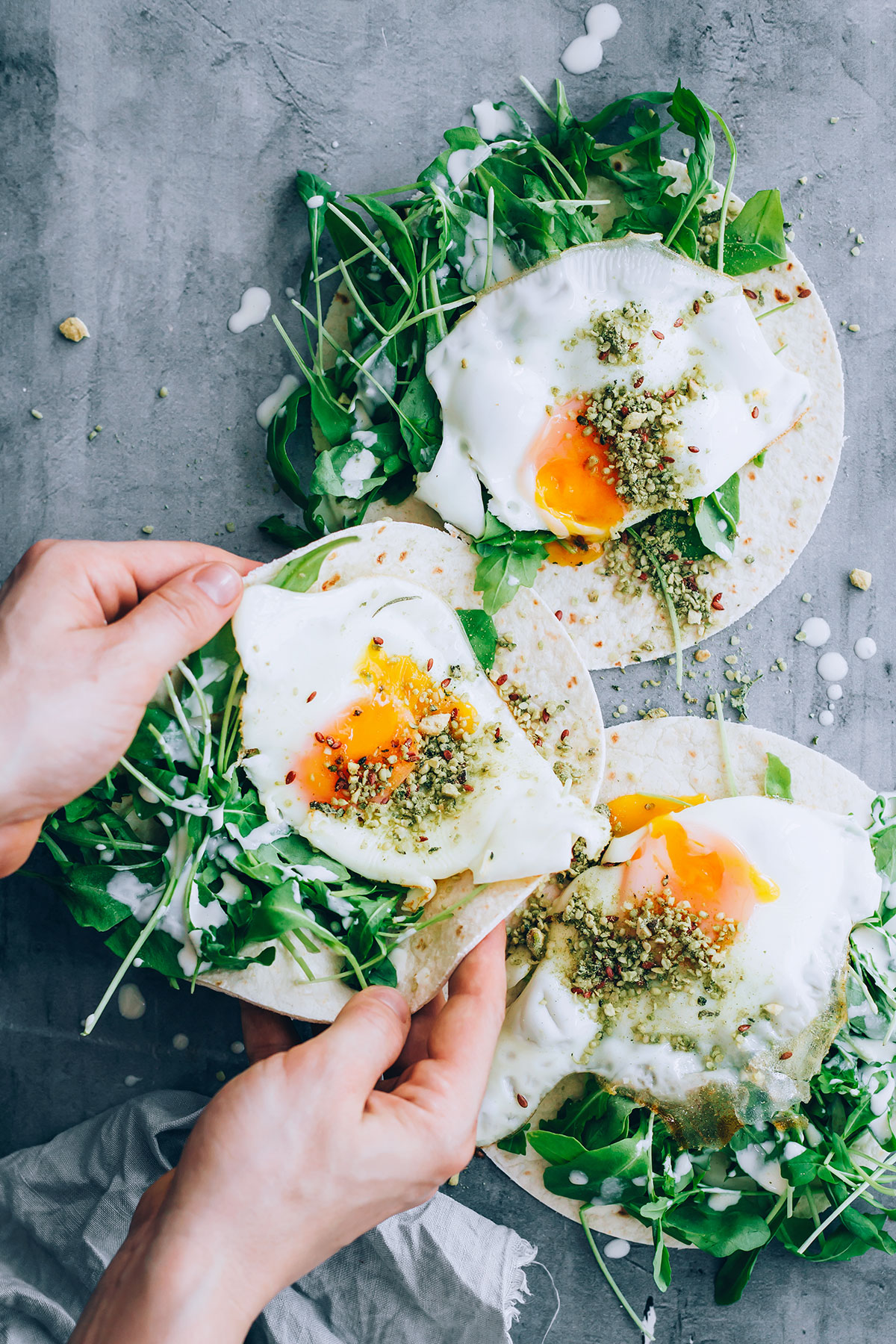 Photos by Ana Stanciu
Fried Egg Tacos with Dukka
Ingredients
For the dukka:
1/4

cup

raw hazelnuts

1/4

cup

whole

raw almonds

1/4

cup

shelled

raw pistachios

1

tablespoon

sesame seeds

1

tablespoon

coriander seeds

2

teaspoons

cumin seeds

Kosher salt and freshly cracked pepper
For the salad:
1

tablespoon

tahini

1

tablespoon

lemon juice

2

tablespoons

water

1

tablespoon

plain Greek yogurt

1

small clove garlic

finely minced

1

teaspoon

lemon zest

4

cups

baby arugula

Kosher salt and freshly ground black pepper
For the tacos:
2

tablespoons

+ 2 teaspoons olive or vegetable oil

8

large eggs

Kosher salt

8

6-inch corn or flour tortillas, warmed
Instructions
To make the dukka:
Set a medium non-stick skillet over medium heat. Add the hazelnuts, almonds, and pistachios. Cook, shaking pan occasionally, until nuts are toasted and fragrant, about 2 to 3 minutes. Once cool, coarsely chop and transfer to a medium bowl.

In the same skillet, toast the sesame seeds in the same way, cooking about 1 minute. Transfer to the bowl with the nuts.

To the same skillet, add the coriander and cumin seeds and cook, shaking the pan often, until fragrant, about 1 minute. Transfer coriander and cumin to a mortar and pestle or spice grinder. Once cool, crush or process. Add to the bowl. Toss everything together.
To make the salad:
In a small bowl, whisk together the tahini, lemon juice, water, yogurt, garlic and lemon zest. Season to taste with salt and black pepper. Add the arugula then toss to combine just before serving.
To fry the eggs:
Set the non-stick skillet back over medium heat, add 1 to 2 teaspoons oil, and, once hot, add 1 or 2 cracked eggs. Season with salt to taste. Cook 2 minutes, cover with foil, and cook an additional 2 to 3 minutes, or until desired doneness. Repeat with remaining eggs.
To make the tacos:
Serve dressed salad in warmed tortillas topped with fried eggs and dukka.