Thanksgiving is probably my favorite holiday because I love to cook, bake and entertain. Now is the time to start thinking about pre-Thanksgiving preparations. I'm sure you've already been thinking about your menu plans. Maybe you're trying out new recipes or revamping family favorites or sticking to a tried-and-true list of must-haves for your dinner table. But what about those little nagging things you need to do before you start cooking? Is your kitchen ready for Thanksgiving?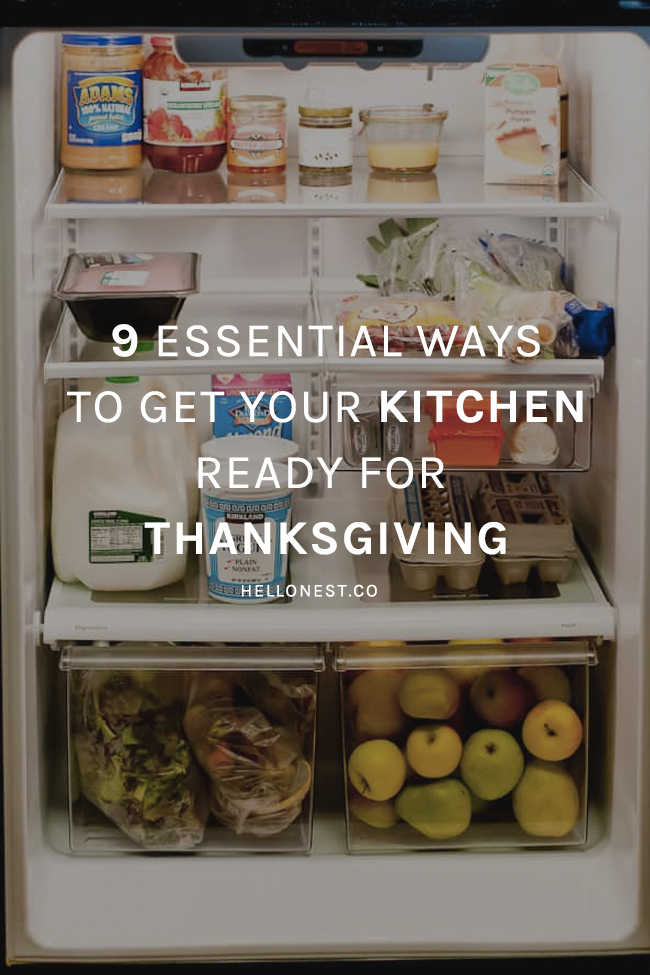 How to Get Your Kitchen Ready for Thanksgiving
Before you stick that turkey in the oven and start setting the table, I've got a list of how to get your kitchen ready for Thanksgiving. Most things you probably already do without thinking about it, but it's nice to have a list you can mentally check off as you make dinner preparations. Most of these things are pretty easy and quick to do with a few more involved tasks that are well worth the extra bit of time and effort.
Think about what Thanksgiving entails – a lot of cooking (and eating) and a lot of cleaning up. These preliminary steps will make things a bit easier on yourself in the cooking and cleaning up department.
1. Sharpen Your Knives
There's nothing more dangerous than a dull knife. It's true and you've probably heard that before. Ideally, you should get your knives professionally sharpened at least once, if not twice, a year. In between you can take care of the knives at home. Why is this so important? Sharp knives mean your food prep and veggie chopping goes much more quickly. Also, when you start carving the turkey, you'll make clean slices rather than tearing it to shreds.
At home, you can use several tools to keep your knives sharp. There are handheld sharpeners like the one on the left in the picture above. You draw the blade through the slots. The middle item is a honing steel that doesn't actually sharpen a knife, but helps keep the edge of the blade straight. Honing should be done before each use. The item on the right is a whetstone. You can read more about the actual process of sharpening knives on The Kitchn.
2. Locate Must-Have Kitchen Utensils + Tools
Once you've taken care of the knives, start checking utensil drawers or holders to make sure you have the must-have tools for preparing your feast. One year I was without a turkey baster and didn't realize it until I needed it. Not the end of the world, but a little aggravating.
Pictured above are my most-used (and loved) kitchen tools for big dinners and every day use – strainer, fat separator/measuring cup, tongs, turkey baster, potato masher, can opener (I should own three! I'm always looking for mine), thermometer, kitchen shears, vegetable peeler, microplane and measuring spoons. I like to know where they are so I don't have to hunt for them.
3. Wash serving dishes, flatware, glasses + linens
If grandma's china only comes out once a year at Thanksgiving then it might be a bit dusty. A few days before the bustle of Thanksgiving preparations, pull out any special dishes, glassware, flatware and serving pieces and give them a good wash. It's one preparation that can be done easily ahead of time before the kitchen gets super busy with the hustle and bustle of food preparations. If you use real silver, take time to polish it. It's also a good time to wash (if needed) and iron tablecloths and napkins. We like to use a candelabra so I make sure to have enough candles on hand for that.
4. Plan for leftovers
Leftovers are one of the best parts of Thanksgiving. So a bit of extra foil, plastic wrap, parchment and waxed paper and zipper lock bags will come in handy. I always buy a few new packages of containers to easily store leftovers or to send home with guests. You can also pick up disposable take-out containers but I prefer the reusuable ones to help curb excess waste.
5. Take inventory of pantry + spice cupboard
This time is of year is perfect for restocking your pantry and spice cupboard. And even better, baking staples on usually on sale. You'll want to stock up on extra sugar, flour, baking supplies, canned goods, oils and other ingredients. Pull out your recipes and jot down the most used items and buy a little extra so you don't run out. Also, I'm pretty practical and I like to avoid the holiday crowds. Keeping my pantry well-stocked means I don't have to make last minute trips to the grocery on Thanksgiving Day. (Note – my pantry is not fully stocked in these pictures, but it is cleaned out and I know what I have and what I need!)
Spices and herbs don't last forever. Check for freshness by rubbing them between your fingers. If herbs don't smell like their respective fresh version, then it's probably time to replace them. Spices last longer than dried herbs but can still lose their potency. Check the bulk section of grocery stores to buy spices and herbs in smaller or larger amounts depending on your needs. Whole spices keep longer than ground.
One item to always to check, especially if you don't use it very often, is baking powder. A simple test: add a little bit to very hot water. If it bubbles up, it's still good. You can also check yeast in a similar way by proofing it as directed on the package. If it doesn't rise up, it needs to be tossed and replaced.
6. Clean out the fridge + freezer
With the pantry and spice cupboard taken care of, it's time to move on to the fridge and freezer. I give my refrigerator and freezer a really good cleaning every few months, which also helps me keep track of what I have stowed away. Frozen food doesn't keep forever! An overfull freezer and fridge don't work as efficiently because the air can't circulate. I like to go through the contents of both and toss out anything that looks questionable or has expired.
With the frozen food, I check for freezer burn or excessive amounts of hoar frost, which affects flavor and texture. Another thing I learned from my grandmother is to empty out the ice bin every so often. The older ice seems to linger in the bottom and it can take on the odors of the fridge. It's a good idea to dump it out and let it refill, especially before a party.
Be sure to check the expiration dates on jams, jellies, pickles and other condiments. I'm a little obsessive, but I also like to wipe the bottles down with a damp rag to remove any stickiness or spills.
This task takes a little more time, but will make you so happy. Promise. I love seeing a clean, organized fridge. Plus cleaning things out means there will be room for new ingredients, the turkey and all those leftovers!
Last thing – put a fresh box of baking soda in both fridge and freezer and then you'll be ready to start stocking it with groceries.
7. Clean the dishwasher + oven
Besides the fridge and freezer, the two most-used appliances during the holidays have got to be the dishwasher and the oven. Giving them a good cleaning will keep drips from burning on permanently or setting off the smoke alarm. But really, what would Thanksgiving be without the smoke detector going off at least once?
The oven can be tough to clean, and it might seem counter intuitive to clean it before you roast the turkey, which is sure to splatter, instead of after. But the truth is, it will be easier to clean afterward if it has already been wiped up before. A warm oven is easier to clean than a cold one so warm it slightly. Then I make a DIY oven cleaner and apply it all over. Most baked on grease and food will come right off using that combo. If it's really tough and won't come off, leave it overnight. It's much better than using toxic oven cleaners.
Cleaning the dishwasher will help it perform better. I use vinegar and baking soda to clean it, which makes it run more efficiently.
Also make sure it's draining properly and that there aren't any blockages. It just seems like in this case an ounce of prevention is worth a pound of cure, as my grandmother would always say. Also stocking up on extra dish washing detergent is a good idea too. My dishwasher always runs more often during the holidays.
8. Clean and deodorize the kitchen sink and drain.
Chances are you never even really think about the drain in your kitchen sink until it clogs up or has an unpleasant odor. Considering how much use it will see over the next few weeks, now is a good time to deodorize it and clear it out. There is a simple recipe for this using two common household items – baking soda and white vinegar. I buy both of these in bulk for cleaning purposes.
Pour about 1 cup of baking soda down the drain followed by about 1/2 cup to 3/4 white vinegar. Just like in science class, it will bubble up and expand. Hold a drain cover in place to keep the foam down inside the drain so it can work its magic. After that's been sitting for about 30-60 minutes, I follow it with a boiling kettle of water down each side to clear it out. And that's it! Super easy and you can do it fairly regularly. Of course if there's a serious blockage, call a professional.
Another thing I do to keep my disposal smelling nice (well, as nice as it can smell) is to put a few quartered lemons or oranges. The citrus oils are released and it smells really nice.
9. Last but not least…Gather your recipes together in one spot and prepare a grocery list
I have a special place where I keep my holiday recipes so I always know where to find them. This could be an folder you keep in a drawer, or a folder you have on your computer, or an app you use. Whatever works best for you. It's just nice to have them all in one place at one time to help you plan our your menus and your grocery list.
Planning out your grocery list will help you shop more quickly (I hate the crowds!) and buy less impulse items, thereby saving money. Can you tell I'm a fan of grocery lists?
So that's my list. I'd love to know if you have anything you do to get your kitchen ready for Thanksgiving.
1