I'm one of those people who feels that pizza in any shape or form is a good thing. Being gluten-free means I've made and eaten my fair share of creative pizza crust recipes–some better than others, I'll admit. But I've been very curious about veggie pizza crusts because 1) who doesn't need more veggies in their diet, 2) no grains! no gluten!, and 3) everyone is doing it. (That last one…yeah, kind of a bandwagon thing. So what?)
I've seen the zucchini and cauliflower crusts. But sweet potato pizza crust is a new one for me. I'm a pretty big fan of sweet potato anything as well as pizza anything, as I mentioned above. So this is really a win-win for me.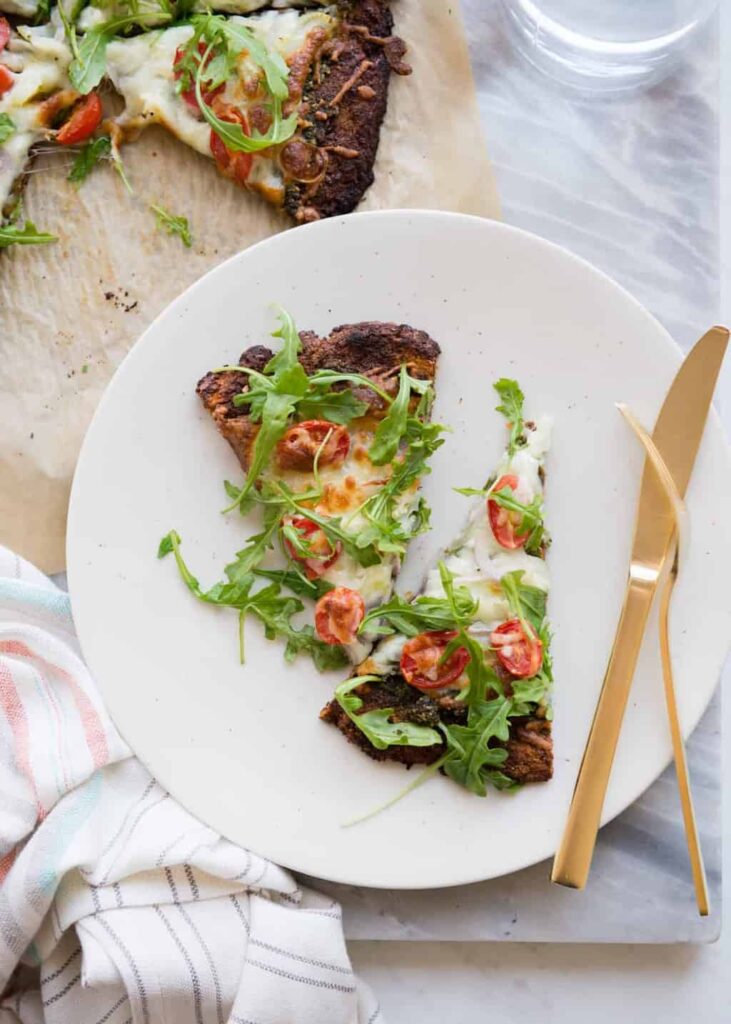 You have a few options here. It works a bit better using eggs and some cheese in the crust to help things hold together a bit better. If you're vegan or dairy-free, it's also really great made with chia "eggs" and a little nutritional yeast to add that cheesy flavor. Options are a good thing, right?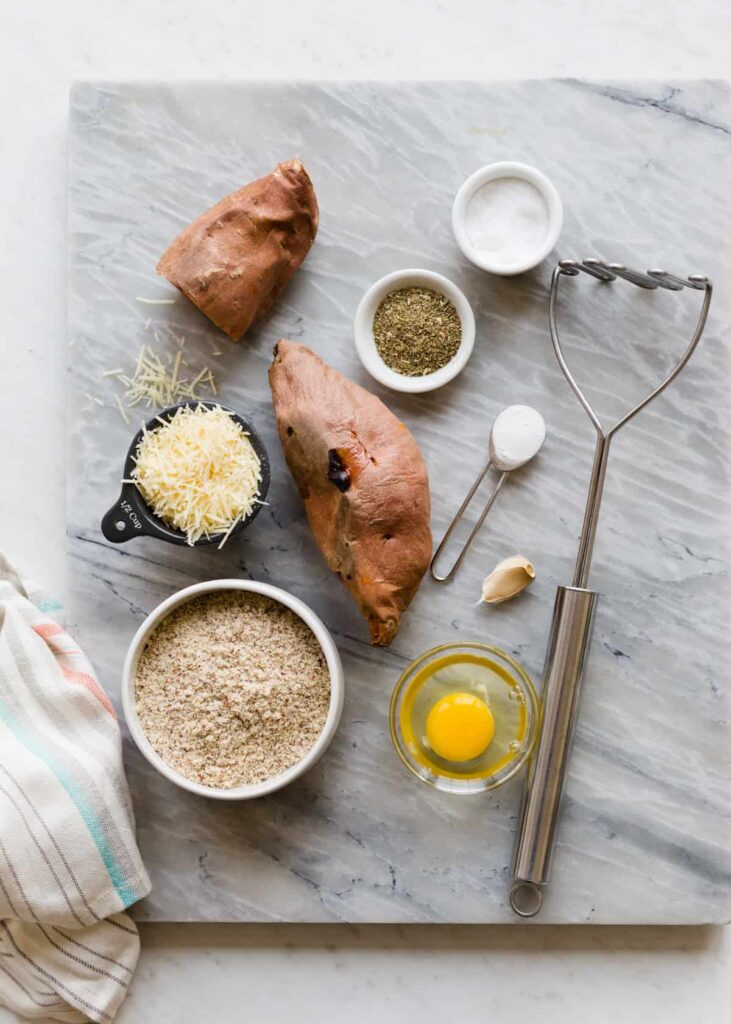 It all starts with baked sweet potatoes. While they can be boiled instead of baking, the sweet potatoes run the risk of having too much water in them if they're not baked. It can be remedied by squeezing the mashed potatoes in a dishtowel to remove the excess water, but that's a messy process. Thus, baking is my go-to for this. Two smaller sweet potatoes or one large is perfect. Any extra can be saved for another use. (Cooked sweet potato is great in smoothies!)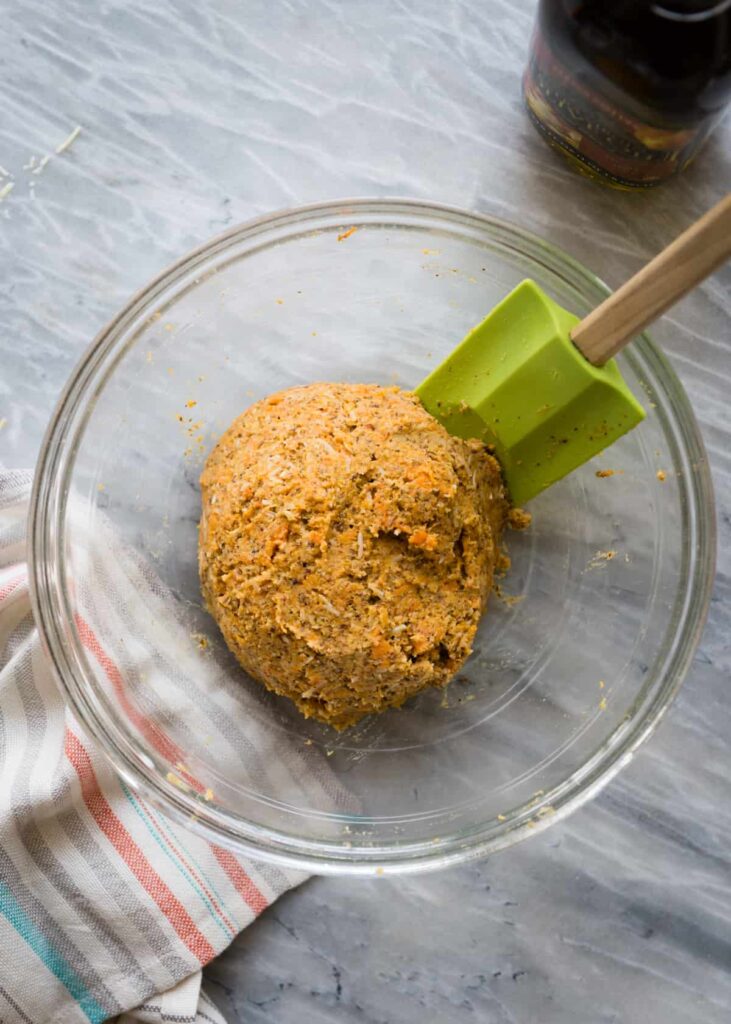 To the mashed sweet potatoes, almond meal, egg, parmesan cheese, and seasonings are added. For this recipe, I went with an Italian-ish kind of crust, so I added dried Italian herbs, garlic, salt, and pepper.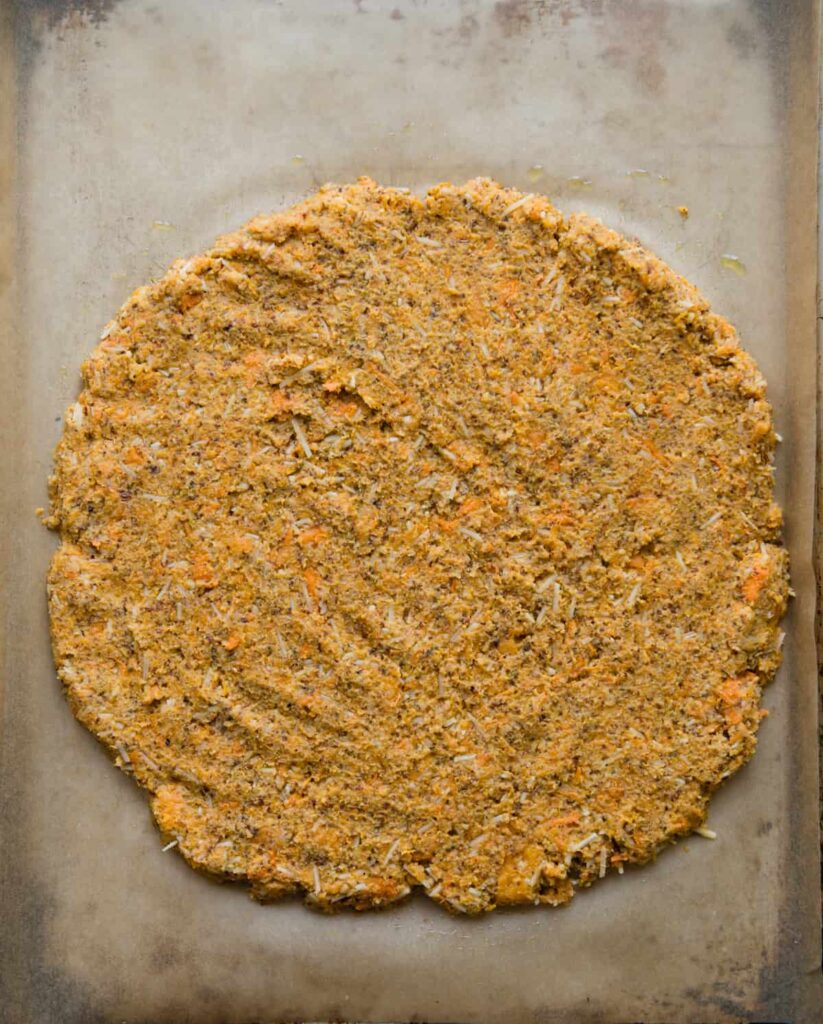 The mixture is on the damp side and not at all like a pizza dough made with flour and yeast. Not to worry–it will bake into crust perfection. It's best to line a baking sheet with parchment paper or use a silicone baking mat. I also like to lightly oil the parchment paper to help the bottom of the crust brown a bit more.
The perfect size for the crust, I've found, is a large 9-10-inch round that's about 1/2-inch thick. It's very easy to pat the crust into shape with slightly damp hands.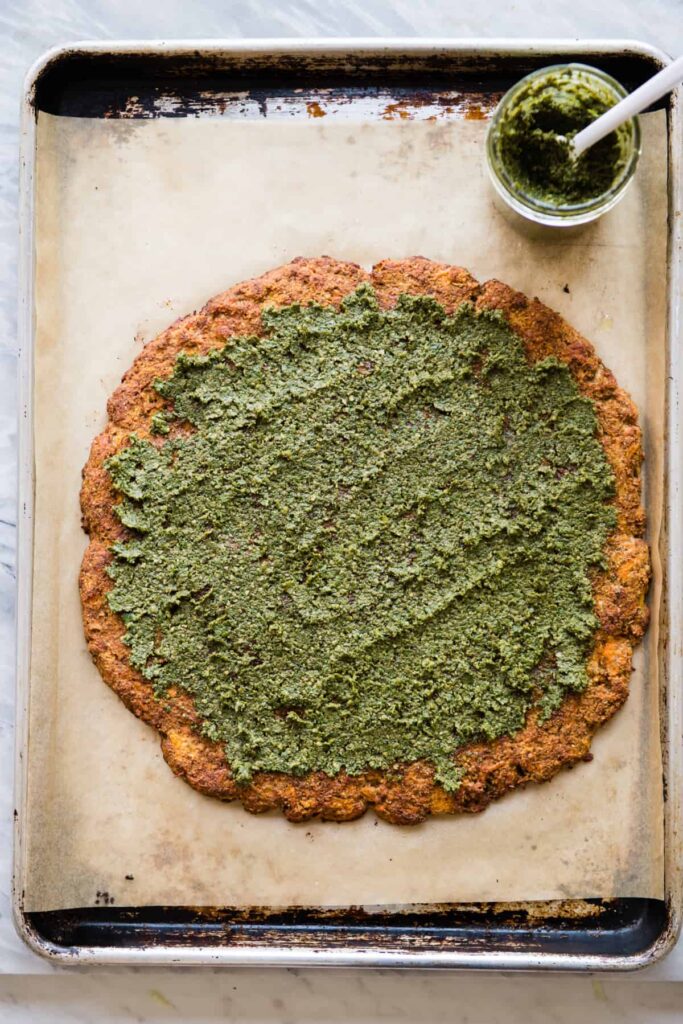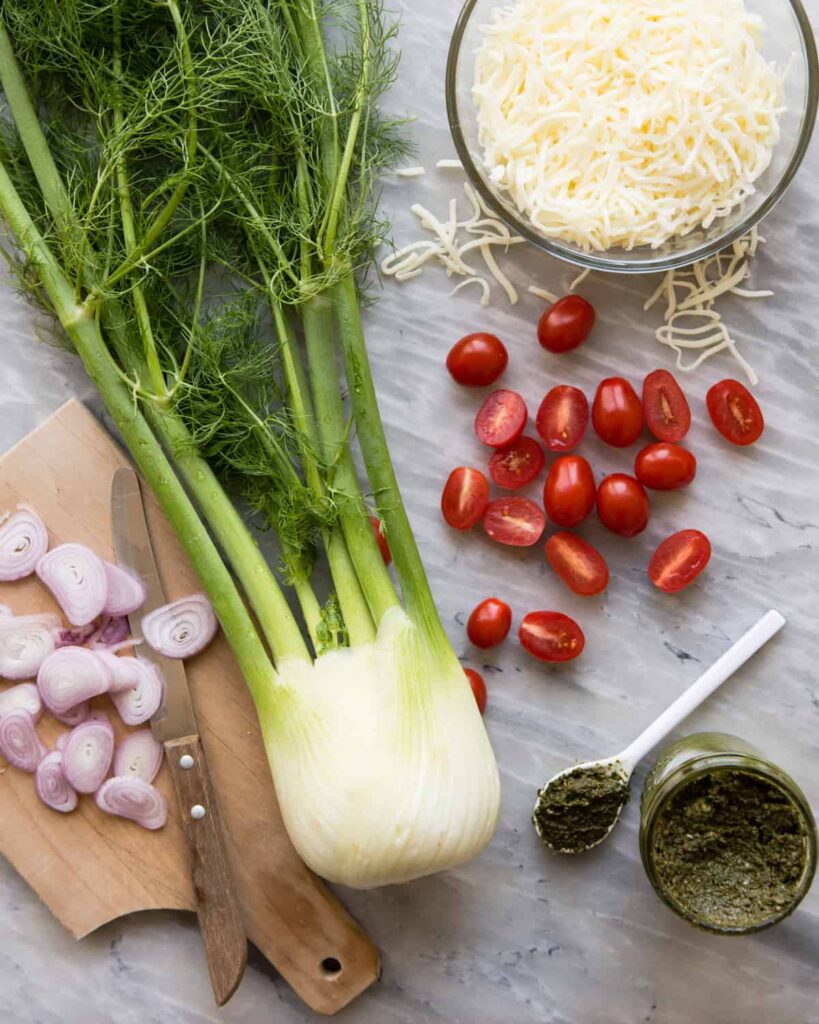 Sweet potato pizza crust lends itself to a traditional tomato-based pizza sauce, but we quite like using pesto. I make a really good homemade basil pesto that goes very well with thinly sliced fennel, shallots, halved grape tomatoes, and mozzarella.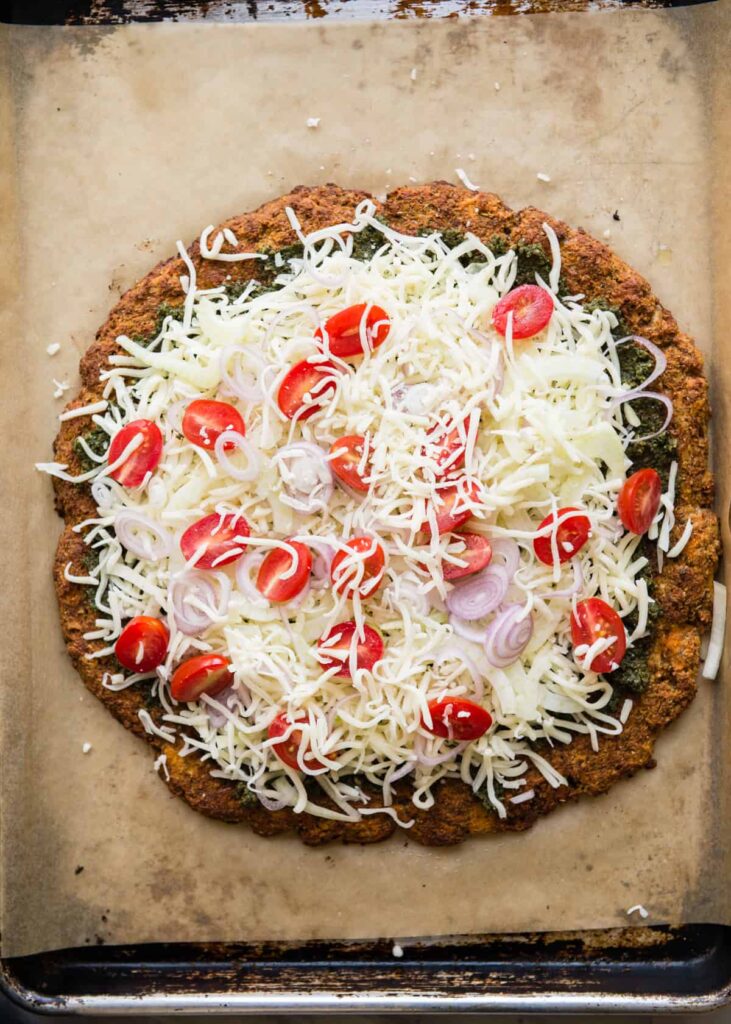 The pizza goes back into the oven for a few minutes, or if you're in a hurry and just can't wait another minute, a quick stint under a hot broiler will also work.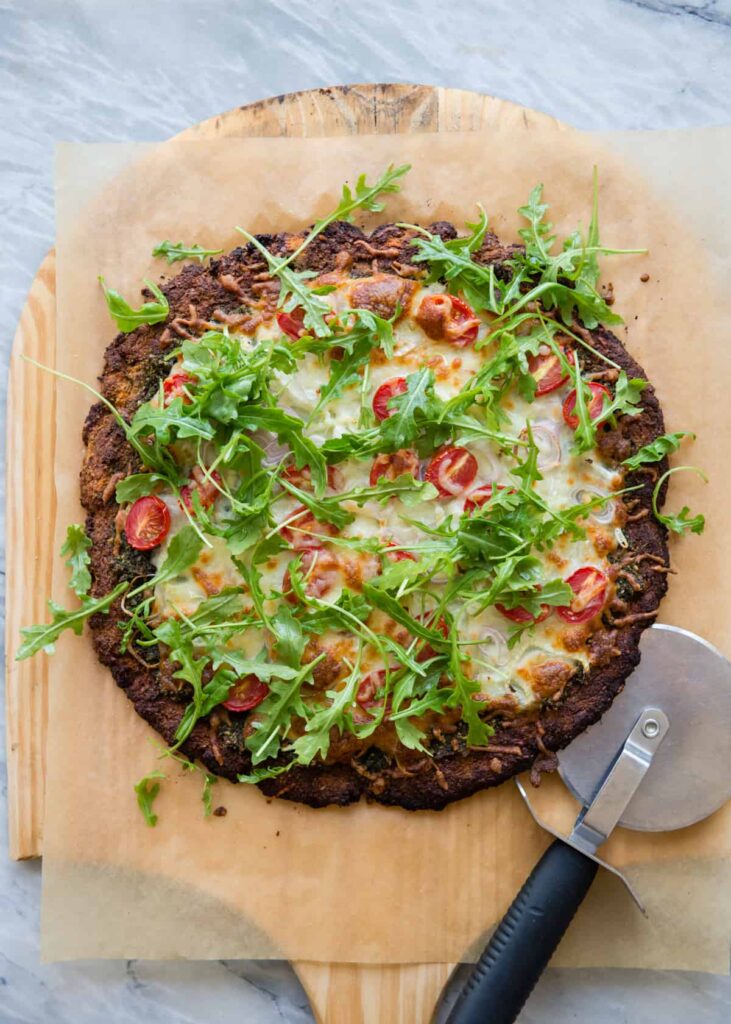 The arugula is optional, but I recommend trying fresh greens on pizza. It adds a ton of fresh flavor; and arugula, a peppery bite.