Fettuccine Alfredo is a classic restaurant dish that's also really easy to prepare at home. The one caveat is that it's incredibly rich – sometimes too rich. And as delicious as it is, I wondered if I could create a lightened up version that relied on herbs and citrus rather than tons of butter, cream and cheese to give it rich flavor. And I think I did it!
I based my sauce on a pasta dish from one of my favorite local restaurants. What makes is special is the hint of orange hidden in the rich fettuccine Alfredo sauce. So I recreated it using tangy creme fraiche and fresh squeezed orange juice and finely grated zest, along with dried Italian herbs and a little fresh garlic.
Mix the sauce ingredients together in a bowl then add the hot, drained pasta. Let it sit for a few minutes to absorb some of the sauce then serve it with baked chicken and asparagus. It's not exactly a 30-minute meal, but it comes together faster than the time it takes to drive to a restaurant, wait for a table and order from the menu. Plus it's every bit as good as anything you'll get at a restaurant – and you'll save a zillion calories. Approximately.
For the asparagus, just put it on the same pan as the chicken during the last 10-15 minutes of the baking time and it's perfect.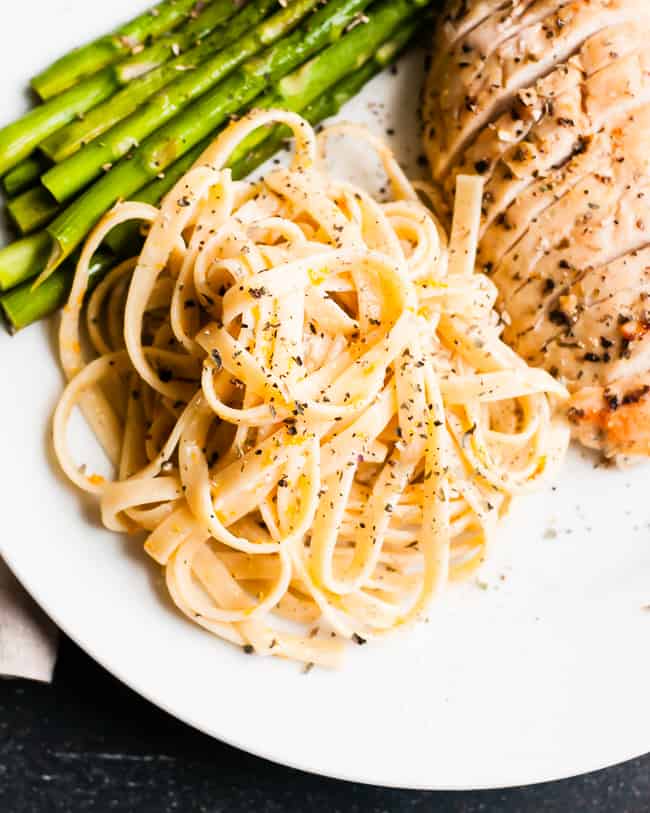 The resulting sauce is pretty darn fantastic. It's amazing how just a few simple ingredients can create something that tastes so good! I served it up with citrus-herb marinated chicken and quick roasted asparagus. It makes a lot of pasta, so you'll have plenty for lunch or dinner the next day.
7