I love pizza and I'm always ready to explore new topping combinations. However, heating the oven in the summer is a little too much, even for a foodie. Enter this grilled pizza recipe – perfect for a weeknight dinner or a BBQ party. The pizza bakes easily on the grill, and you can even prepare the toppings on the grill.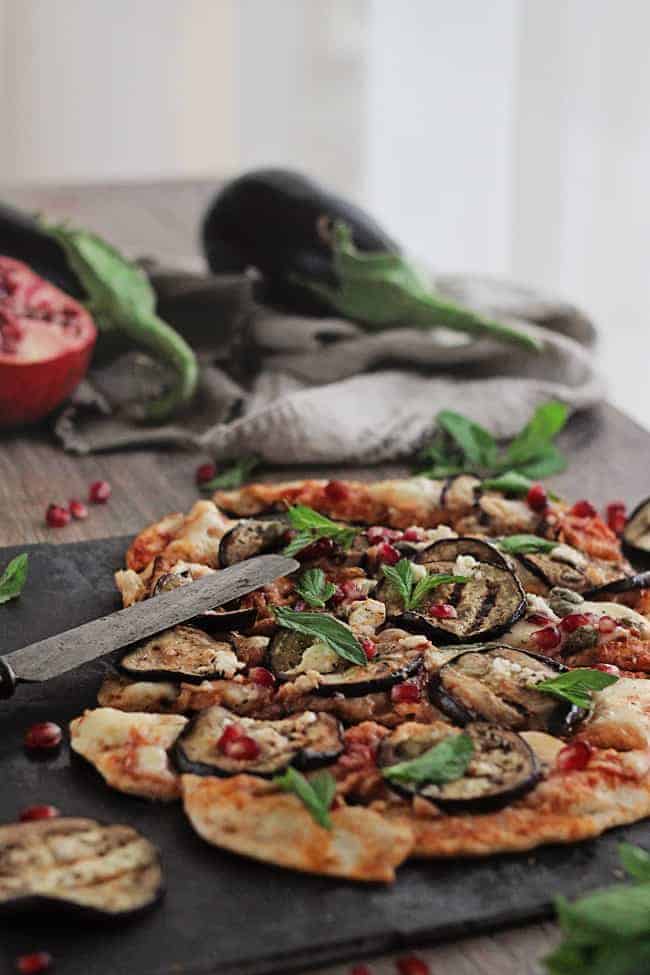 When it comes to toppings, the sky is the limit. Be it simple tomato and burrata, caramelized onions and goat cheese, kale and mushrooms, peaches and mozzarella… the combinations are endless (and delicious). I always prefer healthy Mediterranean-inspired toppings, and if I'm using the grill, why not take the opportunity to cook some veggies I don't eat too often, like eggplant? Of course, you can use any other veggie for grilling: broccoli, bell peppers, mushrooms or even asparagus.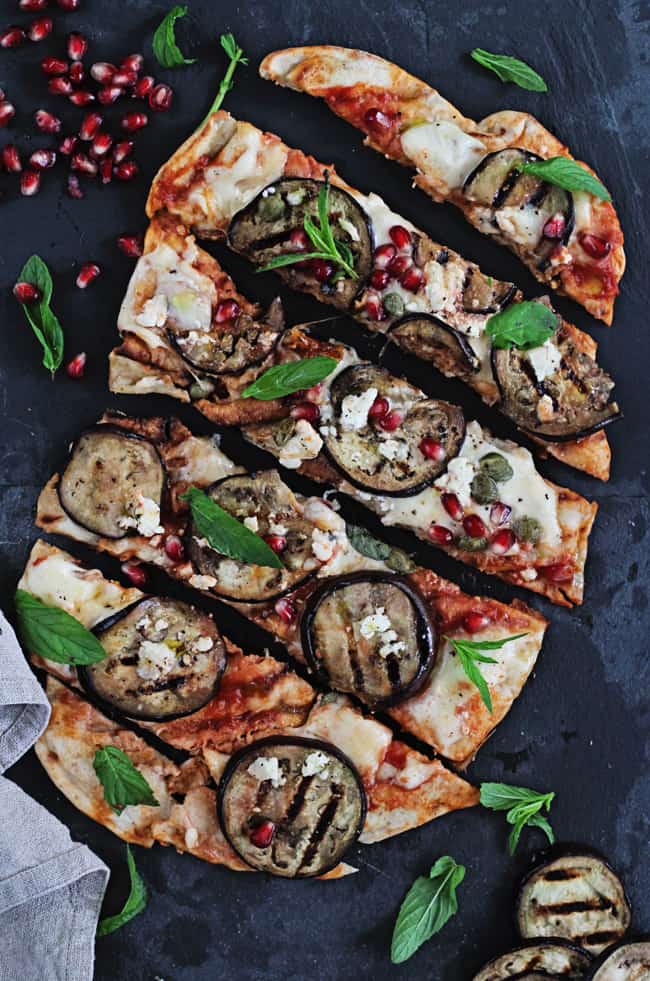 I chose eggplant because I wanted a Greek-inspired combination, full of Mediterranean flavors. Smoky eggplant, fresh mint, creamy feta cheese and a zingy twist – fresh pomegranate seeds – all bathed in melty mozzarella.
If you're making this grilled pizza recipe, buy fresh, farmers market veggies if you can, and use good-quality mozzarella cheese and extra virgin olive oil. That's what a real Med-inspired dish is all about!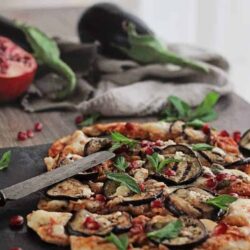 GRILLED PIZZA WITH EGGPLANT, POMEGRANATE AND FETA CHEESE
A delicious grilled pizza, with Greek-inspired toppings – eggplant, pomegranate, feta cheese and mint – perfect for a BBQ party or weeknight meal.
Ingredients
For the dough:
1

cup

plain flour

1

cup

wholemeal

1/4

cup

warm tap water

1

tsp

dried yeast

1

tsp

sugar

2

tbsp

olive oil

1

tsp

pink Himalayan salt or sea salt
For the toppings:
2

medium size eggplants

1

cup

good quality Mozzarella cheese

The seeds from one small pomegranate

1/2

cup

tomato sauce

1

cup

crumbled Feta cheese

1

handful fresh mint leaves

1

tbsp

olive oil

1/2

tsp

sea salt

1

garlic clove

crushed

Freshly ground black pepper
Instructions
Preheat the grill.

Prepare the pizza dough. Mix yeast, sugar and warm water and let rest for 5 minutes to activate. Place the flours in the food processor, pour over the yeast mixture, olive oil and salt, and process to obtain an elastic, smooth dough. If time allows, knead the dough on a well floured surface. Transfer the dough into an olive oil-greased bowl, cover with a kitchen towel and let rise for 30 minutes, in an warm place, until it doubles its size.

Wash the eggplants in plenty of water, drain well and cut in thin rounds. Place the slices in a bowl, add sea salt and 1/2 tbsp olive oil, and toss to combine. Grill the slices 2-3 minutes on each side. Remove from the grill and let rest in a bowl

When the dough is ready, roll it with a rolling pin on a floured surface, brush with olive oil on the side that will cook first, then grill it for 3-4 minutes, just to get beautiful grilling marks on, but not completely cook. Flip it over, and be quick by spreading the tomato sauce, then top with Mozzarella cheese, grilled eggplant rounds and crushed garlic clove. Grill for 3 more minutes until the Mozzarella melts.

Top with pomegranate seeds and mint leaves, add a drizzle olive oil and freshly ground black pepper and serve right away.
Notes
For a lighter version, you can skip the Mozzarella, and go with Feta cheese only – the taste is also fantastic.