Have you ever cooked pork tenderloin at home? It's a really lean, versatile cut that if cooked properly is unbelievably tender and flavorful. Usually when I cook pork tenderloin for my family, I sear it first in a pan on the stovetop and then finish it off in the oven. I have a rockstar recipe for grilled pork tenderloin tacos – no oven required!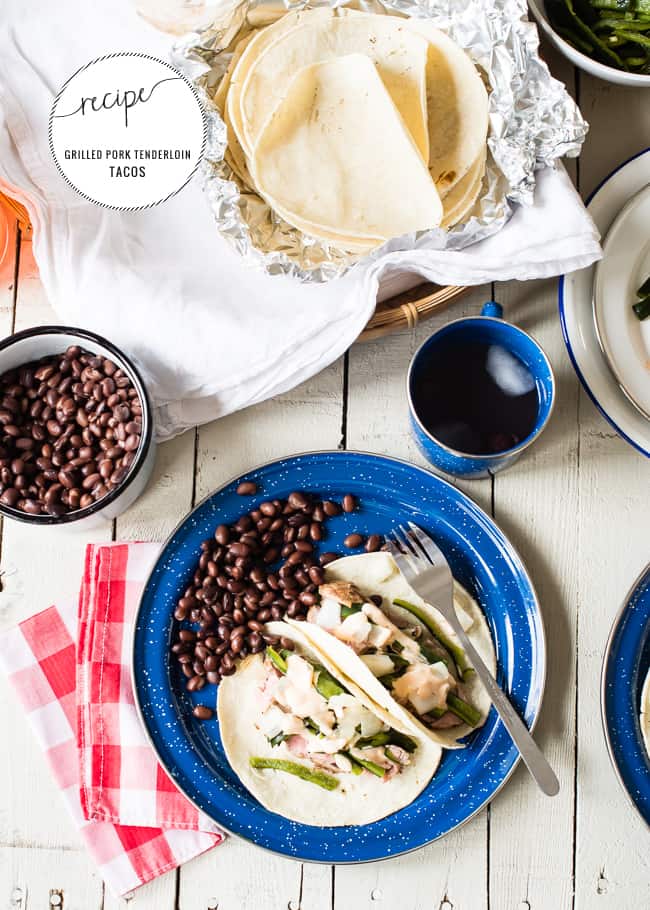 Tenderloin needs a bit of TLC when you bring it home from the store – just a little trimming here and there. It's a great cut of meat for marinating, but it doesn't need to marinate very long. The meat is so delicate that if it sits too long it can turn mushy rather than fall-apart tender. All you need is about 30 minutes while you assemble the fixin's and get the grill heated.
I also grill-roasted the poblano peppers and onions at the same time as the pork was cooking (a stroke of genius!). Poblano peppers aren't super spicy, and roasting gives them a ton of flavor. For the pickled onions, I grilled thick slices of sweet Washington onions, diced them up after I took them off the grill, and drizzled them with a little white vinegar and a sprinkle of salt. The onions have a wonderful smoky flavor from the grill that also brings out the natural sweetness that's balanced perfectly with the vinegar. Oh, these tacos have so much going on in the flavor department. And we haven't even talked about the chipotle cream!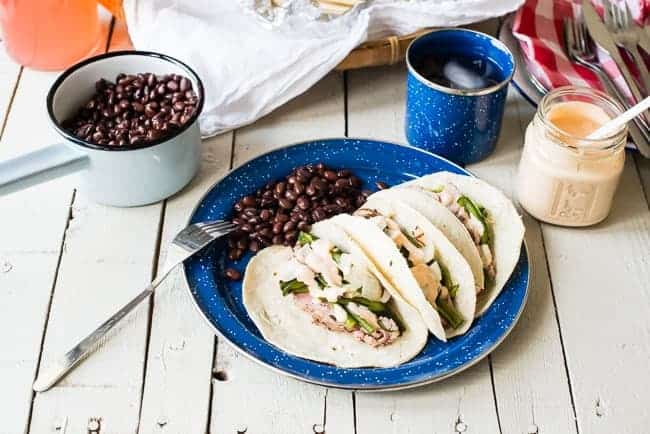 Years and years ago my good friends invited me over to dinner and served up some chipotle cream with our tacos. There was no going back! It's really simple to make – just mix together some sour cream (or Mexican crema if you can find it) and a small spoonful of pureed chipotles in adobo sauce or a 1/4 to 1/2 teaspoon ground chipotle powder.
Grilled Cumin-Lime Pork Tenderloin Tacos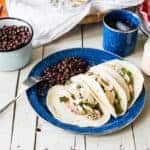 Flavorful tacos made from tender, juicy grilled pork tenderloin, poblano peppers, and onions topped with chipotle cream.
Two (1 pound pork tenderloins)
For marinade:
Juice of 1-2 limes
1 Tablespoon extra virgin olive oil
1 teaspoon ground cumin
1/2 teaspoon granulated garlic
1/2 teaspoon sea salt
For tacos:
12-16 corn tortillas
3 poblano peppers
1 large onion (thickly sliced)
For chipotle crema:
1/2 cup sour cream
1-2 Tablespoons milk
1-2 teaspoons chipotle puree (according to taste (start with less))
Trim the touch silver skin from the pork tenderloin with a sharp knife. Place tenderloin in a shallow baking dish. Mix the oil with the garlic, cumin, and salt. Rub the tenderloin with the mixture. Cover and refrigerate for 30-60 minutes, or overnight. Let tenderloin come to room temperature before grilling.
Preheat grill to medium-high heat. Oil the grates well. Place tenderloin on the grill in the hottest part. Sear it on all sides. Move to the cooler part of the grill and let it continue cooking for about 10 more minutes. Test for doneness by using an instant-read thermometer. When it reaches 140°F in the center, remove from grill and place on a platter. Cover and let stand for 10 minutes.
While tenderloin is grilling, place the whole poblano chiles and thick onion slices on the oiled grill. Turn the peppers every few minutes allowing the skin to blister a bit. They may pop and sputter a bit. Just turn them consistently so they don't burn on any of the sides. Remove to a platter and cover. Keep warm. Let the onions cook for about 5 minutes on each side. They will blacken in spots, but not soften too much. Transfer to a platter and keep warm.
Clean the grill briefly and oil it again. To warm the tortillas, place them briefly on the grill, turning after 30-60 seconds, being careful not to let them fall between the grates.
To serve: Mix the sour cream with the milk and chipotle puree together in a small bowl. Cut the pork tenderloin into thin slices on the diagonal, against the grain. Cut the peppers and onions in thin strips. Place a few slices each of the tenderloin and veggies into the tortillas and drizzle with some of the chipotle crema. Eat while warm.
0