All year I crave apple pie. I can't wait for the cinnamon flavor to fill my kitchen, to devour that delicious crust. But when that autumn moment comes, that cinnamon-apple-crust moment, I just can't allow myself to indulge. Loads of white flour, white sugar and heavy fats, everything sounds so wrong but yet it tastes and smells soooo good! This year I decided to search for alternatives, experiment and recreate an apple pie worth indulging in, every piece of it, guilt free!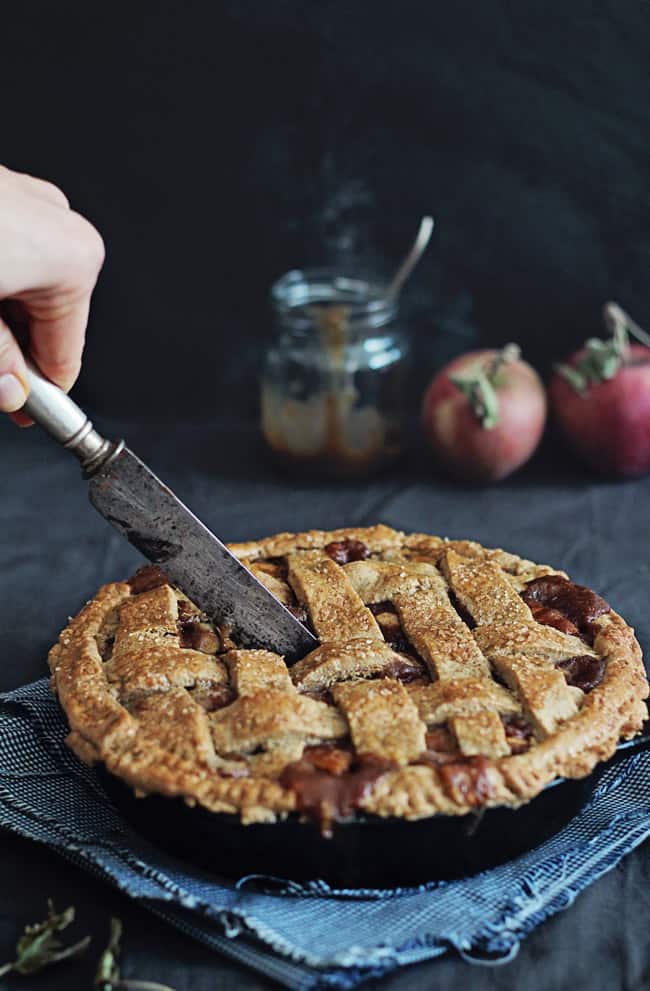 For every guilty sweet pleasure there is a healthy alternative. You just have to give it a chance and accept that there maybe some differences in taste, but the result is still great and your body will thank you for every extra minute you spend searching for alternatives. And when it comes to apple pie, it's actually quite easy. At every step of the preparation you can cut down the fats, sugar and unhealthy carbs. Here how to do it:
Gluten-Free Pie Crust

– replace white flour, which is completely lacking in nutrients and fiber, with almond and buckwheat flour. They give a nutty taste and enrich your pie with fiber and minerals. I decided to go further and create an even healthier pie, so I used gluten-free flour for the crust.
– cut down the cholesterol by replacing the butter with coconut oil – the flavor will be more intense and your arteries will thank you.
Healthy apple pie filling

– use apple varieties that are not very sweet, like Granny Smith. Tip: don't through away the peels, simmer them and obtain a liquid with calming effects, especially if you have insomnia or agitated sleep.
– replace white sugar with unrefined varieties – Muscovado or coconut sugar
– cut down on the animal fat by using full fat milk instead of heavy cream when preparing the caramel sauce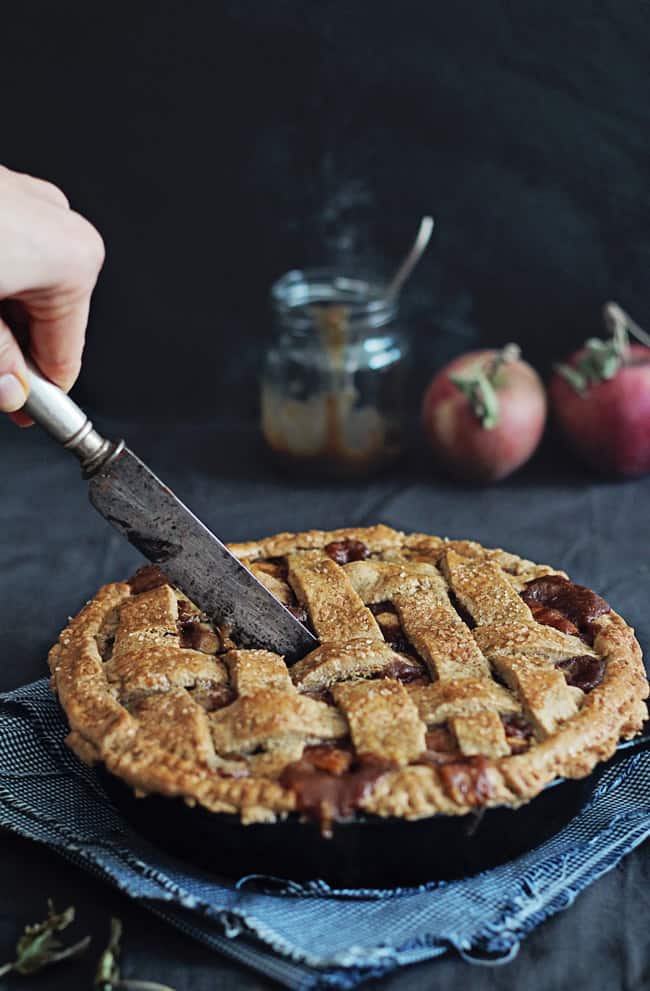 Your pie will still taste delicious- and you can indulge in a slice (or two or three) without worrying about sugar overload or unwanted pounds!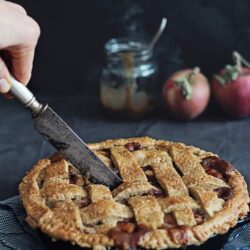 Healthy Gluten-Free Apple Pie
If apple pie is your favorite autumn dessert you will love this guilt-free version. Gluten-free, low in sugar, low in unhealthy fats, but with a gorgeous taste and bathed in healthy caramel sauce.
Ingredients
For the crust
3

cups

gluten-free flour

1

teaspoon

baking soda

1/2

teaspoon

sea salt

1

tablespoon

apple cider vinegar

5

tablespoons

coconut oil

chilled

5

tablespoons

ice water
For the filling
5-7

apples

1

tablespoon

cinnamon powder

1

cup

full fat coconut milk

1

cup

Muscovado sugar or coconut palm sugar

2

tablespoons

water

1

tablespoon

fresh lemon juice

1/2

teaspoon

sea salt
Instructions
Prepare the crust dough - In a food processor, with dough blade, pulse the gluten-free flour, baking soda and sea salt until well combined. Add the coconut butter and pulse to obtain crumb-like texture. Add the cold water and vinegar, and process until well combined. Remove the dough from the processor, wrap in plastic foil and refrigerate for 30 mins.

Preheat the oven to 220°C/425°F.

Peel the apples, remove the cores, and cut in cubes. Place in a bowl and set aside.

Prepare the caramel sauce - mix the lemon juice, water and sugar in a sauce pan and bring to boil over medium heat. Add the coconut milk and sea salt, mix well and let simmer for 10 mins until the liquid thickens.

Remove from the heat and pour it over the apples. Add the cinnamon and mix to combine.

Divide the dough in two, roll them out and place one on the bottom of the baking pan.

Fill with apples in caramel sauce, place the top crust on, sprinkle with sugar and bake for 10 mins.

Reduce the heat to 175°C/347°F and bake the pie for 35 mins.
Notes
Don't through away the peels, simmer them and obtain a liquid with calming effects, especially if you have insomnia or agitated sleep.