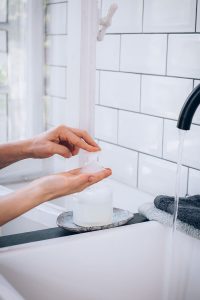 DIY Foaming Hand Soap
Yield 12 ounces
With just two ingredients, making your own foaming hand soap couldn't be cheaper -- or easier.
Instructions
Pour castile soap into bottle. (If you choose to, add essential oils at this time as well.)
Slowly add water into bottle, making sure to leave room for the foaming pump.
Add lid, shake, and you are good to go!
When ready to use, just pump one to two times into hands and rinse with warm water.
Notes
Any liquid soap should technically work for this. If you run out of castile soap, you can use dish soap, body wash or even traditional gel hand soap. But these types of soap aren't always as gentle, or as natural, as castile soap, and they may dry out skin.
To boost the antibacterial power of your soap, try adding cinnamon, clove, oregano, lavender, tea tree or thyme essential oils.
Courses Green Cleaning
Recipe by Hello Nest at https://hellonest.co/handwashing-trick/