Raise your hand if it's not Thanksgiving without green bean casserole? Yeah, me too. It's probably my very favorite side dish. I think I'm not alone. I would guess green bean casserole is in the top 5 favorite Thanksgiving side dishes. And really, what's not to love? Green beans, mushrooms, crunchy onion topping. Yum!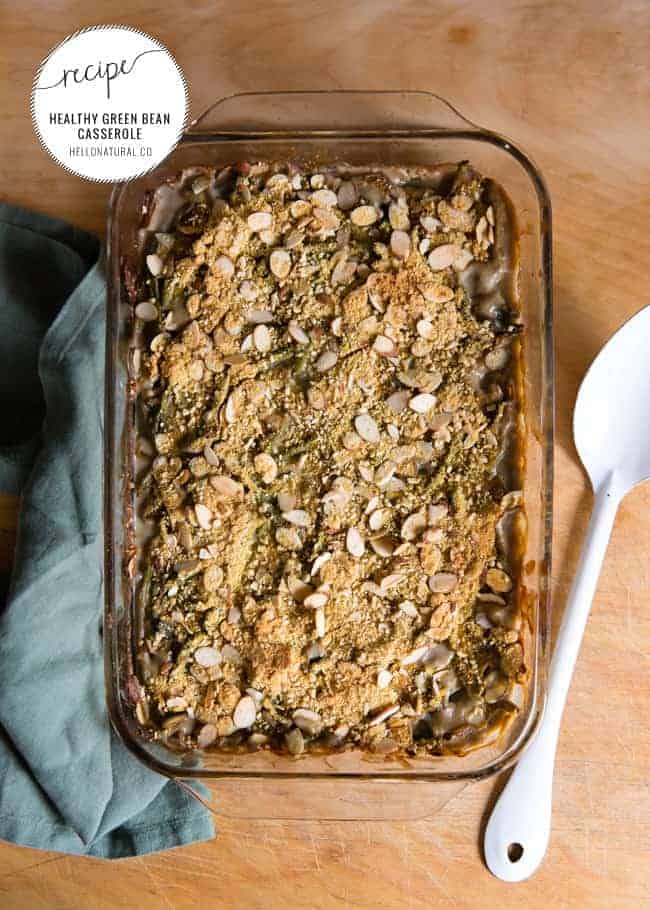 And what about that other stuff that we can't pronounce and don't want to think about in the condensed mushroom soup? I don't know about you, but it's time give green bean casserole a little healthy makeover. (Bonus: it's vegan. So if your cousin's significant other comes to Turkey Day you've got at least one thing to serve.)
It all starts with the homemade cream of mushroom soup. And that means loads of your favorite mushrooms (I like a good mix), onions, sage, silken tofu (to make it creamy!) and veggie bouillon cubes. The soup has tons upon tons of flavor that you could never get from a can.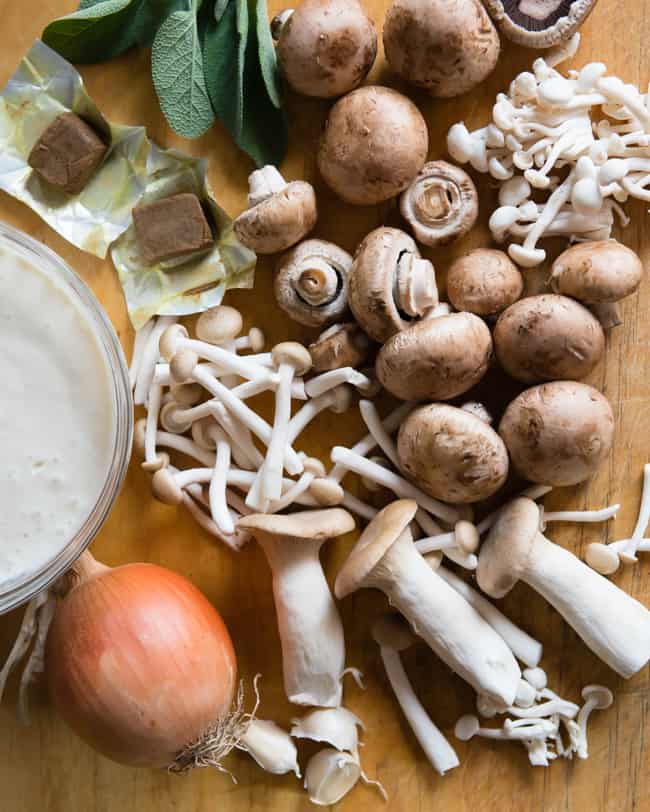 The other magic component here (besides the green beans, of course) is the crunchy topping. I used a recipe for vegan parmesan and modified it a bit. In our family, we don't do the fried onions, we like sliced almonds with the vegan (or non-vegan) Parmesan tossed with sliced almonds. It adds another layer of flavor and texture, and is quite a bit healthier than the fried onions. But hey, I won't judge if you choose to use those instead. Thanksgiving only comes once a year, right?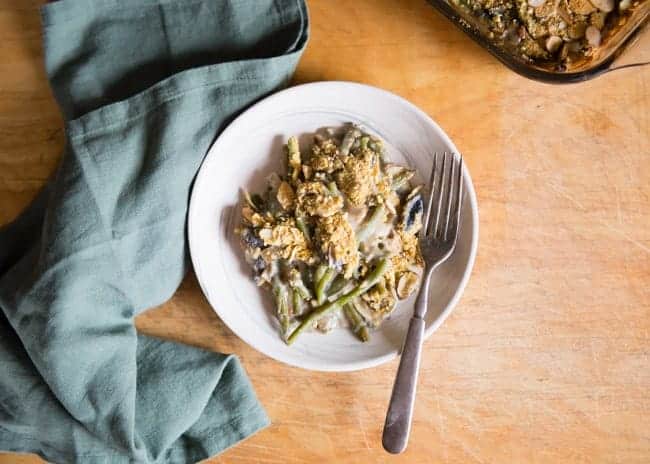 What about you – healthy green bean casserole: yay or nay?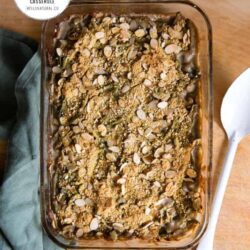 Healthy Green Bean Casserole Recipe
A healthier version of the classic green bean casserole.
Equipment
food processor

4-quart pan

Baking dish
Ingredients
For mushroom sauce:
1

tablespoon

olive oil

1

large onion

diced

3

garlic cloves

minced

1 to 1.5

pounds

assorted mushrooms

sliced

1

tablespoon

fresh sage

minced

1

cup

water

2

vegetable bouillon cubes

One 16-ounce package silken tofu

pureed in a blender

1

tablespoon

Tamari or soy sauce

optional

Salt and pepper

to taste

1

tablespoon

cornstarch mixed with 2 tablespoons cold water

optional

16

ounces

fresh or frozen green beans

whole or sliced
For crunchy topping:
2/3

cup

raw cashews

3

tablespoons

nutritional yeast

1/4

teaspoon

granulated garlic

1/4

teaspoon

granulated onion

1/2

cup

sliced almonds
Instructions
Preheat oven to 400°F. Lightly oil a 9- by 13-inch baking dish.

Prepare crunchy topping - in a food processor fitted with the chopping blade, pulse cashews, nutritional yeast, granulated onion, and garlic. It should look like bread crumbs. Transfer to a medium bowl and mix in the almonds. Set aside.

Heat oil in a 4-quart pan. Add the onion. Cook, stirring occasionally, until onions start to turn golden and softens. Add the garlic and cook for 30-60 seconds, until fragrant. Add the mushrooms next. Cook, stirring often, until mushrooms decrease in volume and start to brown. Next add the sage and continue cooking for 30 seconds more.

Add the water and veggie bouillon cubes, scraping up any browned bits on the bottom of the pan. Stir in pureed silken tofu and Tamari, if using. Taste and add salt and pepper. Let simmer until thickened. If a thicker soup is desired, stir in the cornstarch/water mixture and simmer for 1 minutes, stirring constantly. Remove from heat.

Place green beans in the prepared baking dish. Pour the soup over the top, spreading it evenly into all the corners, nooks, and crannies. Sprinkle the crunchy topping evenly over the top of the beans.

Bake for 20-25 minutes, if using fresh beans, and 40 minutes for frozen beans, or until topping is golden and the sauce is bubbling.
Notes
The soup will thicken slightly as it simmers. For an even thicker soup, add the cornstarch mixed with cold water.-1 cup regular parmesan cheese can be substituted for the cashews and nutritional yeast.-Nutritional yeast can be found online, or in the bulk section of most health food stores.-Using veggie bouillon cubes instead of broth adds a more concentrated flavor. 1 cup of veggie broth can be used instead.-Look for veggie bouillon without any added MSG or other preservatives. I like Rapunzel brand veggie stock cubes.