This is a sponsored post written by me on behalf of Lemi Shine. All opinions are 100% mine.
Is it too early to be thinking about the holidays? September went by in the blink of an eye and since October is sure to follow, that can only mean one thing: it's time to start planning your holiday get togethers. And the cleaning sessions that come along with them.
Last year my husband and I hosted Thanksgiving at our house for the first time, and I can honestly say I now understand all the blood, sweat and tears that go into making your home holiday ready. After weeks of planning the menu, preparing the dishes, and making sure all my to-dos were checked off the list, I almost forgot to clean (crazy, I know!). The holiday just crept up on me, and I found myself frantically washing the windows as family walked through the door. This year I'm determined to get my deep cleaning out of the way ahead of time so I can actually enjoy the holiday season.
Whether you're hosting dinner with relatives or the annual cookie exchange with your girlfriends, a super clean home will allow you and your holiday decorations to shine. And as if that weren't enough, deep cleaning beforehand can make the holidays a little less stressful so you can kick back, relax and enjoy the party once it arrives.
Clean freaks deserve cleaning products that meet their high standards and make cleaning effortless. With the help of Lemi Shine, you can clean your home from top to bottom without the questionable chemicals. Get your dinnerware spot free, spiff up your countertops and take care of those stubborn odors that plague your garbage disposal. And don't forget those well-loved appliances! Naturally freshen up your washing machine and give your oven a little TLC to keep them humming all season long.
6 Deep Cleaning Tips to Get You Ready for the Holidays
Here are 6 deep cleaning tips to help you get a leg up on all your holiday preparations.
1. Clean your dinnerware and serving pieces ahead of time
I have some favorite glasses and serving pieces that have been passed down from my grandmother to my mother and now to me. And nothing says Christmas! quite like eggnog in my vintage cups and a roast on my grandmother's china. But since the holidays only come once a year, my good dinnerware hasn't seen the light of day in well over 10 months. Give your favorite pieces a good scrubbing with Lemi Shine Concentrated Dish Soap, and easily get rid of built up dust and grime. I especially love that the Lemi Shine Dish Soap dispenser is made so you can use every last drop. Say goodbye to the gunky dried soap dribble around the dispenser and the lingering soap in the bottom of the bottle!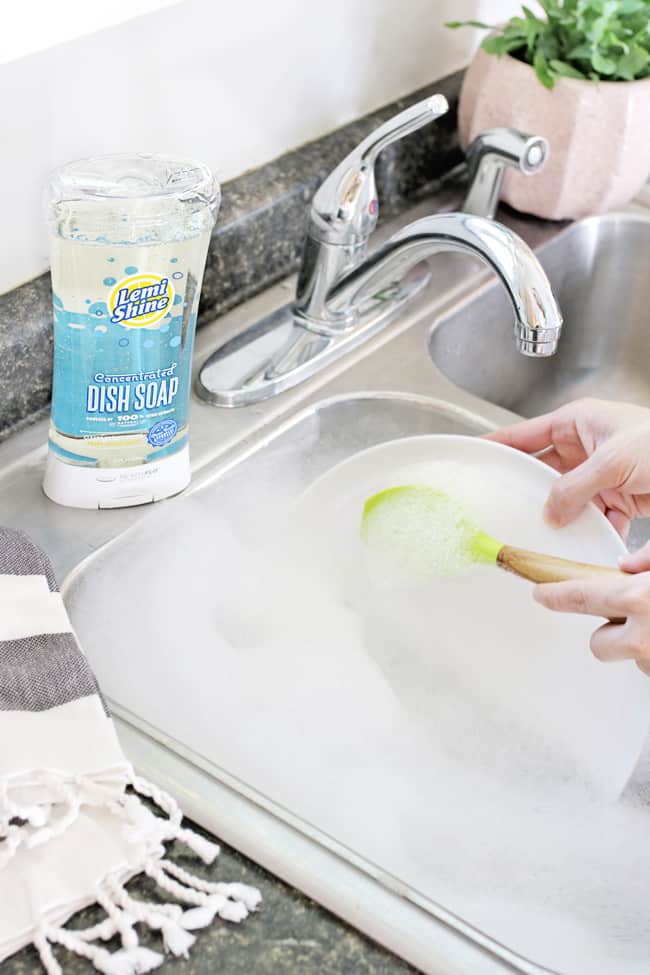 And if your dishwasher is anything like mine, it might leave your dishes looking a little lackluster (hello, water spots). If so, hard water is probably to blame. Rather than settling for filmy, cloudy dishes at your next dinner party, give them a good shine with Lemi Shine Dish Detergent Booster. Just combine a little with your dishwashing detergent and run your dishwasher as normal. It will help break down spots, stains, and film so your dishes shine like new.
3. Deep clean your washing machine
Even though you thoroughly washed your linens last year after the holidays (you did, didn't you?), if you haven't used them since then, they need a little freshening up. I remember helping my mom wash and dry the holiday tablecloths and napkins before Thanksgiving dinner every year as a kid. She managed to turn it into a tradition of sorts—something she and I always did together while drinking cider and eating sugar cookies. And in the process she taught me that laundry is only ever as clean as your washing machine! So before tossing your linens in the washer, use Lemi Shine's Washing Machine Cleaner to remove mineral buildup and smelly gunk. Simply pour it into your machine and run a cycle like normal. The cleaner will get into all the nooks and crannies (even the hose) so your laundry looks fresh and smells clean.
3. Get the grime out of your dishwasher
Cleaning the appliance that cleans your dishes may seem unnecessary, but trust me when I say, it's totally not. Even if you run your dishwasher often, food, grease and soap scum have a tendency to collect in the bottom of the dishwasher, causing it to smell funny and leave your dishes less than sparkling. Lemi Shine Dishwasher Cleaner gets into all the hidden crevices of your dishwasher to remove the gross gunk you'd rather not think about. Use it at least once a month to keep your dishwasher running at its max efficiency.
4. Sanitize your garbage disposal
Ahhh, the garbage disposal. So handy and yet so… smelly. Of all the places in the kitchen that could benefit from a little clean freak love, this is it. Simply pop a Disposal Cleaner in your sink and watch it scrub away the odor-causing gunk and grime, leaving your kitchen smelling fresh.
5. Clean your appliances
To most of us, the holidays mean one thing: family. Okay, and another thing: food. I have vivid memories of making Santa Clause cookies with grandmother every year until I was about 20. We would spend hours baking batch after batch of cookies, and it's a wonder her vintage 1960's oven could handle it! Between the roasts, casseroles, cookies and eggnog, your appliances are sure to take a beating. But thanks to Lemi Shine's Everyday Cleaner, your appliances will be better able to hold up to the wear and tear that comes with holiday gatherings. Lemi Shine Everyday Cleaner contains GUNKGUARD™, a natural polymer that creates an invisible, protective layer on surfaces. Use it to clean the microwave, oven door and other hard surfaces, and watch as it makes them easier to clean again and again.
6. Don't forget the finger prints, dust and water spots
Windows, bathroom counters and table tops are often overlooked when it comes to holiday cleaning. Rather than waiting until the last minute when your guests are walking through the door, clean them every couple weeks to keep them looking fresh and clean all season long. Lemi Shine Glass + Surface Cleaner gives surfaces a streak free shine while also adding a dust resistant barrier so surfaces look cleaner longer. With the help of GUNKGUARD, it even makes surfaces smudge- and dust-resistant so they're easier to clean next time.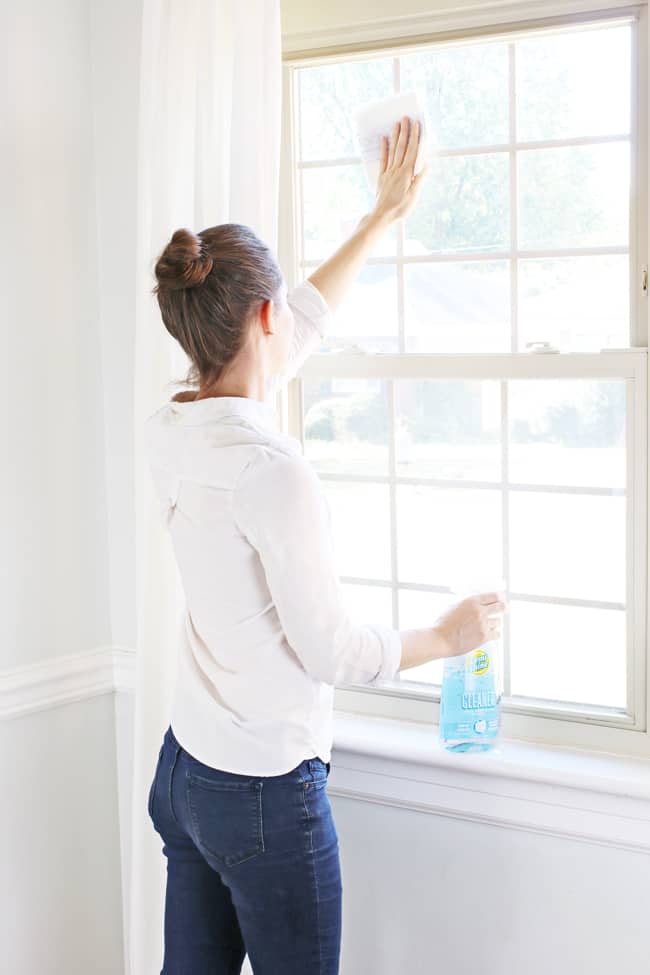 Ready to get your house in tip top shape for the holidays? Visit the Lemi Shine website to learn more about their products and find stores that carry them. Don't forget to visit their coupon page to save on products for your home.
0