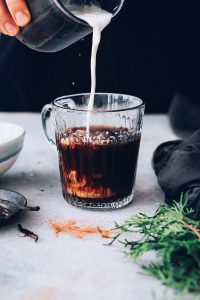 Coconut Vanilla Homemade Coffee Creamer
Ingredients
1 vanilla bean
1/2 teaspoon cinnamon
1 can coconut milk
Instructions
Split the vanilla bean lengthwise. Using the tip of a sharp knife, scrape seeds from the center into a small saucepan; add vanilla bean
Add coconut milk and cinnamon and cook over medium heat, stirring until heated through. Remove from heat and let sit covered for 15 minutes
Discard vanilla bean. Store in an airtight container in the fridge for 2 weeks. Stir before using.
Recipe by Hello Nest at https://hellonest.co/homemade-coffee-creamer/