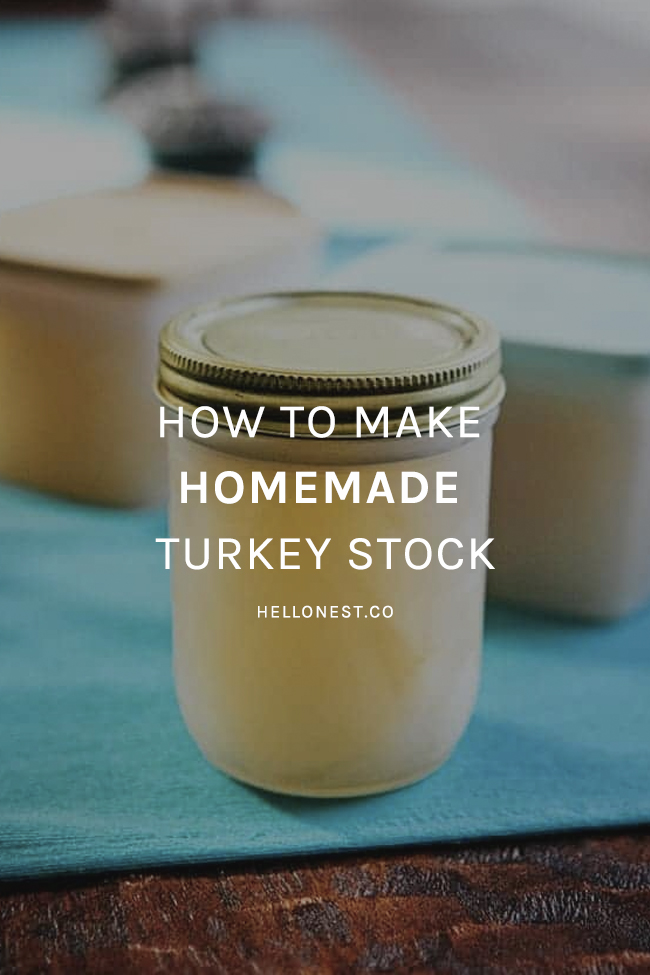 You've probably already started thinking about tasty ways to eat turkey leftovers. Our family looks forward to leftovers almost as much as Thanksgiving dinner! While you're planning second day meals, don't let the rest of the the turkey go to waste either.
Homemade turkey stock is incredibly simple to make and adds delicious flavor to homemade soups and sauces. And when you make your own stock you know there are no preservatives or MSG and you can control the amount of sodium.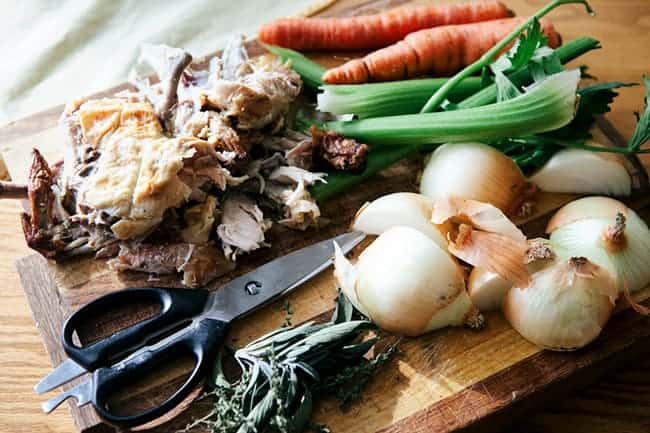 Stock is an important flavor enhancer in most soups and is quite inexpensive to make at home. You can use vegetable scraps and the leftover carcass of your Thanksgiving turkey.
Save the trimmings and ends of carrots, celery, onions and even green beans to add to your stock. Save every scrap of meat and trimming from the turkey, including the meaty raw bones. A few sprigs of fresh herbs, like sage and thyme, go a long way to add flavor as well.
Stock does not require specific amounts of vegetables but you can estimate about 2 to 3 cups of roughly chopped veggies and herbs to approximately 4 pounds of turkey bones and trimmings. But you don't need to worry about exact measurements when making your own stock!
For the vegetables, don't bother with extensive chopping and slicing. Roughly chop the veggies so they fit in the pot.
You don't even need to peel the onions! Depending on how big your turkey carcass is, you may need to use kitchen shears to cut it into smaller pieces so that it fits into your stock pot. Just be sure to use the biggest pot you have!
Once you have everything in a large, heavy bottomed stock pot, fill the pot with enough cold water to cover the contents by about 2 inches. Throw in a teaspoon of whole black peppercorns and a teaspoon of salt.
You may want to add more salt later in the cooking process when you can taste for flavor but you want to avoid over salting the stock early on.
Bring to a boil then partially cover and lower heat to maintain a steady simmer.  Simmer for at least 2 hours or up to 4 hours. When the stock is done the meat on the bones should fall off and the bones should separate easily from one another.
Strain, pressing on the vegetables and meat to extract all the liquids and flavor. Taste and add salt if necessary. Discard the solids. Refrigerate the stock until chilled and then skim the solidified fat from the surface.
How to Store Turkey Stock
Homemade stock can be kept in the refrigerator for 4 to 5 days or in the freezer for up to a year.
To keep stock longer than 5 days in the fridge boil it every third day to keep it from spoiling.
To freeze in jars, choose wide mouth jars to prevent the glass from breaking. You can also freeze broth in Ziploc freezer bags and freezer safe plastic containers. Lay the bags flat to freeze and be sure to label your container.
When freezing stock, freeze it in specific portions and label clearly. I like to freeze mine in 2 cup portions, which makes it easy to thaw and use in recipes.
Have you ever made homemade turkey stock? What are your favorite ways to use it?
2